Lupiesoft.blogspot.com
for more information
This test is going to be roughly 1/3rd of the first chapter, which introduces the characters and sets up the premise for the story. The rest of Chapter 1 sets up the overall story for the remainder of the game.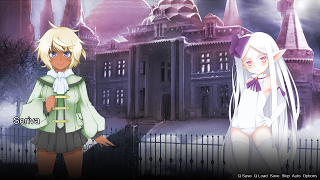 Dizzy Hearts is currently planned to be 720p.
I would like most of the criticism to look past a few parts that are missing from this build. I would like the perspective, from people who don't know about the story or the characters to tell me how they felt, and their reactions to certain scenes.
Because the story is the main focus of the test, and it's the first thing I make sure is finished. There are a few things that aren't finished completely. The UI is not completely finished, A scene with Aunyrae and her wife(ves), and the Sprites are not completely finished in all the outfits that will be in the game (brr it's cold!). However everything is fair game, criticism wise.
Starting today you can sign up by emailing me at Taosym@Gmail.com with the title "Dizzy Hearts Signup", you must also tell me from where you generally learned about Dizzy Hearts, Twitter, Lemmasoft, Reddit, 4chan etc. That way I have an ability to select people from a wide range of places.
So once you email me, I'll email you back to confirm I received the email. This whole week I will take emails until the midnight on the 6th, or just when it turns to the 7th. On that day I will hand out the build via email to as many testers as I reasonably feel is necessary, as fairly distributed as I can. People can send me their opinions, ask me questions, etc. all the way from the 1st and on.
On the 14th I'm going to post an updated build, taking the best suggestions from the test, and hopefully this will be totally public, and I'll post this test build on my blog. Unless there are major problems with the game.