Dirk Dashing 2: E.V.I.L Eye v1.1 is now available, containing a number of enhancements and bug fixes!
This was originally going to be a minor bug fix release, but when I was forced to change the save game format in order to fix a particular bug, I decided to make some enhancements.
First, I've brought back Nasty Knuckles, an E.V.I.L agent from Dirk Dashing 1, and added him to a number of levels throughout the game. This adds a bit more diversity to the kinds of enemies you'll encounter. Nasty Knuckles is big and tough, so he is immune to Dirk's tranquilizer darts and you can't jump on his head to knock him out. It takes three direct hits with your stun gas grenades to knock him out.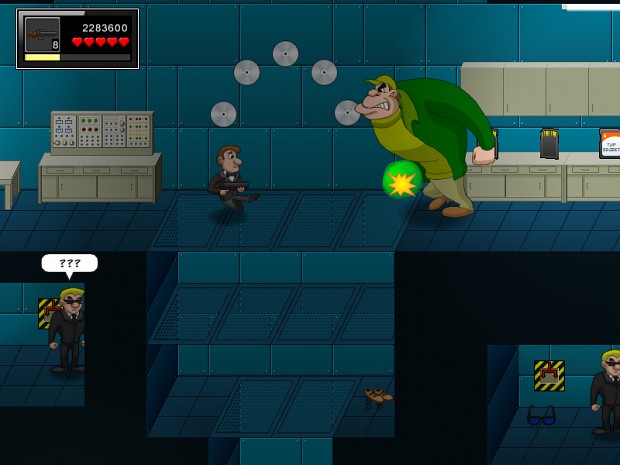 Second, the grenade launcher from Dirk Dashing 1 is now available in Dirk Dashing 2, beginning in Chapter 3-1. This adds a new weapon to Dirk's arsenal, which will help against enemies like the riot guards, who are immune to Dirk's tranquilizer darts. However, the the grenade launcher has some serious recoil that propels Dirk backwards when he fires it, so it shakes up the gameplay quite a bit. For example, when I was testing, I used the grenade launcher against a riot guard, and the recoil kicked me backward into a camera's field of view and set off the alarm! So with cameras, laser tripwires, ceiling crawlers, spiders, and other new hazards in Dirk Dashing 2, you'll really need to be careful where you stand when you use the grenade launcher!
Third, I added the animation from Dirk Dashing 1 for times when Dirk stands still too long. If Dirk is idle for more than 30 seconds, his wristwatch chirps, and he responds. Fans of Dirk Dashing 1 who discovered this feature enjoyed Dirk's brief, humorous conversations with his anxious boss, who watches his every move with the help of a spy satellite. For Dirk Dashing 2, I replaced 10 of the randomly selected comic balloons with 10 brand new responses from Dirk.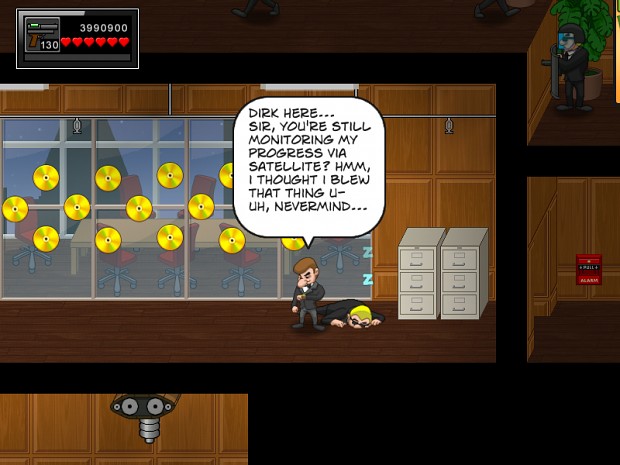 I also made minor adjustments to many of the levels, to add extra ammo and fix various glitches.
Here's a list of everything that changed:
Added the grenade launcher from Dirk Dashing 1, which is available starting in Chapter 3-1
Added Nasty Knuckles from Dirk Dashing 1 to various levels
Added animation from Dirk Dashing 1 for when Dirk stands still too long, but with 10 new humorous balloons
Added a shadow for Bumper
Added 2 switches to Chapter 4-5 on Easy skill level to turn off the 2 rows of buzz saws
Added extra knockout gas grenades to various levels, since some players were running out
Fixed: 1 pixel gap on left edge of title screen and main menu screens
Fixed: after you die, ambient music doesn't always resume
Fixed: reset max hearts after replaying a level
Fixed: robots and larger enemies sometimes refuse to cross bridges
Fixed: flickering visual artifacts when picking up circuit boards and other items
Fixed: moved an incorrectly positioned alarm switch in Chapter 4-1
Fixed: ladder at the start of Chapter 4-3 couldn't be grabbed by some players
Fixed: when Bombshelle is knocked out in Chapter 4-7, she is drawn behind the moving platform
I also upgraded the Linux installer for the standalone versions, so it handles spaces in the install directory path and uses relative paths when creating symbolic links (so users can copy/move the install directory).
Note: because the save game format has changed, you'll be required to start a brand new game from scratch when you update to v1.1. Sorry about that, but hopefully the new enhancements will make it fun to replay!
Enjoy!