With the release of v0.9.2., I've hit another major milestone: all of the game's levels are now finished! This update provides the final 2 secret levels for the full version, so pre-order customers can now play through the entire game.
But probably the most significant change in this version is the introduction of a new type of guard. He is equipped with riot gear, including a shield that blocks Dirk's tranquilizer darts and a helmet that prevents Dirk from jumping on his head to knock him out - two of Dirk's new abilities that have made the game a bit too easy. The riot guard is vulnerable to your stun gas grenades, and he can be shot from behind (if you can sneak up behind him). This gives added purpose to the new stealth tactics, and also provides a use for the gas grenades. The riot guard makes his first appearance in Chapter 1-3.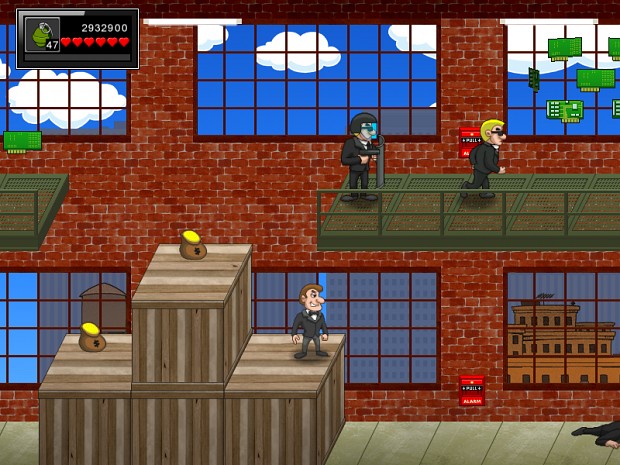 The riot guards are also the ones who respond when the alarm goes off, particularly on the Normal and Hard skill levels. This gives added incentive to use the new stealth tactics, because you don't want to trip the alarm and release a bunch of these guys into the level!
I've also made adjustments to some of the E.V.I.L agents to help balance the game. Tommy Gunn is now immune to tranquilizer darts on the Normal and Hard skill levels, though you can still knock him out with 3 direct hits with your gas grenades or by jumping on his head. And Bombshelle no longer throws in the dark when she is offscreen, thereby alerting you of her presence.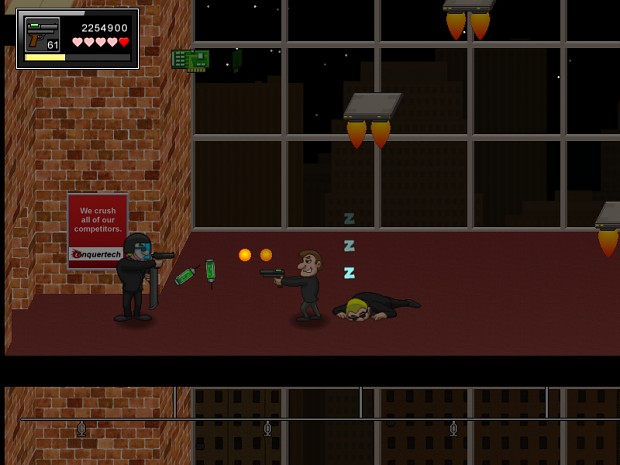 As a result, no longer can you just run through each level, shooting everything with the dart gun or knocking out enemies by jumping on their heads. You'll have to rely more on Dirk's stealth tactics, gadgets, and stun gas grenades - which is what I originally envisioned for the gameplay.
So what's next?
At this point, the gameplay is pretty much done. I won't be making any significant changes to the levels or gameplay before v1.0, except for minor balancing tweaks (like adding an extra health kit or ammo) based on feedback from players.
There will probably be one more beta before the final June 30 release. I'm still waiting on the final mission summary comic from my artist Mike that will appear at the end when you've beaten the game. I still have some minor bugs to fix, and some tweaks to the game's control scheme that I want to make. I need to bring the instruction screens up to date. And there's some more polishing I want to do, like updating the menu graphics.
Meanwhile, have fun with the new demo!
And remember: if you pre-order before the June 30 release, you'll get a free copy of the planned $5 strategy guide (which will be available sometime in August), containing level maps, hints, tricks, concept art, and more!