Hi guys,

Today's update introduces new game features such as World Map, Campfire, Relics, and new enemy characters.. Here's the patch note for today's update. Click here to visit the Dicetiny Steam Store Page.
New features
- World Map
- Campfire
- Relics
- Reward System
*Click here to read the update preview num.1 for more details.
New enemy characters
There are five new enemy characters in total, and one of them is T-alek, a robot character inspired by Dalek from Dr.Who. His opening line is WOULD YOU CARE FOR SOME TEA?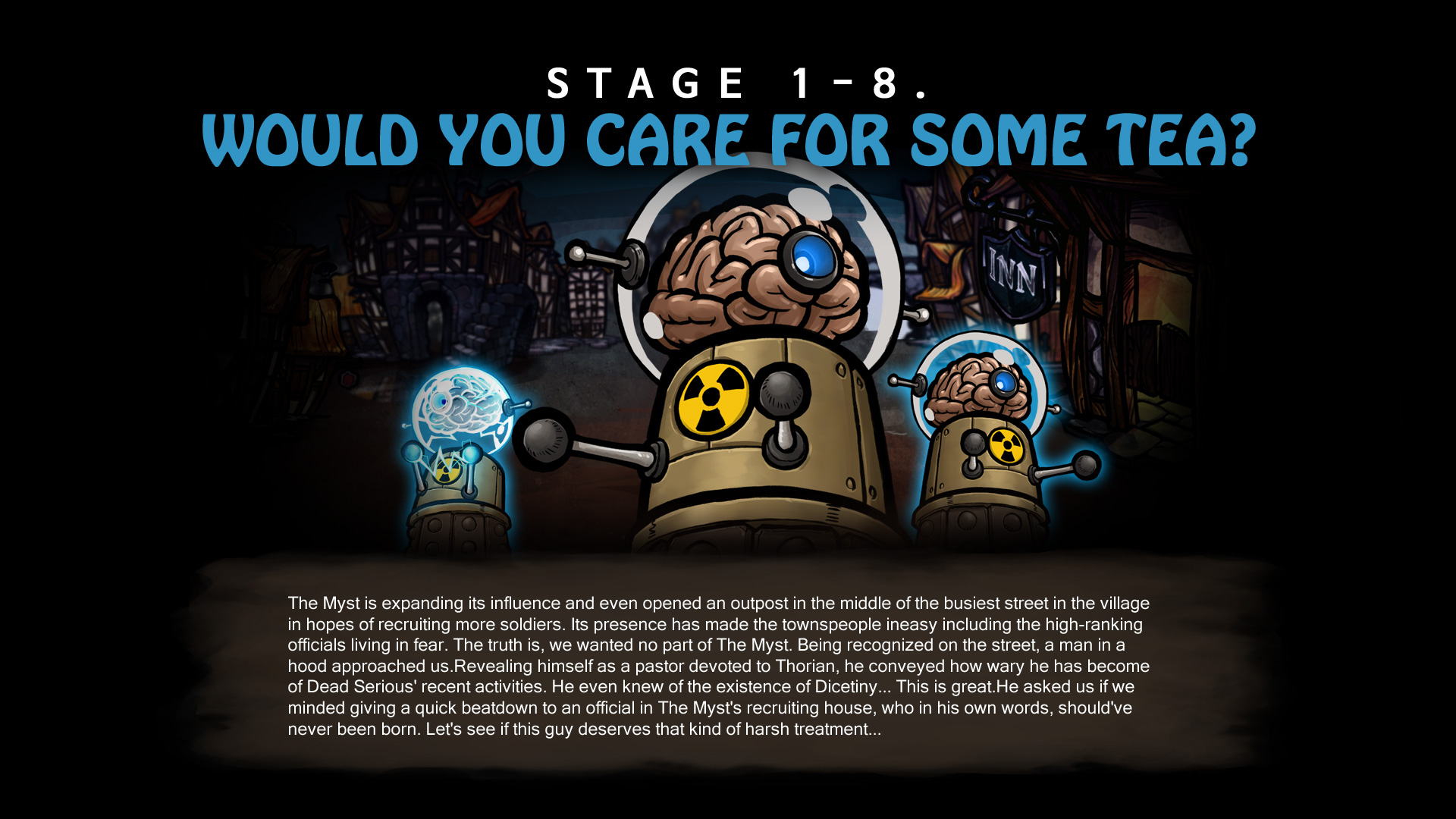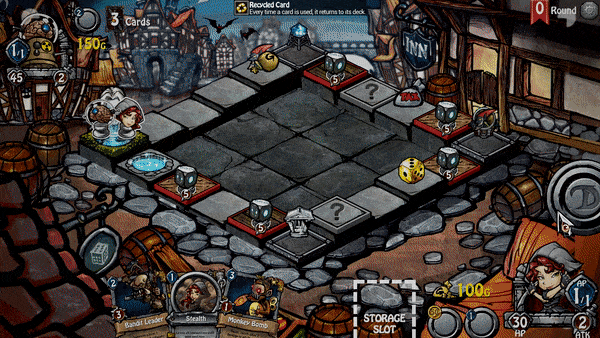 Randomized event space.
- Now the position of each event space on the four corners of the board (Starting Space, The Shop, Temple of Bless) is randomized at the start of a game.
Card Storage System added
- "Drag and drop card" in the card storage to save it for later use. Watch this video from 03:17 to see how it works.
Board Conditions added
- Board conditions are rules you and your enemy must follow.
- They are not stage-specific and randomly assigned to a stage each time you play.
- There are six conditions as below.
The Wrath of God: A lightening strikes on 1~3 random spaces in the beginning of every turn.
Sticky: All heroes move one space less after rolling the dice.
Greasy: All heroes move one space further after rolling the dice.
Become a Rich: Both heroes start the game with 500 gold.
Recycled Card: Every time a card is used, it returns to its deck.
Thick Fog: You can't use spell cards on spaces with fog. The fog moves randomly every round.
Minion Bribery System
Both enemy and neutral minions can be bribed.
You can now check the bribery probability rate by hovering on a minion (enemy/neutral)

Others
- Improved the HUD.
- Added new cards.
- Improved special effects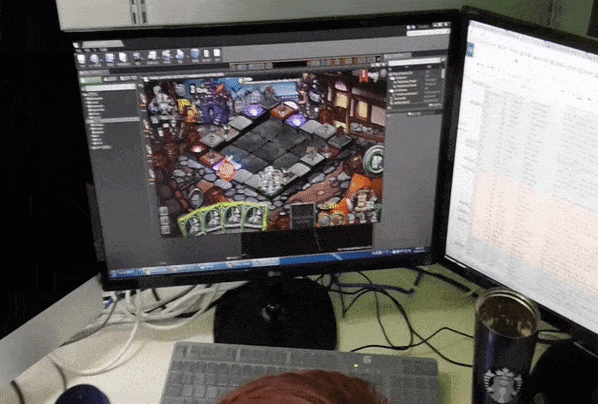 - Each Hero's skills adjusted
- Each Hero has a different One Lap Bonus
- Fixed bugs
- Improved English translation. (want to give a shoutout to Matt from Minnesota who kindly helped us with the English translation. Thank you Matt!)
The road to find the greatest Steam banner of all time.
Along with this update, we changed the banner. We came up with a few concepts but didn't know which one was best. So we posted an announcement on Steam asking users to vote for the best one. Here's the announcement. Concept A came out as the winner. This was a great way to interact with the users. We will probably do this sort of thing again in the future.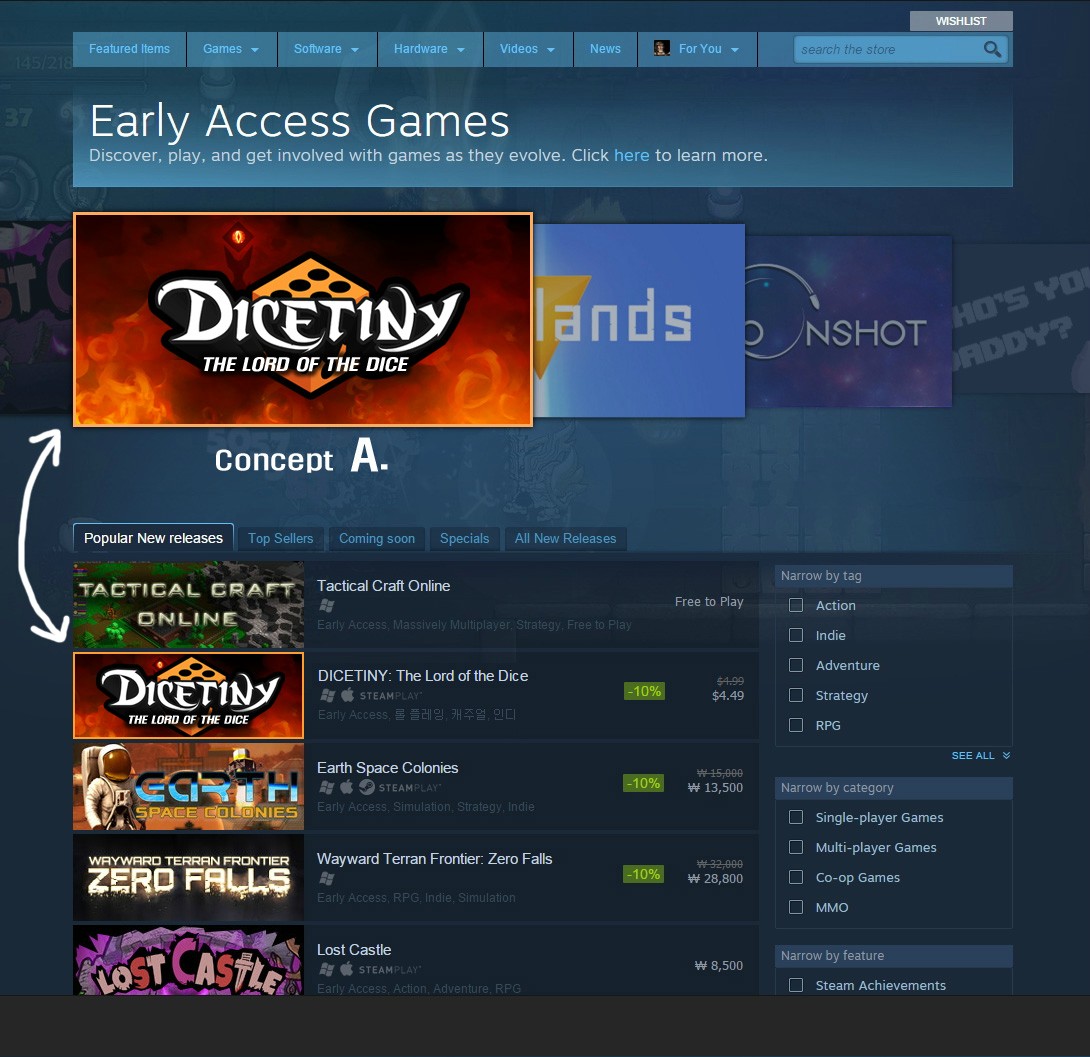 Thank you very much for your time to read this news, and have a great weekend!
Mike
Fakedice