Dialogue System - Done and Done!
Aaah, Sgt. Heimer's least favorite subject, interacting with people... He could grunt at a barrel of ale all day, only because it wouldn't answer back. Well, for the sake of immersion and story progress, we will have to put him through the torture of having to talk with the rest of the "vibrant" lot he meets in his campaign.
What we were aiming for while working on the dialogue system was for something that'd give you enough information about what's happening in the game and your surroundings, would be dynamic by giving some of your decisions the capacity to alter some of the game's outcomes (with feedback to let players know when that happened) and, finally, would not spoil the fun for the rest of the game by being too intricate or convoluted, especially considering the TD mechanics in the battle maps and the main map's Settlement management. We'll keep things short, sweet (as sweet as words coming out of Sgt. Heimer's mouth can be...), and straight to the point.
With this recipe in mind, we rolled our sleeves up and dived into conceiving, tweaking, and finally implementing a dialogue system we think you'll enjoy. Emiliano was the one who spent a good chunk of his time producing three different versions of the same dialogue system, basically working on both its appearance and backbone. We later ran all three through our fans online (multiple times) and used their feedback to shape the final candidates of our dialogue system.
The first version gave a better conversation feeling, but the slide in/slide out effect was extremely tiresome after a while. It also didn't offer much of an opportunity to review previous dialogue entries, which was especially impractical when dealing with multiple choice answers to a question that one could have already forgotten or misread. The third version, with the conversation and its entire scrollable history on a single centered panel, was definitely the best in terms of functionality, but it felt cold and very close to a chat log of a messenger app. We ended up choosing the second version that we believe successfully combines the good traits from the other two.
Wanting to take the dialogues' realism up a notch, we also implemented mood control. This means that based on previous interactions and player decisions, various dialogue options (and some quite colorful multiple choice answers) will either be barred or available, according to Sergeant's anger and drunkenness levels. We expect that some players will be divided between trying to keep Heimer to his senses and resolve an issue peacefully and making him completely lose his otherwise passive demeanor and decide to drown a province in its own blood. Your choice really, nothing to feel stressed about...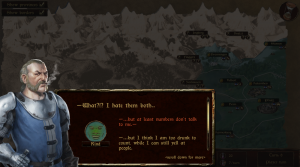 Good Mood Heimer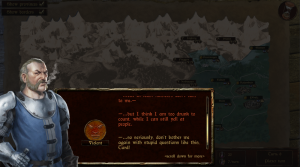 Don't Disturb Mood Heimer
We feel that with all these under the hood of the Empires in Ruins dialogue system, we bring something more immersive, and with a lot more character, than just a button on a panel or a small piece of text on a finished battle report.
That's all for today. Don't forget to follow us up on social media and support Empires in Ruins by sharing our content and leaving your feedback on the comments' section!
"In Koth, you're only as strong as the men loyal to you..."
– Hammer & Ravens
@EiR_TD
facebook.com/EmpiresInRuins