Welcome to Devlog #2
Hi again :)

Introduction
In this second devlog, we will be showcasing the changes that we have made to the centre area of the game (the Hub), enemy concepts as well as models, and finally some introduction to the game's music. Feel free to skip ahead to certain points of this devlog, it will be by the order of appearance defined above.

Hub
The Hub area was given a major rework with everything changed except for the general position of the different characters and menus. In this area, the player will be able to talk with different characters, upgrade abilities, change weapons and start a new Run in the dungeon of the game, so it is a crucial area that must feel alive and interesting.
Coming up with the new design took a while, as we researched a lot of different types of media. The final concept is around 3 times bigger than the original.
Take a look at some concepts and blocking!
Video speed drawing:
Final concept: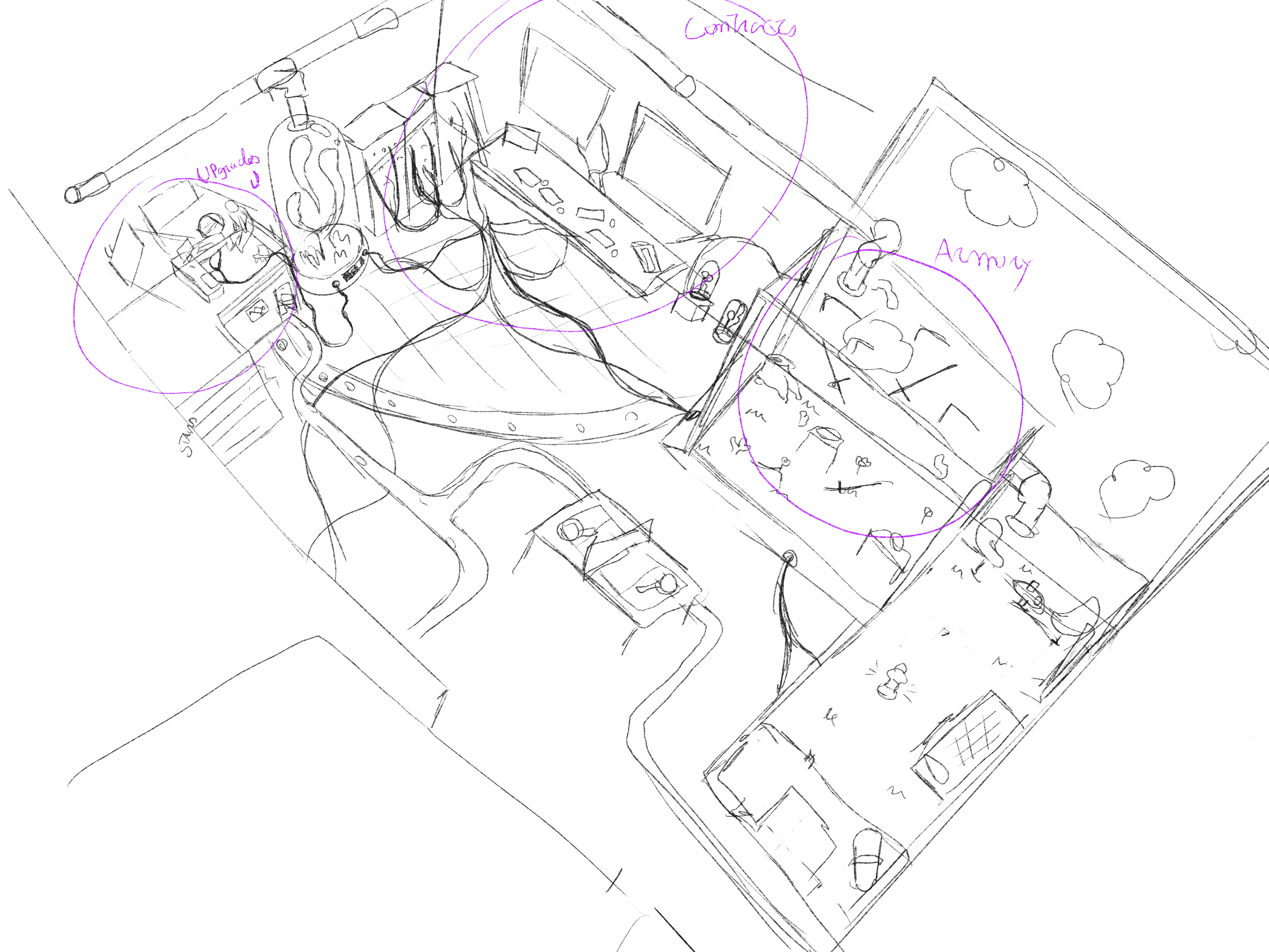 And here is the final blocking
Before: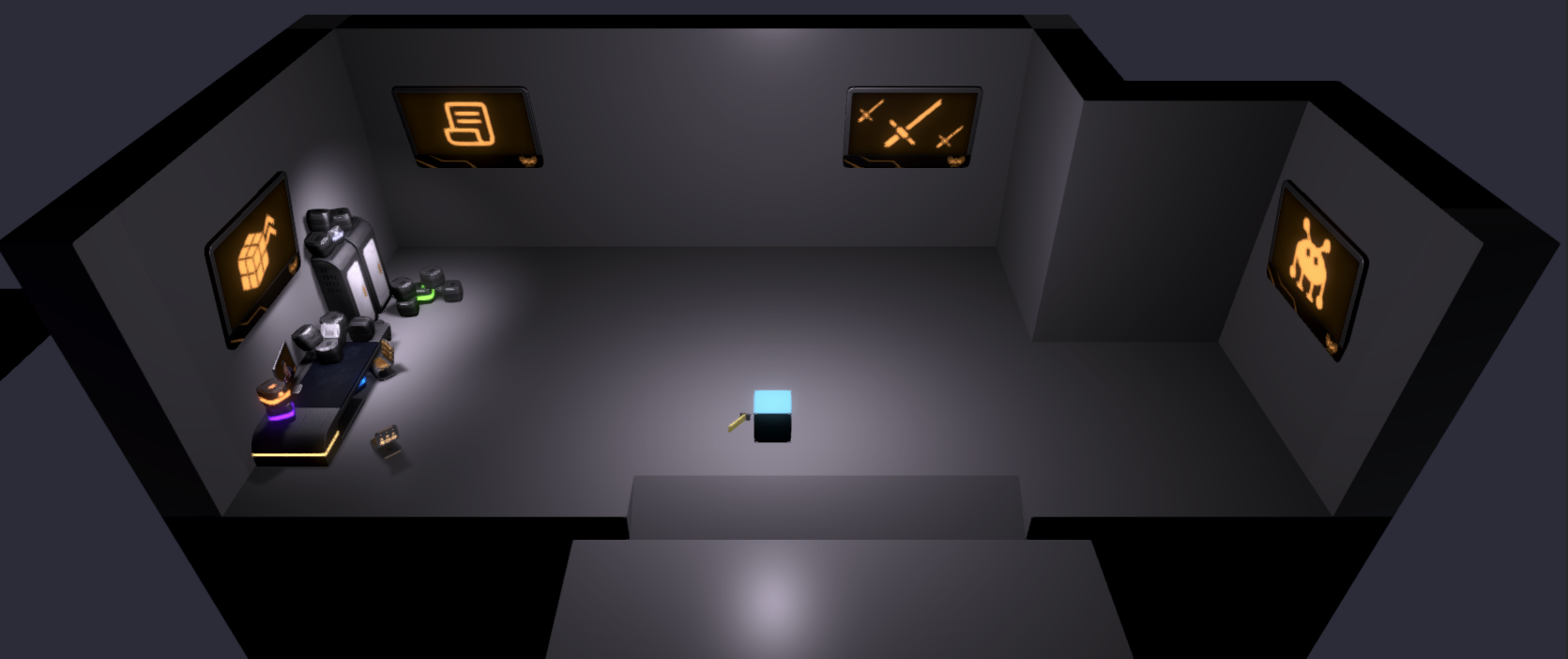 After: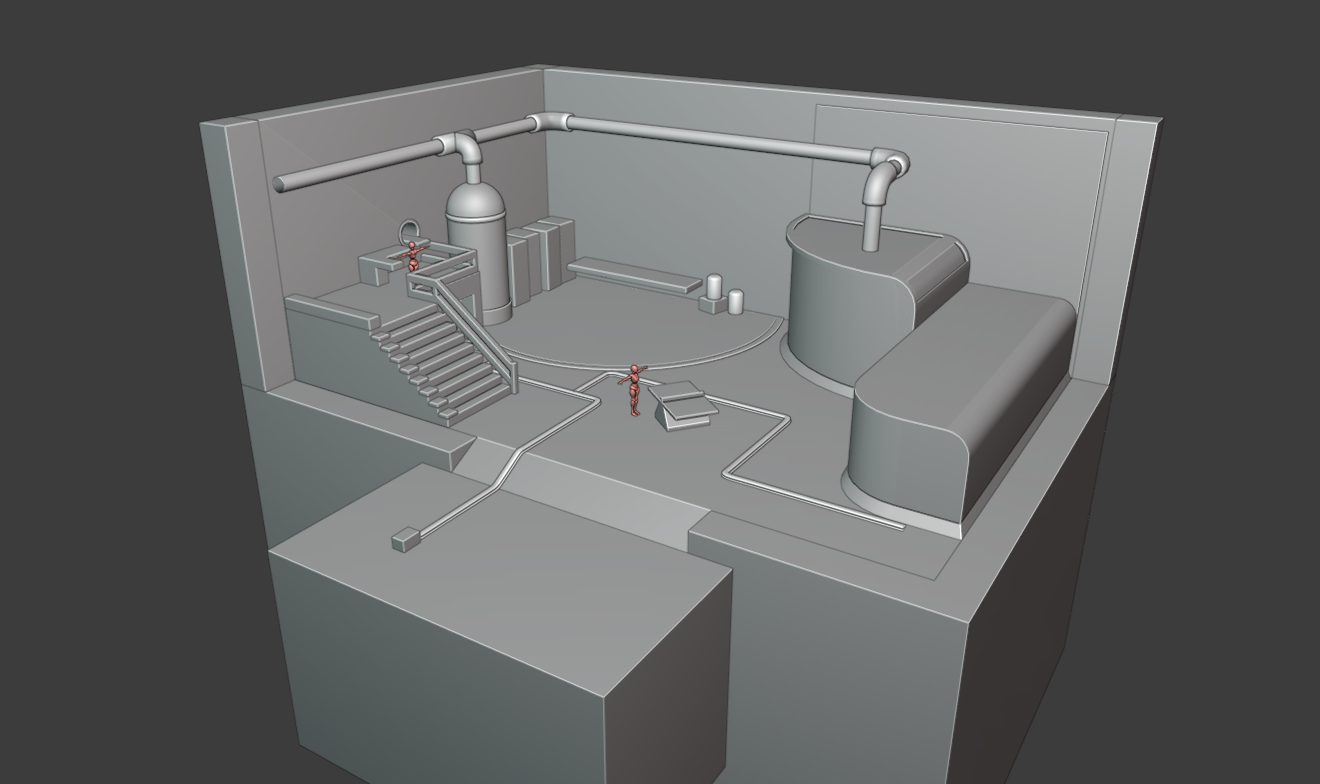 Props
With the main concept done, we spent some time defining what was the end of each section (what the characters in our world would use that space for) and defined in an excel sheet some of the props that bring that life into the Hub for each section. For example, on the far right side of the hub, there is a rectangular space where is designated to be more of a relaxing area, and so, our characters have made it look cosier than the other sections.
As props, we have mundane items like keyboards, rackets, bolts, other machinery pieces, noodle cups and other props that make space feel lived in. Apart from regular items we also have some sci-fi influences mixed with fun twists of our narrative, and so the machinery and weird devices are powered by what we call the 'Power Plant', which is a plant that gives out electricity, this is in between the upgrades and the contract section that you can see in the concept.
Here's a low-poly cup of noodles for making this far into the devlog: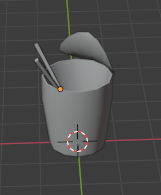 Melee Enemy
As of now, we have a plethora of entities to work on, so, we need to start somewhere! Not necessarily the most important one, but it will undoubtedly help shape the others, as it's one of the most common enemies in the game.
We chose the close-range combat one as the concept revolves around a simple idea: A buffed creature with a big weakness. We thought that it having a huge eye in the middle would be a good weakness and fit the game perfectly, so, these were the concepts we came up with (special thanks to Joana for helping with the concepts):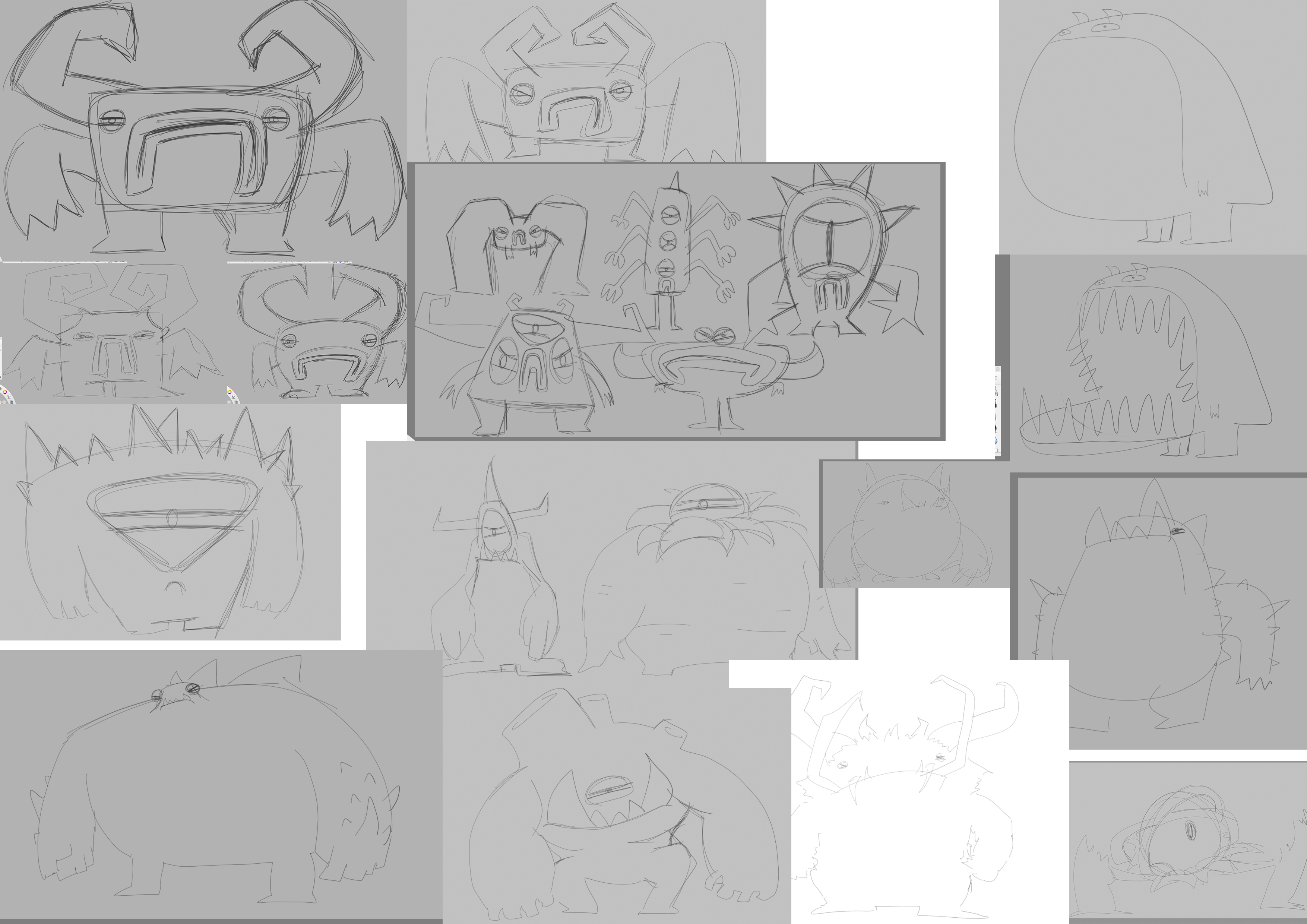 From the bunch, we obviously wanted to bring all of them to life, but unfortunately, we have to be selective. It doesn't mean that some others won't be seen in the future. The lucky one, for now, was this little guy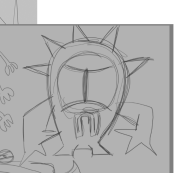 Immediately after, more iterations of it were made in order to capture all possible In-Game variants we will have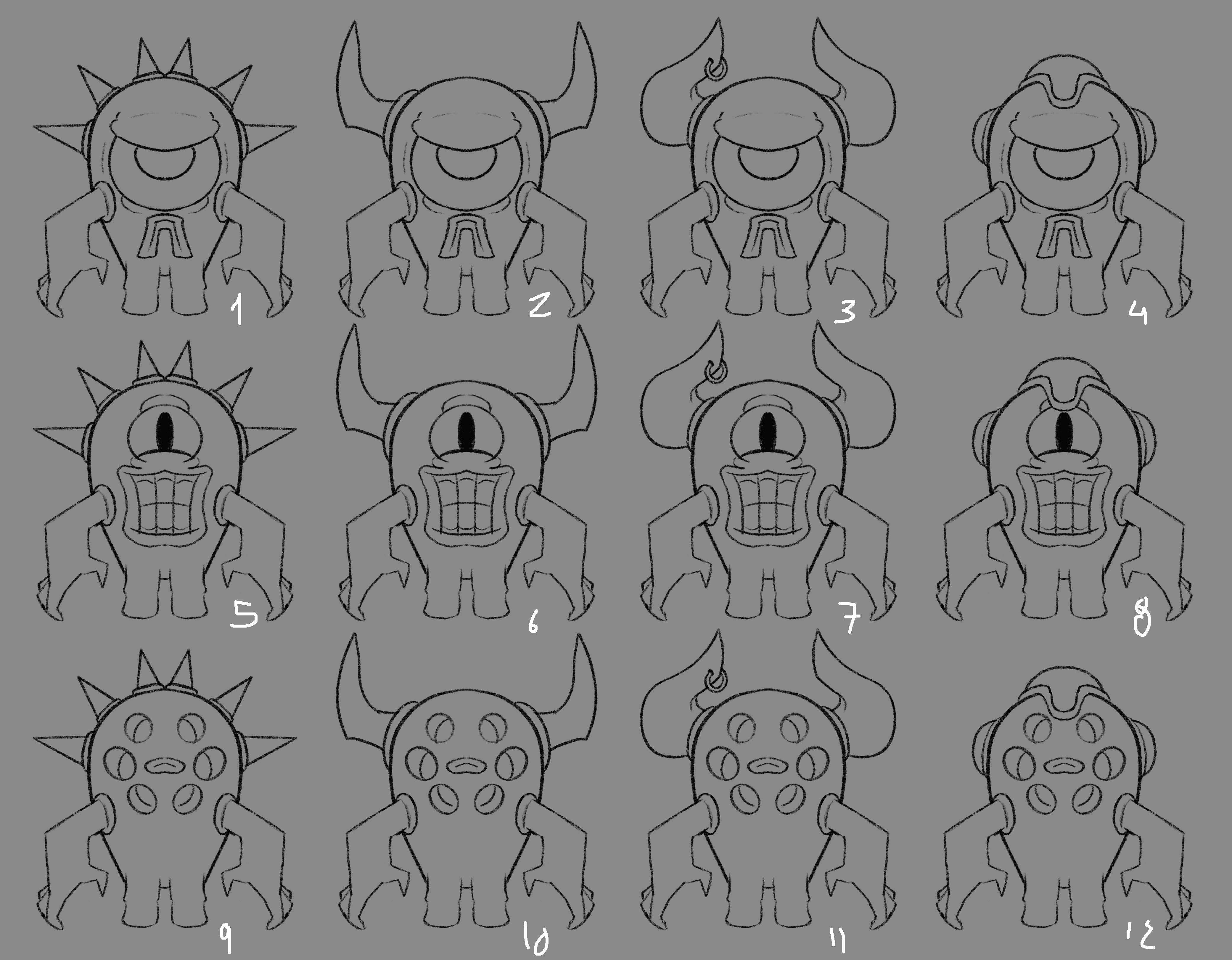 In the end, only 4, 8 and 12 were discarded and the rest moved on to the next phase, modelling. As of writing this, we are working on the low-poly versions and UV mapping of each. Here is an early look at the high-poly versions (subject to change)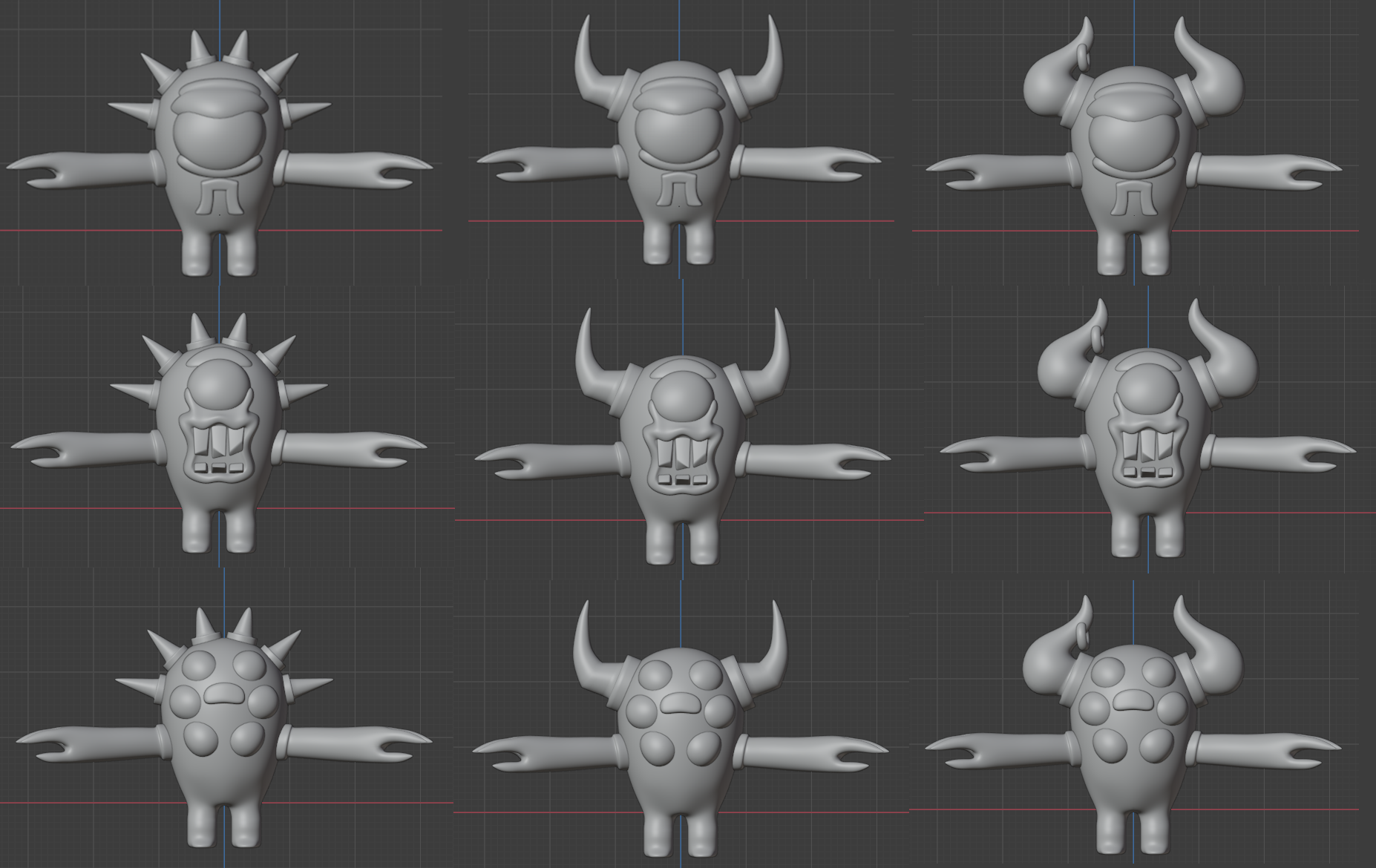 That's all from the Creature Department. Moving on to groovy sound waves.

Music
There are 2 main goals that we want to archive with The Underside's music.
We want to create exciting moments that the music supports and accompanies, making each fight feel that bit more fun.

Involve the music into the character's narrative, making it feel present inside our game's world.
For this, we created personas for our characters just like you'd do in a marketing campaign, to figure out what kind of music they would like to listen to.
Thinking about the age and the ambient our characters live in we ended up picking 2 styles of music that will be present in the game. These are Heavy Metal for our boss fights and a pumped-up Synthwave in more regular fights.
Right now you can listen to one of our songs, our boss fight theme "Nightmare Inc" on our Composer's Soundcloud: Soundcloud.com
If you didn't already know we have our fights in an imaginary plane and within this realm, we have different themes/worlds, such as Cloud, Crystal world, each world has its own ambience, props and colours, with these changes we also change the Sound Design, having multiple ambiences for each of these themes. For example, in a Cloud world, we have an ambient sound corresponding to that world and when a fight starts, the songs and ambience sounds dynamically come and go depending on the state of the game.

Conclusion
We hope you enjoyed this read with a closer look behind the scenes as we start scratching the surface of the pre-production phase of our game. Everyone here is excited about how the creatures and the music turned out, what are your thoughts?
You can follow our content and more of this game on our Twitter here: Twitter.com
The Tip Studios is composed by:
Sound Designer and Producer João Rebelo - Soundcloud
Designer and AI Programmer Miguel Fernández - Github profile

Programmer and Technical Artist Rodrigo Pinheiro - GithubPages
3D/2D Artist Tomás Franco - Artstation