OK, first of all, I see that there's a top100 voting going on at IndieDB - so do cast your vote for Shardpunk right here!
Now it's time for the actual devlog entry:
So this was the first time I've actually released a tech demo of my game - and it went pretty good, I guess. I reached out to some news outlets and YouTubers, and the game gained some interest. Shardpunk got covered by a few channels, including SplatterCat - which was a big surprise for me.
Also, Indiegraze did an interview with me.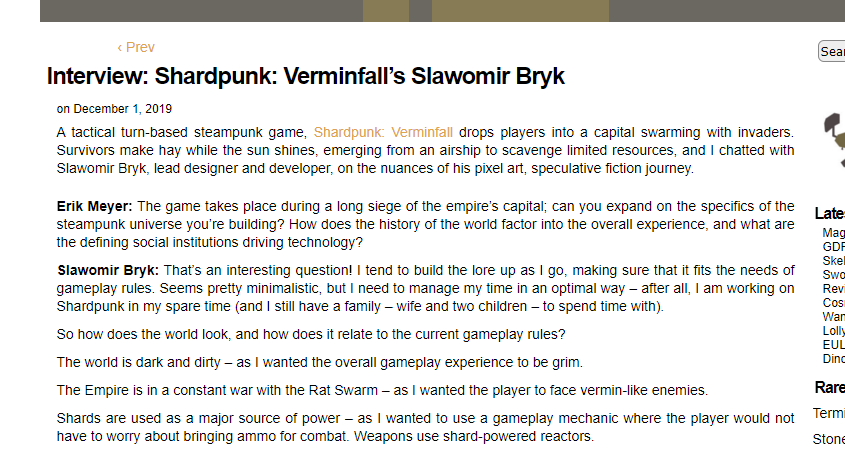 All of this is really great. I never thought that there will be youtube videos with let's plays of my game available. Awesome feeling.
Along with the tech demo, the Discord channel went live. This whole Discord thing is new for me (back in my times - and I'm 35 - people were not using strange things like this...! ;) ). I set it up in the most basic way possible (two channels, no bots, no nothing). Thanks to Discord though (and all the kind people there), I was able to resolve issues with Linux build of the game (I was not planning a Linux release but it turned out that I made it working).
The game also started collecting Wishlists on Steam - so that was surely a great move with making the Steam page available before the demo went live.
So what's next?
There's still a lot to do. First of all, existing parts of the game should be fleshed out. It was a good thing that I embedded a link to a survey in the game as I received some valuable feedback. I have extracted the most common things that people were reporting and will prioritize them for the next release.
For instance, I need to make the negative traits less annoying. The thing is that some negative traits are causing the characters to panic which can even result in them running away. This is a nice feature as it can mess with player's plans. However, if it gets triggered too often, it becomes a nuisance. The probability of such panic attack needs to be reduced significantly, and I need to set up a mechanism preventing it be triggered too often as well.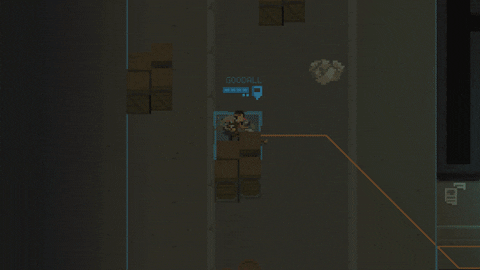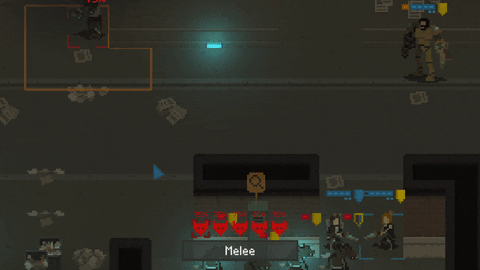 I've already added the rendering of the movement path, which will help the players out in identifying which character is currently active.
Adjusting existing mechanics is one thing; another is creating the first version of the strategy layer, which includes ship management, crew management, and map travel.
I would also like to introduce another dose of randomization to the game by making sure that the maps are generated in a semi-randomized way. There will surely be at least one separate devlog entry about it.
I am aiming to have the 2nd tech demo ready before the end of Q2 2020. As this is still a side project, it might be that the milestones will shift - we'll see about that.


Thanks for reading, see you in 2 weeks! And of course, If you still haven't played the demo, go grab it now!
Take care, and enjoy some more gifs!