Hello everyone! So, recently my post with gif became viral on reddit, getting at this moment more than 80k likes, and the gif itself got more than a 400k views. Not bragging here, just wanted to say that I'm incredibly overwhelmed by all the attention my small indie game got and all the support you guys gave me.
Thank you so much.
I haven't posted in the blog for a while, mostly because I did a lot of boring work with coding, but I also got to develop a number of abilities and add some items to the game.
Abilities.
I managed to add about 70 new abilities to the game, for almost all skill types. It is mostly early-game abilities, requiring skill levels from 1 to 7-8 (out of 15 max). I've only started playtesting and balancing them in the game, still a long ways to go. I test abilities from a single school, but I think it will be a lot of fun when players start mixing different abilities from different skills and making cool combos. Anyway here is a small showcase of a number of different magic abilities I've added.
Items.
I've started adding different items to the database and assigning them to the loot tables from enemies, merchants and crafting. Armor, weapons, potions, scrolls, crafting ingredients etc. Not much to show there yet, I've only wanted to talk about my approach to itemization in the game. A lot of RPG's kinda "shower" players with loot, drowning them in hundreds of different items, and it becomes really tedious after awhile in my opinion. I try to use different approach, where it's not a lot of items in the game, and you rarely get a new item, but each one is unique and impactful. And I will also add a number of ways to improve your items using crafting in the game.
All of the items are handcrafted and in fixed locations, so, for example, you can discover a powerful staff hidden in one of the chests in the world, and in the next playthrough you can get to it early and get yourself a huge increase in power. Is it balanced? Probably not, but I think it's more organic and logical this way, which for me is more important in the game like this.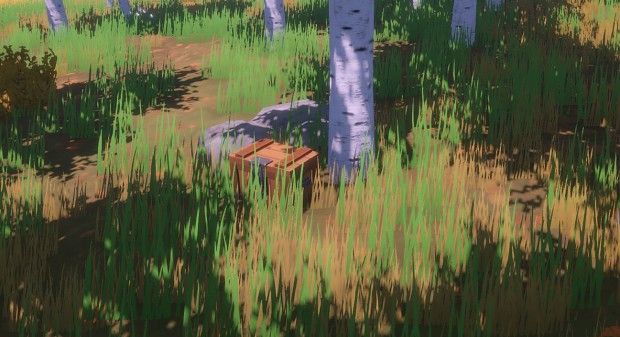 There are hidden chests throughout the map, and I tried to make a loot in each one very important and impactful to reward people exploring the map.
Alpha testing
One thing a lot of people keep asking me about is when the game will be available for alpha/beta testing. It's very early right now, so I cannot announce a concrete date, but I think about doing some alpha testing in early 2020, so stay tuned for that. I will announce it in my blog, in our discord and everywhere I can basically.
Thank you for reading this post, stay tuned for updates.
Follow me on twitter for more info: Twitter.com
Join the discord to talk to me and discuss a game: Discord.gg