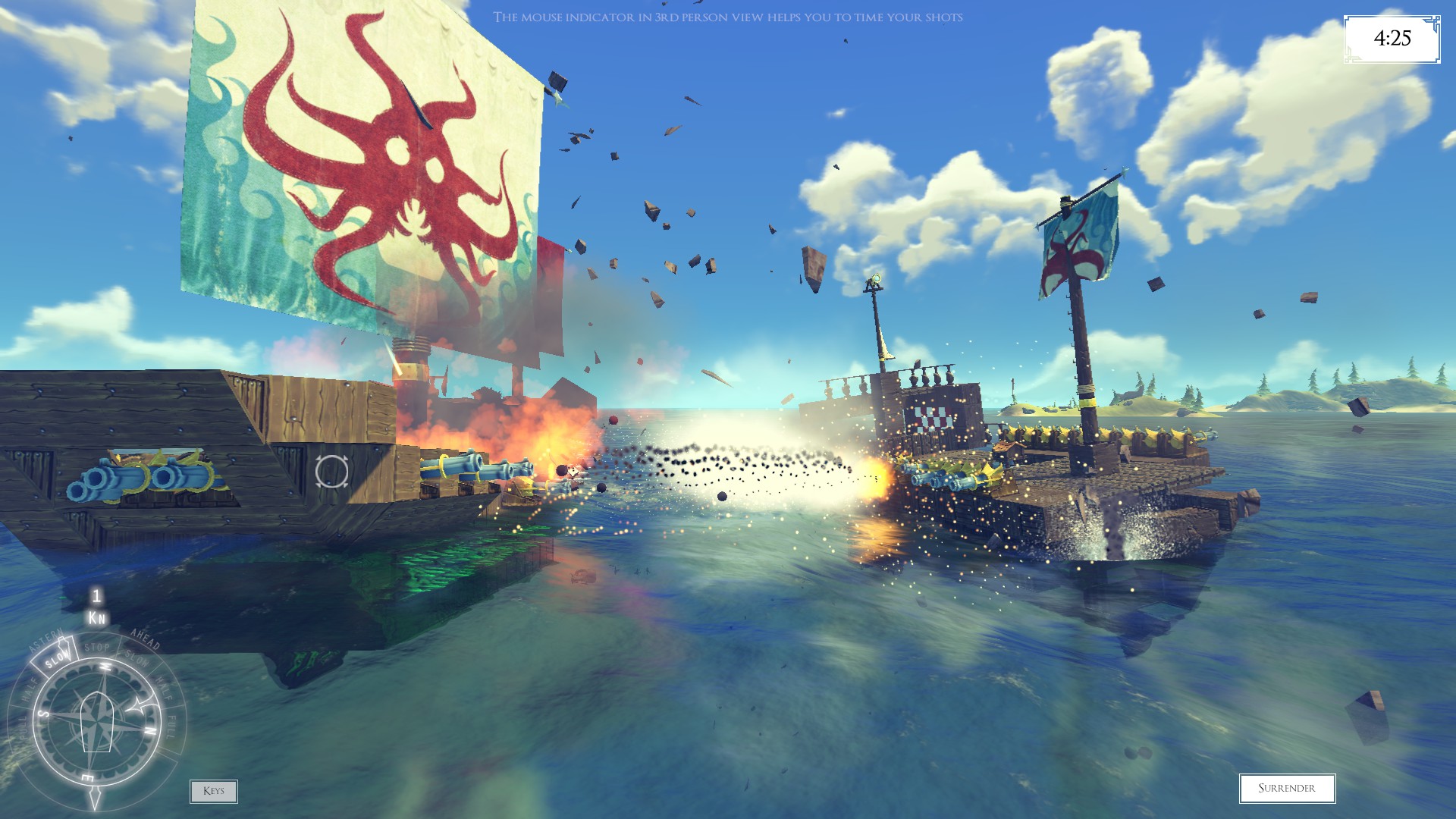 Hello collective creative genius
Sorry for the recent lack of comms, we've been nailing a whole heap of dev so that we can get this next MASSIVE update out asap, so without further ado:
BattleSeas Update – we've now added a whole heap of challenges too complete in 4 BattleSeas levels, ranging from Racing to Sieges, Fleet battles, treasure hunts, Hill Climbs and more! We've also added a map to these levels, with fast travel so that you can find stuff and get around easier.
Torpedo & Rocket Propulsion Blocks – just finished adding in two new very adaptable blocks that detach on a keypress and then accelerate away from your ship, giving you steering control for a limited time. We've found adding the new mine block to the end as a warhead is a nice addition and results in some lovely destruction.
Beta version of the next update is due out on 19th Sept for all those wanting to test it for us – we would truly appreciate it! Don't shoot us if it doesn't quite hit the 19th, there's a lot to go in, and it WILL have bugs – which is why we need you to test it! J I'll update as soon as we know more
ChangeLog below:
Verses mode - move starting location for player
Moved BattleSeas to top of main menu list so players start there
VFX - toned down vfx on fire cannons
Dorenmar Environment – Added lighting & variation
Terrain extension to Dorenmar
Fixed the twitchy glitching
Main Menu Tweaks
Upgrade the attach points visually
Fixed WEIRD coalescing on specific ship - 3rdratesol - physics was runngin 4 times for some reason!
Added new water cannon
NEW game start up - first time a player enters any mode, give them a popup screen with 3 options of ships to choose from
Implemented Keyboard assignments AND separate block triggers (i.e. can use propeller 1 at different time to prop 2 etc)
Battleseas – implemented the map & opened up the power options
Wrote a collider to capture the trees and rocks in levels so that we can collide with them
Grabber block is now available- can be loaded in editor with something(mine etc), then released, and attaches to stuff like a magnet in play
Added Torpedo Propulsion Block – can we deployed and the player drops into FPS mode on the torpedo and can steer it a little
Added Rocket Propulsion Block – like torp but in the air
Added Ballast Block 2 - Slightly heavier and round version of ballast - better suited for the fuselage of torpedo/rockets.
added time delay(user defined) to spring block release
Races are in – Basic (cc mario type limits), Wind power only races, Flail racing) - power limits/manifest setup
Added Winch & chain - winch type block which can be lengthen the chain in play mode.
Fixed BUG - Custom Joint issues with complex block hierarchies (Ref: Rotor and Winch/Flail)
Pivot joint - added option for this to only pivot or force pivot on key press
Map button - taken out of sandbox mode
looked at how to turn on melee weapons damaging own ship and then turned it on.
New Ship button - once selected, give selection of 4 base Hulls (1st is starting block then 3 others: Raft (Cog), Carrack, Galleon) for the player to select from
animated crab claw
Water cannon bug – fixed issue with near flames not going out
BUG – Fixed Wave Machine params that used to sometimes cause ships to somehow "fail" to do buoyancy properly.
Map - added player ship to map even when docked
Map - Added fast travel to challenges/races etc in map by clicking on icon on map
Added new races, various challenges, fleet battles, survival battles to all BattleSeas Levels.
Tweaked and played with the GUI a number of times until it was betterer.
As always, feedback and comments are very welcome
Have a great week all!
SPG