There was no update last week, sorry about that. I got a new job so I had to get all my stuff packed and move out here. Anyway, on to the good stuff.
Recap
If you may recall last time I talked about spending some time trying out what the game would be like in 3d. So far? It's a blast.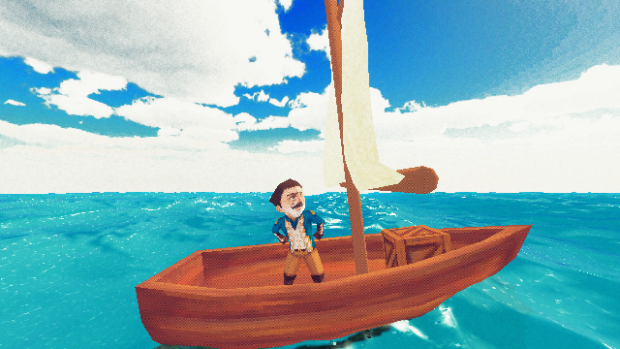 I spent a lot of time working on the movement mechanics to really make it feel like you're controlling the boat. There is a rudder at the back of the boat you can rotate left and right to control your heading. If you're using a sailboat then you also have some control over the direction of your sail. Wind also comes into play. If you sail along with the wind and have your sail opened to catch the wind, then you'll be going faster than if it wasn't. Sail into the wind? You'll want to close the sail so you don't slow down even more.
After that came cannons. Using a cannon gives you a behind the shoulder view where you can see where you're aiming and the cannon itself. There is a crosshair that is in front of your cannon to help show you where you'll be aiming, but you'll still need to use your own judgment. The current cannons are fixed emplacements that you can't rotate horizontally, but you can rotate them up and down to help aim your shots. Rotary cannons will be a different cannon type that you'll be able to buy at markets in the game.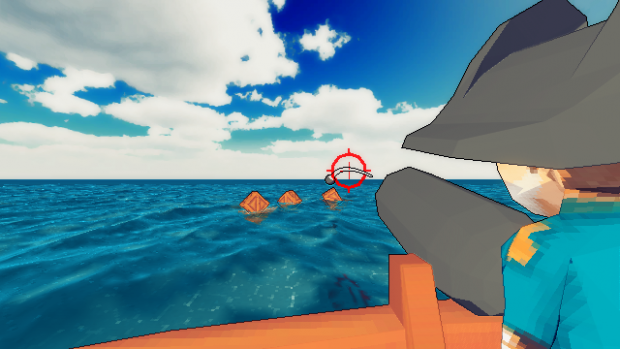 What do you do after you have cannons? You make debris. Shooting a ship spawns debris based on how much damage you did to it.
And finally, the AI. Here's an image to help illustrate how it works while I discuss it.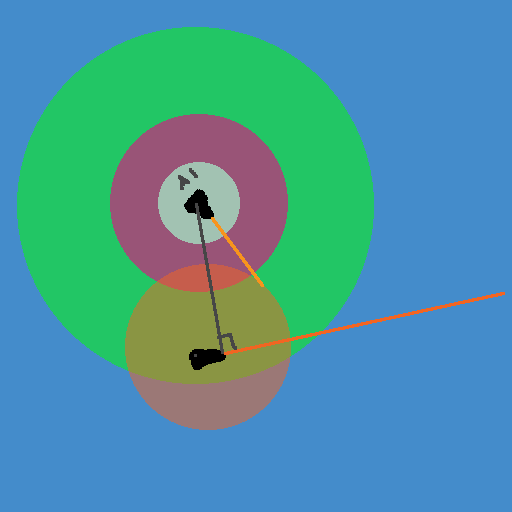 The green circle represents the AI's sight range. Once you're within that range, he'll come after you (assuming he's aggro on sight). The tangent he takes puts him on a path that leads him into an orbit around you of the radius of the red ring. The red ring is his firing zone. He will happily circle around you at any point in that ring. If you get too close (the lighter center circle) then he will run away until he's back in his optimum firing range.
He doesn't fire yet, but all of his movement stuff is working fine.
I also played in a larger resolution for awhile, I thought it was pretty. (Click on it for bigger)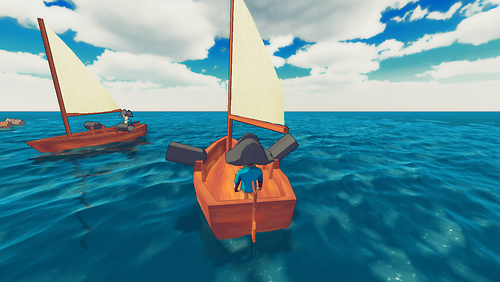 Looking Ahead
Going to get the AI firing his cannons as well and work on some other smaller things. Updates will probably be bi-weekly now because of work, but I'll try to do weekly ones too if there's enough work done.
Play Seafarer
If you'd like to try out the 3d version I've been talking about, you can! Here are the controls:
General:
WASD - Move
F - Interact
Right click - Move camera
At Tiller:
AD - Rotate rudder
WS - Speed up/down
QE - Rotate sail
At Cannon:
WS - Change firing angle
Space - Fire
Have fun!
Playseafarer.com