Where we're at with Multiplayer
Essentially it's pretty stable at the moment, the server and client structure is pretty much finished and te only few things left to do are sending worlds over from server to client (and of course updates from the client) and also moving some of the client side features over to the server so they can be handled more securely. Hopefully I can do it fairly quickly but at the moment I'm on holiday and it's so hot here that even opening Crawle overheats my laptop!
Here's a picture of the server console - not much of a looker but it does serve it's purpose: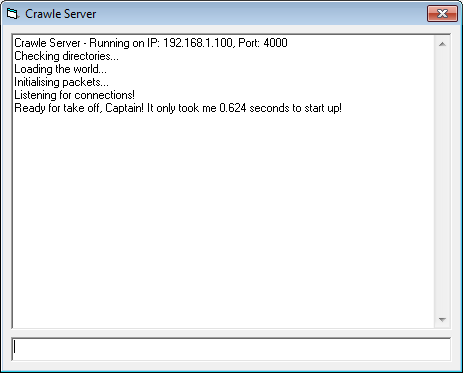 Open-Source
As I said before the server will be completely Open-Source. This will help us as a community find bugs and also open up a few new possibilities for modding. Yes, it will mean that essentially these mods will be Multiplayer only but we haven't found a good way of making the client Open-Source - Crawle isn't very well known at the moment, anyone could simply take the source and pass it off as their own which is why we'll probably wait a bit before making the client Open-Source. However, we will be making some tutorials for the modders out there, both programming and Crawle tutorials. Feel free to contact me anytime about any programming you might need help with when modding Crawle.
The Nightlies
Yes, they're happening! I will start doing nightlies just after PTV4 is released (i.e. when multiplayer is ready). This could be in one week or two but I'll attempt to put out at the very least one release every 1 or 2 days.