Welcome to the very first News post on IndieDB for Exodus Wars: Fractured Empire. In these posts, we will bring you information on what has been happening with Fractured Empire and what you can look forward to in the future.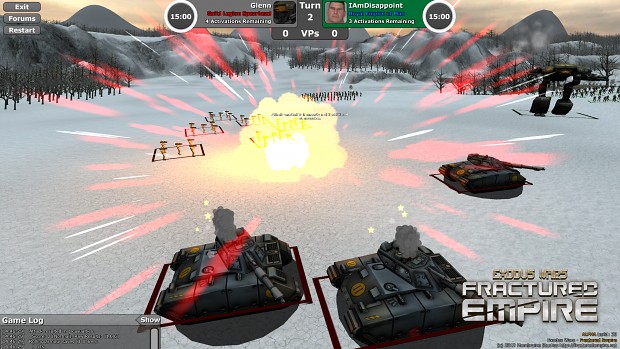 Just before the holiday season started, we released an Alpha Build update with some big changes, including an expanded, larger-scale Alpha scenario and hot-seat multiplayer, not to mention bringing in the Royal Empire of Man's Marcovian Small Behemoth (and implementation of the super-vehicle rules). Well worth the automatic Patcher download for pre-order customers.
At the same time, we re-released the original, smaller scenario as a Demo that anyone can play in their web browser. The Demo is available at FracturedEmpire.net/demo. Please feel free to share the Demo link with your friends!
Right now, we are preparing for our Desura and Steam Greenlight launches. We're also working on the next build of the game in parallel, so our pre-order customers will gave a new build with some great new features to play with very soon.
Last but not least, our first ever Fractured Empire Newsletter was emailed out just moments ago. If you're not already a subscriber, you may be interested to check it out online.
Thanks for reading, and we hope you will follow us to keep track of Fractured Empire's development.