Greetings to all of you,
I would like to elaborate little bit more about work I have done during last ten days.
Forest
I have prepared conceptual visualization of the forest, that will be present in the game. I have taken camera with me and I have gone into woods. I was mainly interested in shape of the terrain and I have found few beatiful landmarks. It doesn't mean that I wasn't in forest before, but you have to realize what are you looking for before you see it. And I have never been looking for such a elementary thing as the shape is. The secondary thing I was searching for was feeling and overall impact to all senses.
I have found beatiful forest stream, surrounded by growing vegetation and the whole scenery was situated in small valley. Forest terrain can be very complex, not only flat surface and the forest where I was was very hilly. It was rather difficult to move without any problems, since you had to go into hill or from slope all the time. Ground is covered with leaves, it can be muddy and some places seems to impenetrable, surrounded by bushes and rocks.
These impenetrable places creates haze of mystery, that each forest has. When you stand in the middle and there is nothing around, just trees. Listening to wind how it plays with trees, how it shivers leaves and feeling the cold (cold, which is there even if you are well clothed.) will induce unpleasant feelings in you.
Due to all these facts, I have chosen to use rather cold colours for the location with focus on blue shades as you may see on screenshot below: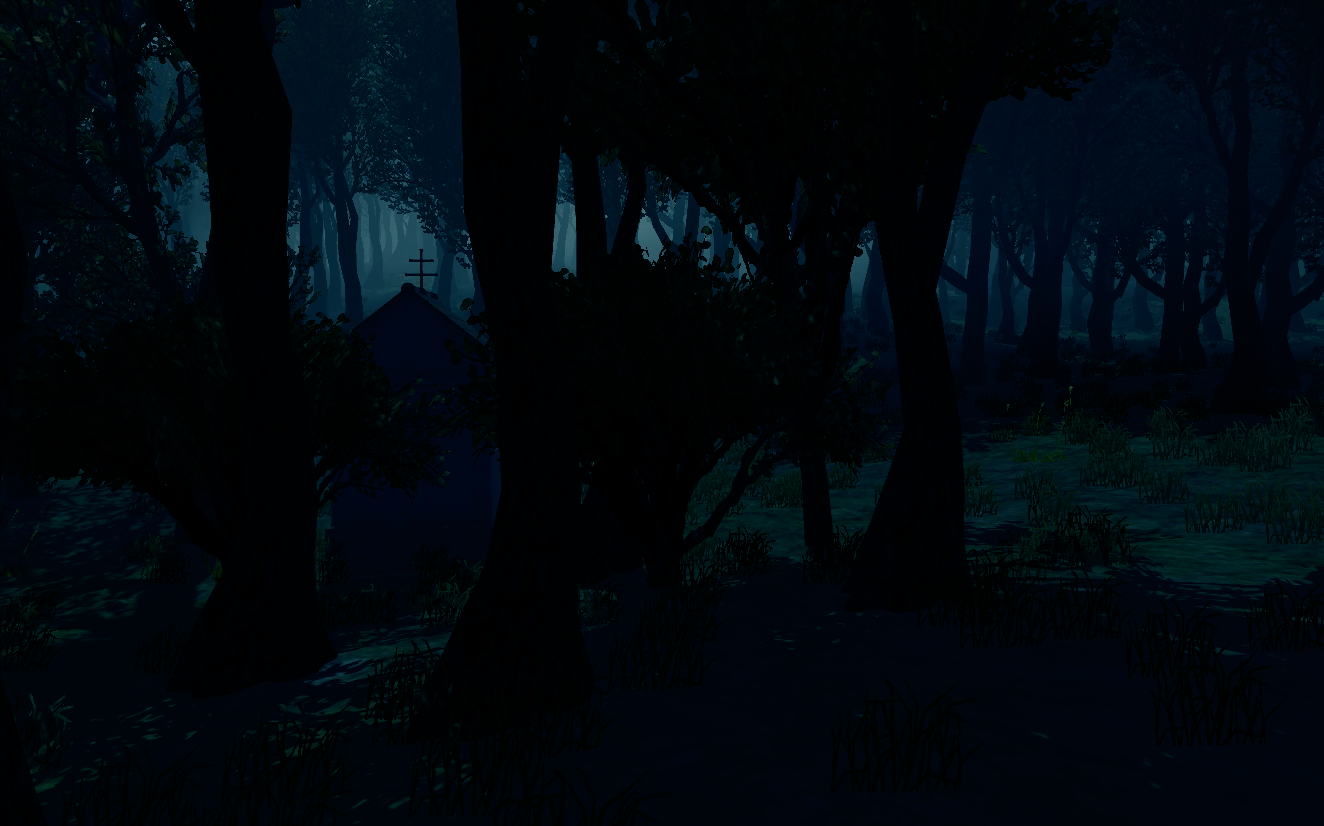 Obviously, this is not final look of the forest locations, I will focus on improving textures, items, props and of course the forest ground.
Calvary
Oh, yes, the building you can see on the picture is not church, but cavalry, it is typical for Central European countries to have them along paths. It is usually small building with picture of saints and flowers in them. I can say that these will have some role in story.
Plan for next week
I plan to improve models a bit and texture them. Currently WIP are props like custom pipes, valves, doors. And I would like to finally make first shed.
I am working on proofs of concepts all the time and expanding story.
Few words that cheered me up
It is not secret, that when I was on the walk through the virtual forest I was really scared, even though I am the creator of it. :-) When I passed it to my friends for short test, their reaction was great - they did not admit any fear openly, but said "The atmosphere is great", that cheered me up a lot. Hope I will have enough of energy to push the project to successful finish.