Hi Tycoons,

First of all, please remember, that you can join my Discord channel to stay in a day to day touch with me and our community if you don't like the Steam forums. Here is a link to join:
Discord.gg

I know from your feedback that you would like to have a more complex pricing system. Changing the pricing system to support discounts means that I had to alter the customer simulation, too. It is already in the game, and I think it is a much more reliable and balanced system now than ever before.
You can price your products as before, but this time you have an additional screen on which you can give discounts for the given product per country wealth. I think it is more convenient to do it like that instead of pricing the products per country - because u just have way too many countries eventually. For this, not it is also useful to see your profit per units sold.

So you have this new screen: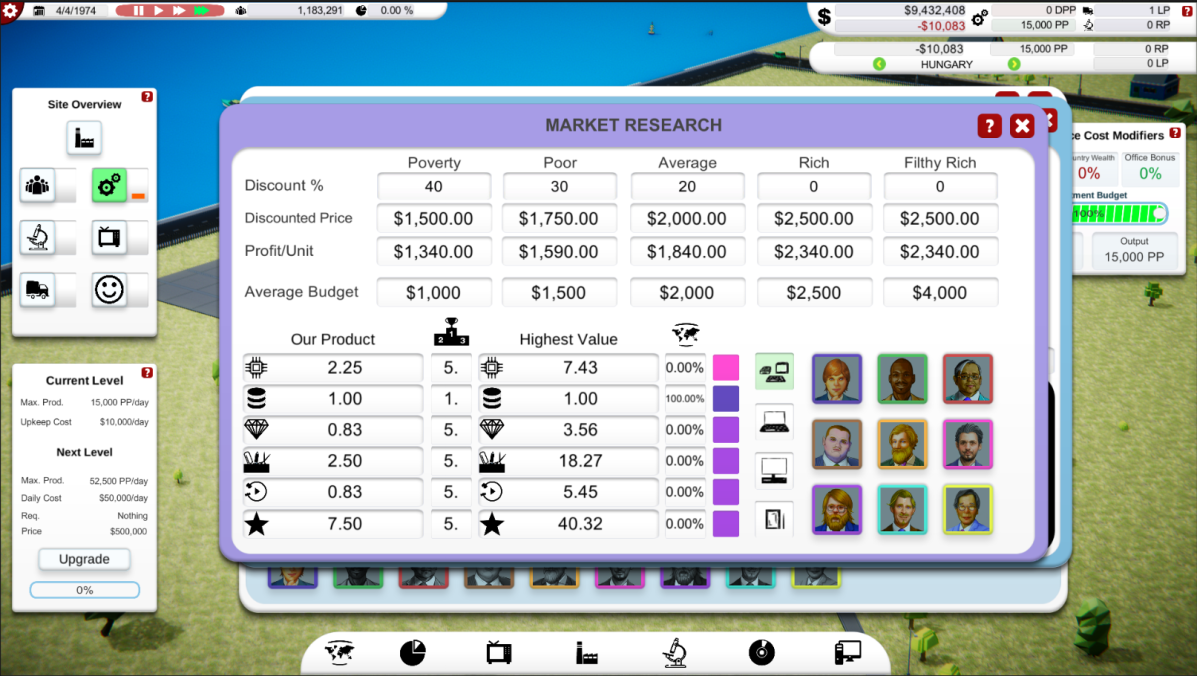 As you can see, on this screen you can also find out the placement of your product compared to your competition. (If you would like to compare it to only your stuff, or to only given opponents, you can simply turn off the unnecessary opponents on the right side).

If you see 50% in the line, it shows how big is the shared population with the owner of the given best product in the category.
So let's say your CPU is the 7th in performance, while Big's Computer has the #1 CPU in performance on the market, and you see 100% in this line. It is bad news because Big is selling his superior CPU everywhere where you sell yours. In that case, you may still sell these CPUs if their price or other attributes are competitive. And by lowering the price on this screen, you will also immediately see if you still make a fortune by selling them OR they may just generate you a loss by doing so.

If you are really behind, you may consider contacting Big... and buying techs from him (if he is interested in selling them and you can pay its price) or even make an agreement of putting his CPUs into your computers. -> This is something which is yet not in the game, but it is on the roadmap.

On another screen, you are able to see how many of this product was sold to different user-groups. (user-groups were also asked by many of you)
We have Casuals, Gamers, Workers and Cheapskaters OR Bargain Hunters. (which name do you prefer?)
And... that how many of this product was sold in a country with poverty, poor, average, etc... wealth level. As you could see, from now on you can see the average budget of people in the given economy-level per product type. This and other opponents' prices are your indicators now to select your price. In general, you can make much more profit by selling to rich people. But if you sell only to those then you skip the biggest chunks of the market... So these indicators can help you to actually see that who are buying the given product on the given price you've just defined.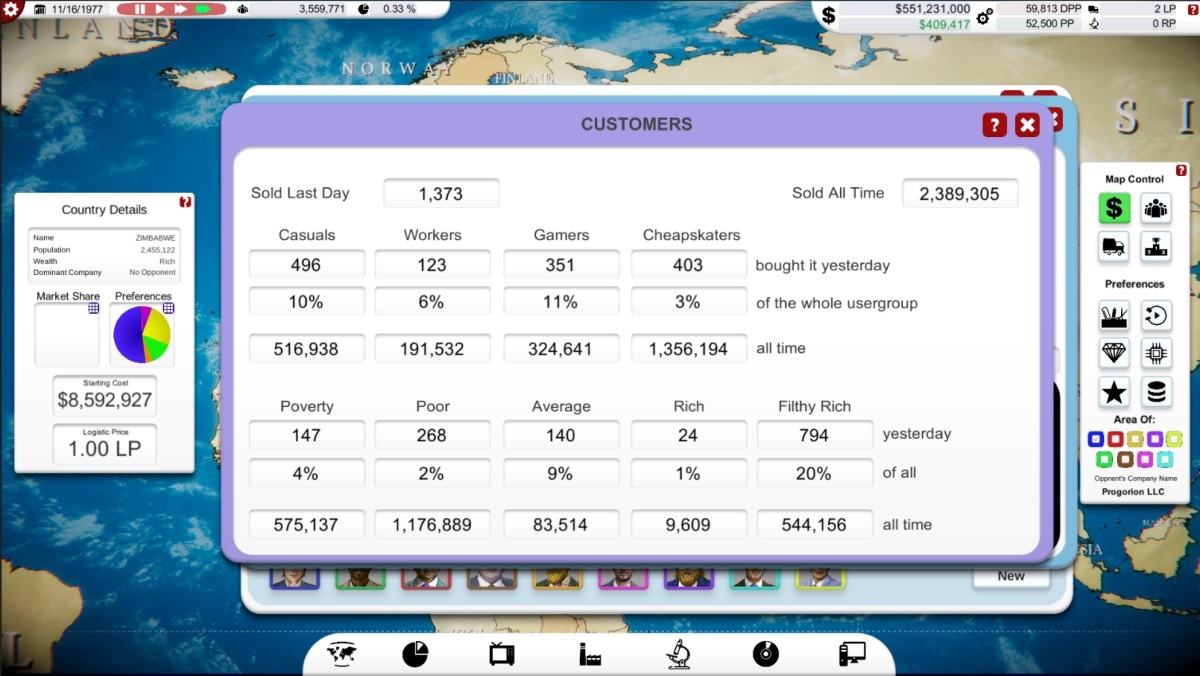 Lately, my painting skills have improved, so I'm working on the faces of the future manager system. It is not sure if these are already the final versions, but check out the difference yourself:

Say hello to the new Billy & Laci manager characters:

...characters. Here are the old versions:

My goal is still having a beta released in October.

I truly think that the beta will be like a totally new game, basically "Computer Tycoon 2".

If you have any questions, please use the forums or discord, because I'm more than happy to answer them!

Check out the game's roadmap here:

More development pictures which were already shown in earlier news posts: