Things have been a bit quiet around here lately… and that's because I had been working on wrapping up a build for release to our testers! It had been months since the last test, and it's taken a lot of time and effort to get things where they are, so I'm very happy we're here.
So, how's the game coming along? Good! I have finished a dungeon with its own mini boss (although I don't know if rolling boulders can be considered that) and a boss. Actually, the place is not quite a dungeon. This location is an interesting hybrid between game-area and dungeon. When you first visit the place, it acts as a dungeon with walls and limitations, but once you navigate through it, defeat the boss and get a spell, the 'dungeon' opens up and becomes an artery that connects different areas of the game world.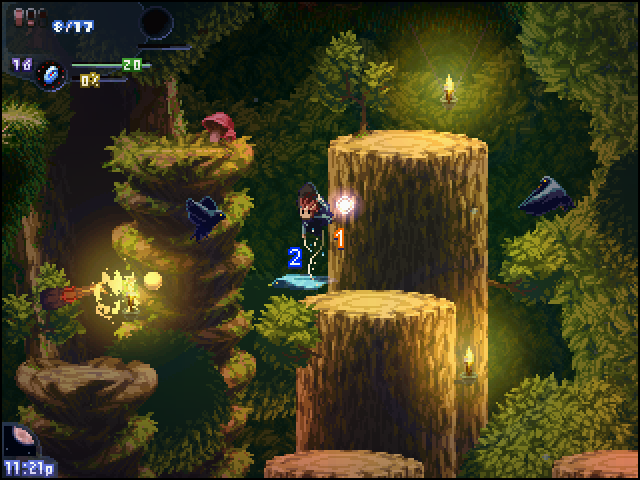 Alicia fighting her way out of the Ilmaril Forest
All of the other dungeons in the game will be at the rim of the map, so I won't have to worry about designing them to be easy to traverse later on. The only disadvantage with dungeons that become open-ended later is that designing them is a lot harder, and plenty of things can just end up not working. I suppose we shall see how it works with the testers, and we'll have to figure out how to fix any issues that pop up. I wish I had more manpower to play with these concepts more often!
What must be done now is wait for tester feedback, and hopefully finish the patching process soon so I can concentrate on working the road through the desert to reach the city of Blivek!