Thanks IndieDB for contributing to a great 0.2.0 release - it was made available on Monday, and can be downloaded here:
It contains a guidebook, new world generation, sixteen skill trees, options, controls, saving and loading, multi-square trees, a thousand bug-fixes, and ASCII generated pictures like the one below: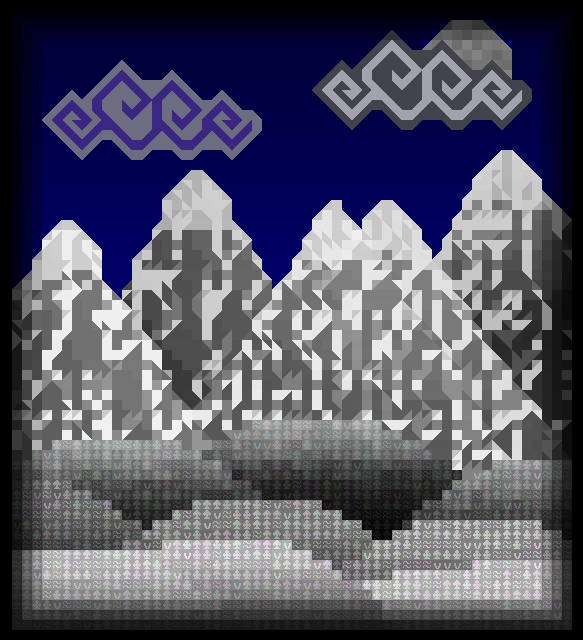 With the 0.2.1 release rapidly approaching, this update is to let everyone know what the future plans and timetables are for the development of the game.
0.2.1, December 2012 (this is the version I am currently working on, and will be released this coming Monday):
- Bug-fixes
- Map exporting utility
- Resources map
0.2.2, February 2013 (this is the last of the 0.2 versions, and will add a few extra features, and also work towards making releases a little smaller but more regular):
- World map coloured according to time of day
- New map key and information
- Memory use/loading time improvement
0.3.0, April/May 2013 (the next big release - language, myth and history generation!):
- Language generation
- Myth & legend generation
- History generation
- Civilization generation
- Present-day civilization territories
- Rule, Command and Civilization Traits
1.0.0, ??? (the first gameplay-heavy release):
- Dungeon, tomb, temple, ruin generation
- All ruins etc tied to history
- Mythological mural generation
- Non-combat dungeon "bosses"
- Language-specific name generation
You can keep up to date on my devblog, Facebook page, or Twitter feed. The devblog is updated weekly on Mondays, Facebook a few times a week, and the Twitter roughly daily. Any thoughts, please leave them in the comments! Version 0.2.1, containing a few bugfixes for 0.2.0 and the new 'Resources' map, is due out this coming Monday (the 3rd of December), and I'll update here at the time with more specific information about what's new and what's fixed. See you all then, and hope you enjoy URR.