This dev diary is going to focus on the future game modes that are planned for Operation: Aftermath.
Currently we already have a Co-Operative survival mode, where 4 players face endless waves of enemies, as well as a Deathmatch mode, where players fight each other for the best score.
But here are some more that are planned for the game's release.
CAPTURE THE FLAG
---
The game mode that is currently being worked on is Capture The Flag. This game mode is almost done. This game mode plays out pretty much how you'd imagine, 2 teams, 2 flags, the teams have to steal the other teams flag and return it to their base to score a point.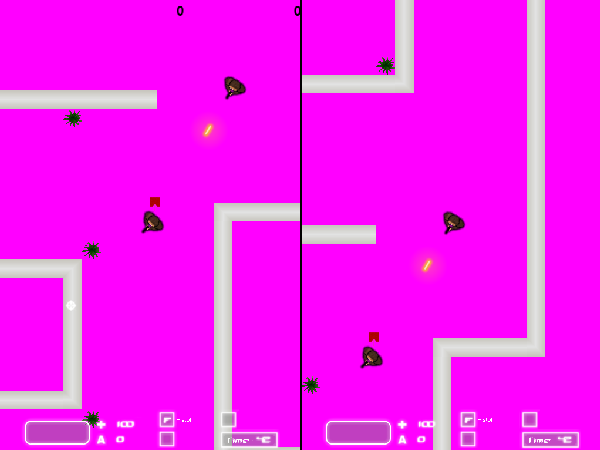 Player 1 with the red flag, running to the blue base, with player 2 in pursuit. Map is a Work-In-Progress.
In terms of planned game modes, we have King of the Hill and Assault modes planned. It's worth nothing that all of these game modes will have variants, such as Team Deathmatch etc.
KING OF THE HILL
---
Team King of the Hill will play out like Team Fortress 2, where 2 teams have to fight over a single control point, whereas Free-For-All KotH, will probably play out a bit more dynamically, with moving control points, where players earn points while standing in the target area.
ASSAULT
---
Assault mode is where each team has a base that they must defend against the enemy. Currently I plan to have a variant where each team has a base that they have to defend, whilst attacking the enemies base, and another variant where only 1 team is attacking, and the other has to defend. There's also the possibility of a MOBA-esque variant, where you get drones that spawn to help you attack the enemy base, and turrets to defend.
There are other game modes and variants planned, but for now, I'll be busy with these ones.
Because of these new game modes, and the new options they will require, I will be re-doing the game lobby screen, to be more organized and efficient. This will also make it easier to add the online multiplayer mode later on.
Aside from the game modes, if you watched the level editor timelapse, which is available to watch in the video tab at the top of this page, then you will see that I've added rotation to the level editor. That video is a week old now, so some things have been added, and a couple of bugs fixed.
I've written a TO-DO list of things I want to have in the Alpha release of the game, once I've finished the list, and I feel the game is ready for a public Alpha release, I will contact Desura about getting the game onto the Alpha-Funding program.
Have this screenshot of a random forest as a parting gift: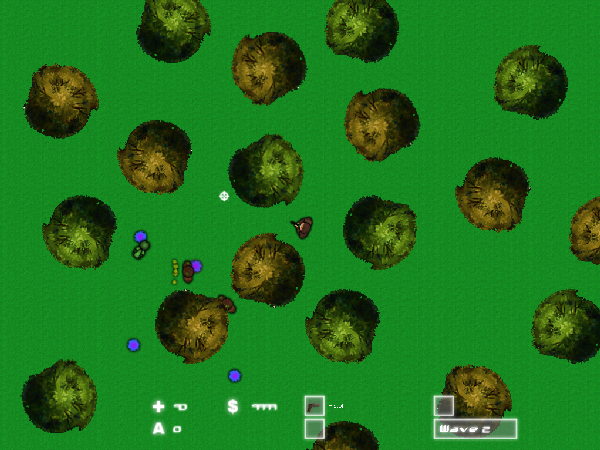 As you'd expect, forests are evil.


Next week, we'll talk about the enemies of Operation: Aftermath.
Keep up to date mid-week by following the games development on Twitter.
Also, you should check-out MetaSpace, also made by Dark Fire Entertainment.