Some say in a few years we'll all be eating insects. Well, you may find that in Dark Fracture a role-reversal of sorts awaits you. We've been hard at work getting new models for the game and today we're ready to show you one of them and take you on a journey through its creation.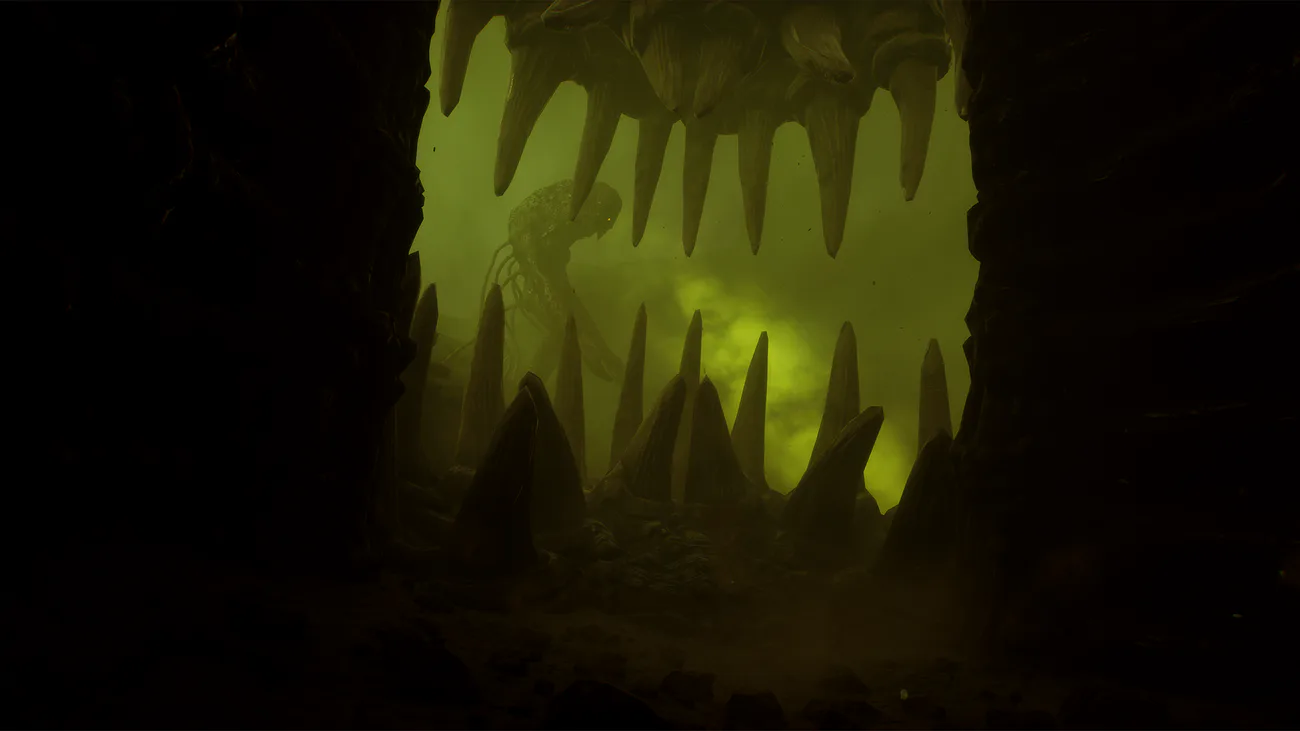 Skittering… will it ever stop?
Let's get to the meat of this devlog. Do insects count as meat? Regardless, last you've heard from us, it was still 2021 and we took a closer look at the realm we dubbed "The Underworld". This time, we bring you one of the horrors that leaked into reality from said Underworld, or... did they? In your day-to-day routine on the body farm, you may find your workflow interrupted by some of these hideous mutated insectoids. They may be small in size but there's power in numbers.
As far as the design goes, we wanted to go with something that is almost universally considered repulsive. You'll be hard-pressed to find someone who isn't at least a little peeved by the sighting of an oversized insect. Of course, there is beauty to be found anywhere and the detail on our new critter certainly has some aesthetic appeal, if I could say so myself. Another reason for choosing insects? Dark Fracture's atmosphere really hinges on this alien and eerie feeling and bugs have for years been used as prototypes for designing alien creatures. Their anatomy lends itself perfectly to creating monsters that make us feel uneasy because in real life we never see insects in these proportions and with so much detail, and they look nothing like the animals we're used to seeing day-to-day.
As you can see in the images above, the design has come a long way from the initial draft. Aside from the model gaining a lot more detail and definition, there were a lot of design changes. We've settled on a much angrier looking skull, the mandibles gained a much more exaggerated, carnivorous-alien-here-to-devour-you feeling, and surprise, surprise, it has wings now. Oh, God.
Even then, our work was not done, as the critter had to be textured, and we were still working out little kinks, the biggest of them being the design of the wings. Here you can see one of the early iterations:
At this point, the design was really coming together, and it soon culminated in the final look of the monster. That's what you've been waiting for, haven't you? Well, we'll show you the final product in a second, but first, we've prepared a little texturing breakdown time-lapse of the model. Enjoy:
Now, without further ado, we present to you, the finalized version of our insect friend. Be right back, need to take a shower after this…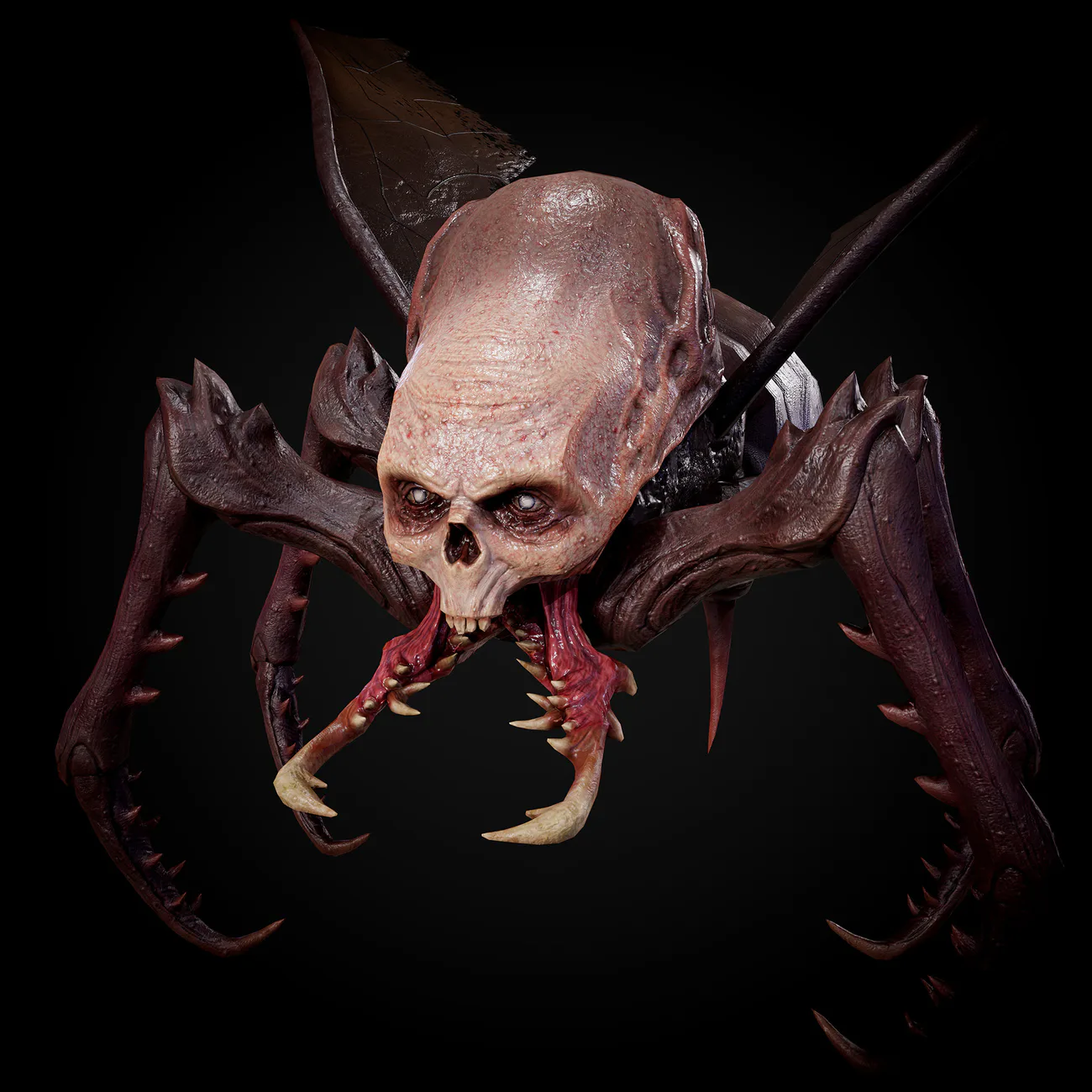 ---
What's happening in the real world
EVENTS
Back on Earth, not unlike our insect buddy, we've been quite the busy bees. While most of the showcases are taking place online, it has not tempered our spirits and we're spreading the Dark Fracture gospel at all of them. There are a lot of events happening so let's take them one at a time.

We've just recently taken part in the Intel Showcase at Hamburg Games Conference, which was mostly a biz dev event but we were nonetheless happy to be part of this very impressive lineup. Our publisher Feardemic also held an event which they aptly named the Feardemic's Fear Fest, where they showcased new trailers from their upcoming titles, Dark Fracture, as you may have guessed, being one of them. If you missed it, you can watch the FFF trailer here:
We have also been honored to get featured at The MIX 10th Anniversary Online Showcase which has previously given stage to such wonderful, critically-acclaimed titles as DARQ or Eldest Souls. Standing next to such giants was definitely incredibly exciting.

As far as live events go, we visited WASD in London, this led to this hilarious compilation of people jumping in their seats while playing Dark Fracture: Prologue.

People seemed to enjoy the Prologue quite a lot which really gave us the motivation to keep working on Dark Fracture. We really love seeing the fans' reactions, because it's you guys that we do this for. If you were one of the people we scared at the event make sure to let us know in the comments. If you haven't tried the Prologue yet, it's completely free and you can check it out here.
Moving from the past into the present, we have a few events coming up, most notably Digital Dragons 2022 where we're a part of their Indie Showcase, and Indie Live Expo which included us in their INDIE Live Premiere segment. DD2022 takes place on May 12-13, and will show off 40 selected titles on Steam before the conference, and then let you play them during it, so look out for Dark Fracture. As for ILE, you'll be able to catch us on day 2 of the event (May 22) on their stream.
---
Until our next devblog post, we remind you, as usual, to add Dark Fracture to your wishlist to not miss any updates: