Developer Journal #47 - Cave Explorer
So now that we have made the Scavenger hobby available the fun certainly doesn't stop there. I wanted to take some time and go over what we have in store moving forward.
As mentioned in our release thread last week we will be adding additional levels to the Scavenger hobby. We will be adding levels 11-20 soon which will include new recipes, new materials and a new area to explore.
Recipes
Aside from additional furniture we will also be adding in building blocks using the various raw materials. Building blocks will come in various shapes such as tile, cube, wall and column pieces that can be placed down to construct various structures in your private and public locations.
Raw Materials
It has been our plan from the start to add additional raw materials to find as users progress in the Scavenger hobby. Our next material will be iron ore which will be required in various craft recipes from levels 11 through 20. It has also been our plan from the start to add additional locations to find these new raw materials.
Explore-able Caves
We will be adding caves/mines to both Sunset Isle and Tutorial island that can be entered and explored to find raw materials used in crafting. The first such location will be an iron mine located in Sunset Isle.
On Creating Caves
As a small development team we're always focusing on how we can add new content quickly and efficiently. Working on outdoor locations like Sunset Isle can be rather time consuming given the overall size of the area and that everything needs to be somewhat unique. Working on interior spaces, such as our new caves, allows us to take a more modular approach that will make it far easier to expand on our cave networks over time.
I don't always delve in to the artwork side of NuVera Online and wanted to take a moment and show how we're building our new caves. For our cave network we're working on smaller cave pieces that can be snapped together. So for example we have hallway pieces and room pieces that are created so that the geometry of the end of a hallway can easily snap to another hallway or a room piece.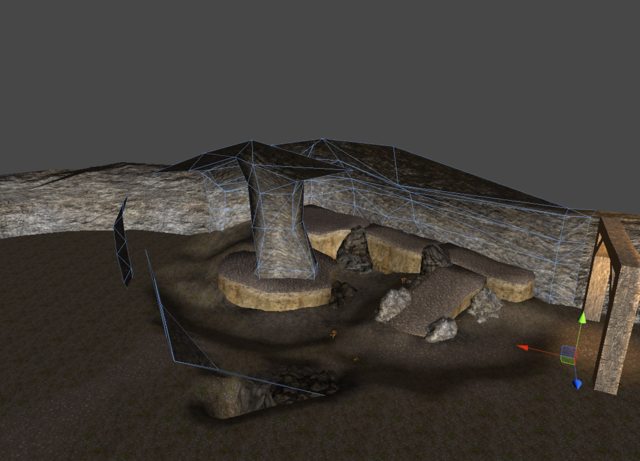 In the example picture above I have the room section highlighted. The room connects to two different hallway pieces on either side. The convenience of this is that by creating these basic modular segments we can easily extend the cave or create a brand new cave without having to re-create all the base geometry.
It also makes it easy for additions later on as well. For instance if we wanted to add a new cave, but we want to use a different cave wall material or we wanted a room with a different shape then we can easily focus on just what needs to be added instead of the cave as a whole.
Given we are using the Unity3D engine we opted on having our cave modules without floors so that we could utilize the terrain engine instead. This gives us a little more flexibility in designing our cave floors so that we can re-use the same cave room and make it easily feel quite different by raising/lowering the floor as well as adding in additional assets inside the cave room.
Aside from the cave pieces themselves there are additional cliff edge/platform pieces that allow us to break up a room/hallway and make things a bit more interesting.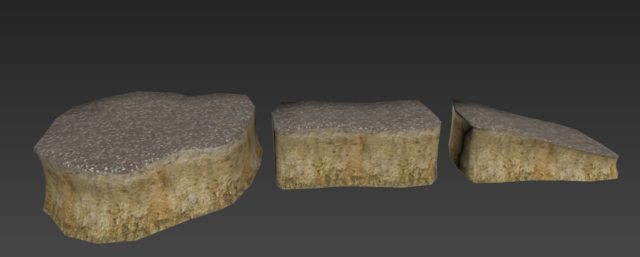 So using a small handful of assets including the modular cave, ledges, rocks and terrain system we end up with this.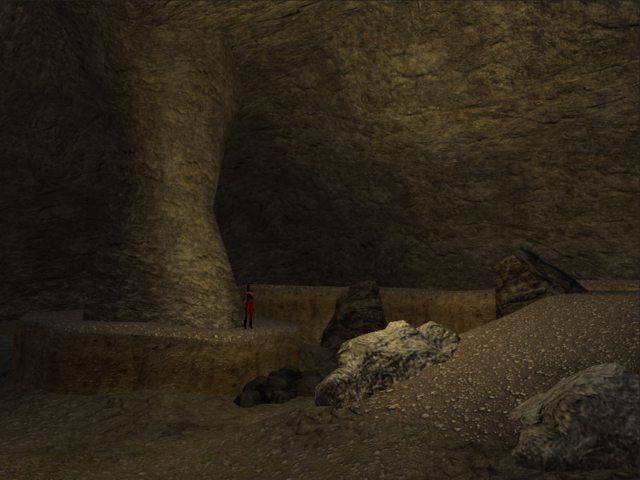 The image above is just a rough draft using some of the assets we've put together so far. We will be creating additional modular pieces and creating a new cave to explore that can be accessed from Sunset Isle.
As always please feel free to ask questions or give feedback and until next time… have fun out there.
Danto