Much like the Pickup Block talked about in last week's article, the Slide Block has gone through some major overhauls recently. Unlike the Pickup Block, our first take didn't end up as the final product. In fact, neither did our second, or third, or well, you get the picture.
The Slide Block at its core is a block that slides when hit by an explosion. It actually is a fairly complex puzzle piece, but we'll get to that in another article. Meanwhile, to the art!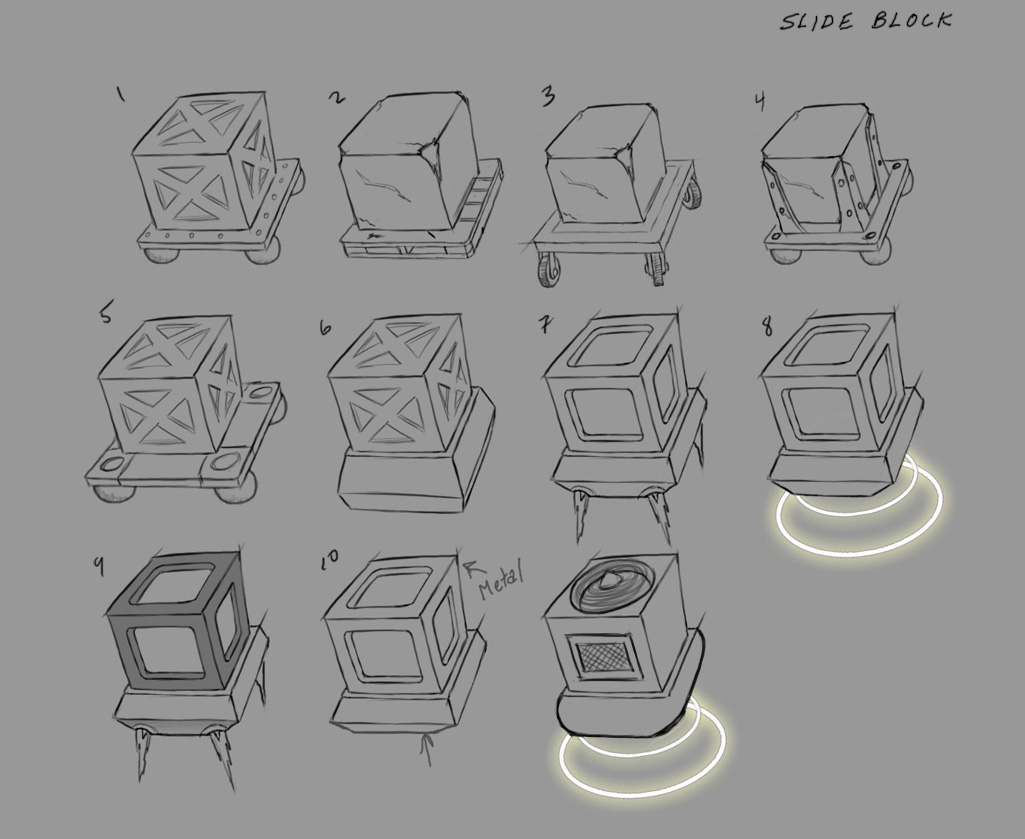 Part of the Burnstar design creed has been to make sure that all items in the game are easily understood by the player, even in placeholder form. Sometimes that means writing Slide Block in bold red on a white box and putting it in a game. The Slide Blocks started out as just that in placeholder form. This placeholder helped us test the features of the Slide Block, and also helped players understand what it was while we sorted out what the final art would look like.
When we went to concept the Slide Block, there were a few key basic principles we wanted to keep for design.
Easy to understand what it is
Easy to pick it apart from the rest of the blocks
Looks like it can slide
Looks like an explosion will not destroy it
Looks like it should hold down switches
Looks like it can destroy breakables on impact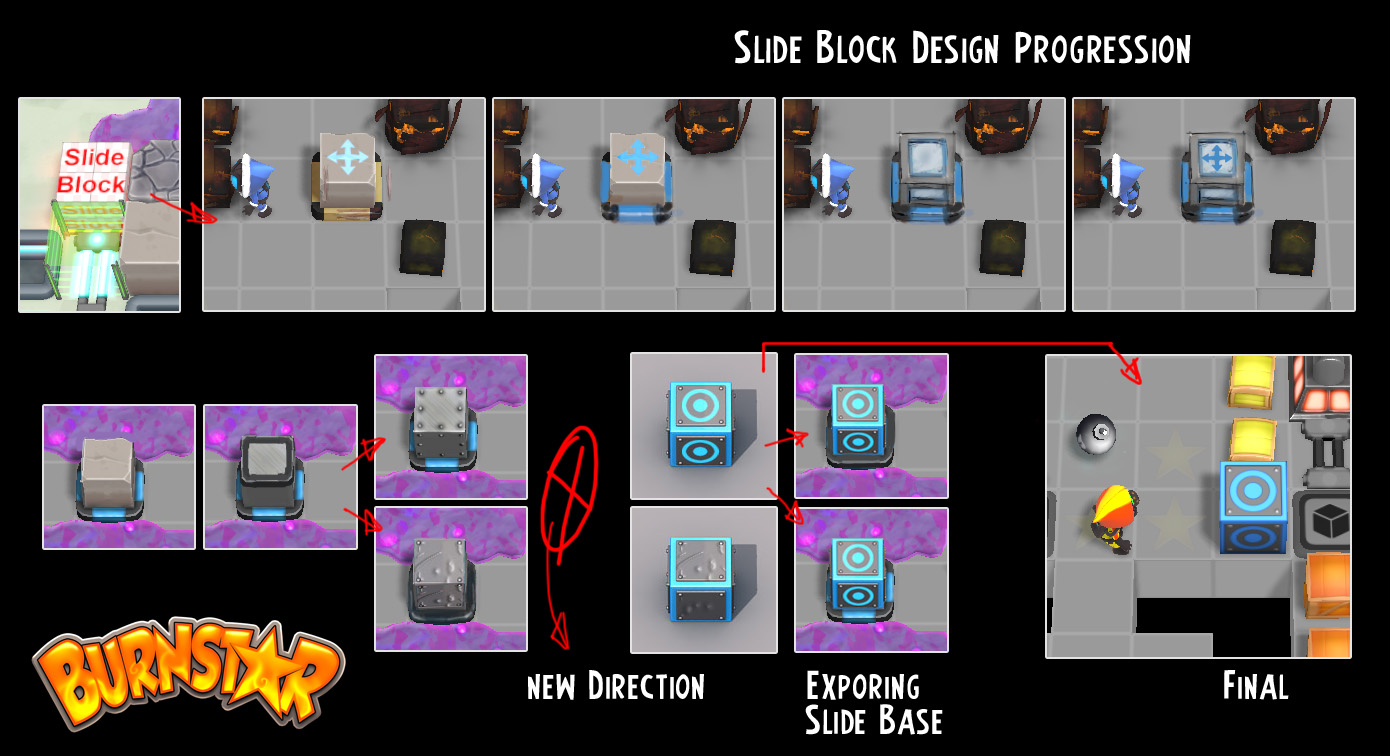 The first choice we tried was the hovering block with a fan in it. We tested it and quickly noted that it felt a bit flimsy, it looked like it couldn't hold down switches, and it sorta just felt like a hovering AC unit. Our next choice was to take a metal/concrete type block and surround it with a sort of bumper. It felt alright, but didn't quite sell what it was. Arrows on top of the block helped, but felt heavy handed. Also, the over-all grey coloration of the block was hurting it, so we decided to go with a new color direction. Blue was selected because the Pickup Block was blue, and we wanted any blocks that the player can move to have a similar color scheme.
After a few more iterations on the bumper design, someone came up with a sort of metal plated blue block with painted on targets. It was an instant hit and proved again that even late in a design a new idea may be the right one to take. It was fairly gamey, but it fit all the criteria. It was super easy to learn what it was, the big painted on targets helped sell that it needed to be hit by things, and it looked heavy enough that it fit the rest of the criteria. After a couple of more minor tweaks, we were done and the Slide Block had its new look.
That's all for now, but we'll be sure to have more in the future, but remember to vote for us on Steam Greenlight so that we can get Burnstar released on Steam! If you've already voted, please help spread the word!