Now no one will be surprised by match-3, but we, the indie developers of Shezo Games, decided to add a new meta to this genre of games. Taking the sci-fi theme as a basis, we moved all the action to space, where the battle of spaceships takes place. The playing field itself is a match-3 gaming level at the bottom of the screen and a view of the space battles from the captain's cockpit comes off from above.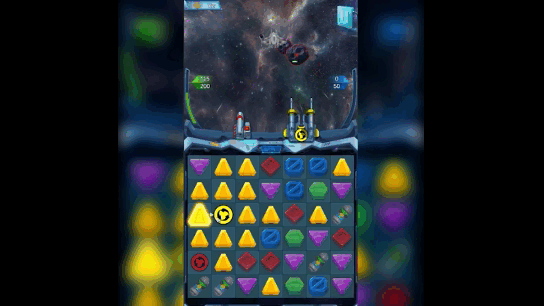 That is, the player is in the thick of things, controlling his ship, seeing how enemy ships maneuver and asteroids move towards him. Also, to complete the picture, the presence effect is added – the entire screen begins to shake when an enemy projectile hits. We try to make the game so that the player gets pleasure not from the rewards received for winning the battle, but also from the game process itself. We want the levels to be seen not as a barrier to the goal, but as an exciting gameplay.

Pre alpha gameplay video on Youtube

Despite the lack of some mechanics, we still took the main, time-tested ones. To play on the levels, energy is spent, and to improve your results, you can pump your ship or transfer to a more powerful one. Since it uses the principle of matching adjacent chips of the same color, each color is responsible for its own type of weapon. Guns, as well as the ship itself, can be improved and pumped. When playing on the levels, each type of weapon has a cap of its own color. When you receive a cap, a special chip appears on the field.

The game has a tutorial that smoothly shows a variety of mechanics and in-game items, so that the player can learn the rules of the game as comfortably as possible.

Of course, the PvP mode is also present. It uses its own energy to play, and rewards are given to all participants at the end of the season, depending on their global ranking.
As in any free game, there is monetization, but we do not consider it as an opportunity for the player to give everything now, everything should be in moderation.

At the moment, the team is preparing the server component for data storage, as well as working on improving the visual. Now our priority is to enter the closed beta testing in March 2021.
If you want to participate in the development of a new project, feel free to contact us by email or in any social networks. We will be happy to invite you to the closed beta testing.

Follow the news!