I came to Nerve in September 2010 as the "sound guy" and immediately started work on the sound and music of the new version of Burnstar.
One of the first challenges I faced was that I was developing the music so early in the game's development process. The game was in its infancy - little art beyond concepts, early game design and mechanics. I found it difficult to latch on to a "sound" with very little context of what the music was accompanying.
This was by no means wasted time, however, as I was developing a workflow that allowed me to focus on creating instead of implementing. All songs were done to a click track and grid to facilitate looping. I learned more than I ever could have anticipated about triggering, sequencing, soft synths and the like. I even started to dig some electronic music, which had not been on my musical radar before I started this project.
As Burnstar evolved, so did the music and eventually, I found my groove.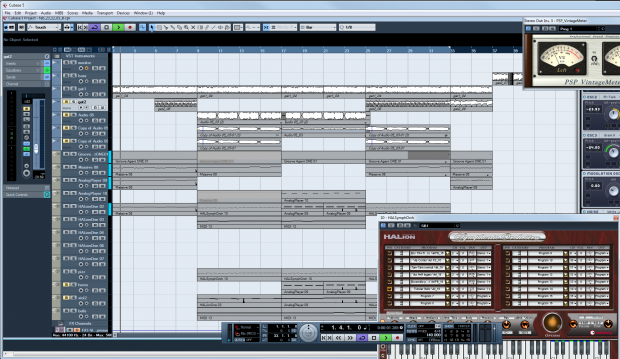 The "ah-ha!" moment came when a colleague sent out a link to a browser-based game he'd discovered. I really don't remember anything about the game except that it involved boxes and had a soundtrack that featured electric piano. Prior to that my melodies were largely bass-guitar driven, as even with my trusty SansAmp GT2 I was having trouble getting a great guitar sound going directly into the computer, and I wasn't fully comfortable with MIDI at that point.
Basing the music now around the Wurlitzer and Fender Rhodes electric pianos, I was able to find the musical glue that had heretofore eluded me. Something as simple as latching onto or identifying a single iconic instrument can really make the difference in composition, I have found. Further, it has the effect of limiting your sound palette so you can focus on making good musical decisions rather than on which of the hundreds of different-sounding synth patches you should use. You can always switch up the instrumentation later - that's the beauty of MIDI; once those notes (or "events") are in the right place you can change your virtual Wurli to a virtual accordion and get a totally different feel.
These are essentially the same song, but one is tailored for the Forest levels and the other for the Labs environment.
You can even render a musical audio sample down to MIDI events so you can further explore possibilities. This might seem basic to a lot of you out there but for me at the time it was pretty mind-blowing. I could now focus less on the "how" and focus more on the "why."
Another thing I initially struggled with was the concept of "Commercial Art." In my past experience as a musician, the only person I had to please was myself. Now I was facing the prospect of creating music for a specific audience; it had to be crafted from the start with a definite goal in mind. As I kept iterating and got more and more comfortable with the process, though, my initial fears were assuaged and through peer input and feedback I eventually got more of an idea of what "game music" can be.
Burnstar is an Action Puzzler, so I strive to strike a balance between "introspective" (puzzler) and keeping the beat moving (action). I learned pretty early on that not all the music can be crammed full of wild-assed arpeggios and harmonic counter-melodies. Just because you can do it doesn't mean that you should. Hopefully I've landed somewhere in the middle on that.
--
For this and our other Blogs be sure to check out our DevBlog.