It has been quite a while since the last update. However, I did allude to this in my last post. This is probably the largest update so far. Almost every aspect of the game was worked on in some way to wrap it all together in to a "complete" state. Of course, there is still plenty more to do, but someone could pick up the game now and play through all of it without noticing any major flaws.
One of the most requested features was a tutorial level. I decided to work this is as a sort of ethereal darkness, in which you see silhouettes that provide helpful instructions on how to play and what to look out for. It helps ease in new players, as well as has a few useful hints that more experienced gamers might overlook. Below is a look at the starting point of the tutorial.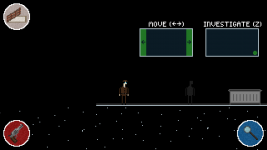 The tutorial also has the added bonus of introducing the story. Here, the player learns of the killer plaguing the city and their duty, as detective, to stop them. A lot of useful information and story is in this level, so here's an additional screenshot of what's going on.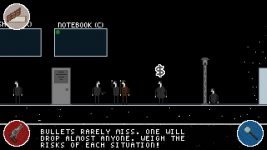 To deepen the gameplay a bit, I've added vendors to various locations across the city. Each destination has unique vendors selling useful supplies ranging from bullets to food. The player can sample the cuisine in many fine establishments, or simply grab a cheap meal at a common area, such as the Market.
To wrap up the menus, options (featuring the expected key rebindings, fullscreen, sound toggles), as well as splash screens and a title screen have been completed and implemented. An animated preview of the title screen can be seen below.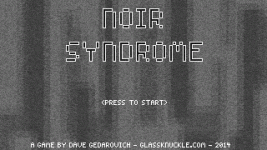 Speaking of title and splash screens, along with the usual Glass Knuckle Games splash, there is another for Bombadeer Studios. We have partnered up with them to bring a jazzy noir soundtrack and really breathe some life in to the game world. You can get a sneak peek at some of the songs for the game from their SoundCloud.
All that's left to do before the beta is implement music, work on a few minor features, and go through some internal playtesting. The next update should have news on how to get your hands on a beta copy, so look out for it in the coming weeks!