This week was spent, first and foremost, on working out the item system. Now the player has a random chance to find clues, money, and even lock picks when investigating objects. Since the game is about searching, exploring, and otherwise unraveling a mystery, all item finds are randomized. They can be found almost anywhere in a level, giving the player the option to fully explore areas for greater benefit. Also, there's a fancy little pop-up for finding a new item and an animation to go along with it. Here's a screenshot of what it looks like (without the animation of course). This is also the first look at the relatively new subway station level.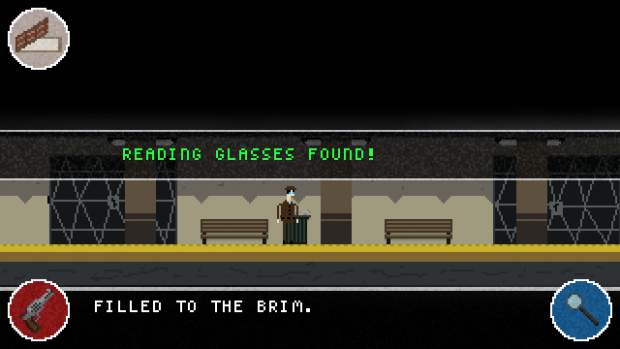 As for the art side of things, I did manage to work on animations a little bit. In addition to the text popups for investigating objects and finding new items, the player got a reworked shooting animation. Now there's some kickback when firing the gun. Playing it, it definitely feels like shooting is a lot more powerful. All from a simple update. Here's the updated firing animation laid out against a dark background.
Given that most of this week was dedicated to code, I updated the notebook to reflect the new extensive item system. Instead of just showing clues and suspects, it also contains information on money, bullets, lock picks, and even days remaining for the case. It all updates in real-time whenever new things are picked up/consumed. I've also added saving and loading. Players can save and quit at any point in the game and instantly pick up where they left off. To accommodate this, I've added a "Save and Quit" button to the notebook. Here's a look at the updated notebook screen.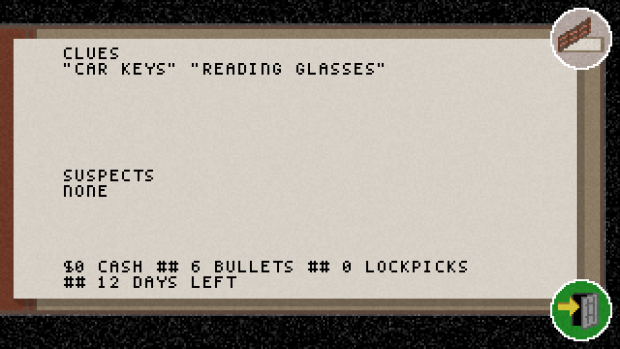 This week also marked the first public sneak peek of the gameplay so far. Glass Knuckle Games took our recent works to a local indie developer presentation and showed off Dumble, as well as an early alpha of Noir Syndrome. The feedback was quite positive, and it definitely made me want to continue pushing hard on getting this game to a fully functional version.
All in all, quite a lot of work was done this week. The item system - being one of the key points of the game - was a major hurdle. Completing that was a huge step forward in the development process. Things are looking quite good right now!