This week was spent largely on art assets. Although, I did spend a little bit of time updating the code and fixing some bugs - like being able to open the notebook in between screens. I've also updated the Map screen with all current areas (there's actually quite a few now). However, the first look at that will come later when the graphics are more polished.
The first milestone I finished this week was the bank level. Two floors, a couple locked doors, some offices, and, of course, a vault. This is one of the major turning points for the game, giving the player the choice to make "bad" decisions like robbing the place instead of continuing their investigation. All potential situations aside, here's a quick look at the level itself.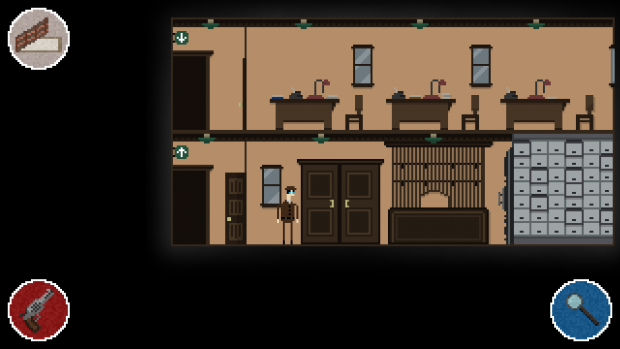 In addition to the bank, I also finished up the diner level recently. This was to be a more casual and comforting area, as compared to the more harsh areas that I've made in the past. You can immediately see the difference from some of the other levels I've posted. It may be small, but it's a good respite from the seriousness of many other locations. Here's a shot of the place, note the saturated colors.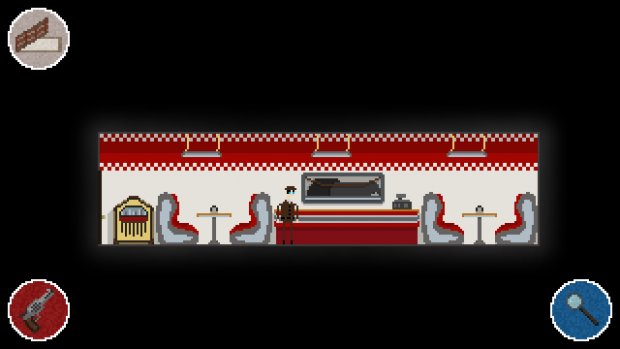 Previously, I had only shown screens and stills from what I've been working on. Of course, being a game, there are plenty of moving parts. From small UI animations to more noticeable player movements, all of it is being tweaked and refined as progress continues. I had mentioned earlier that the player will always have access to their trusty revolver. Below is a little animation of the player shooting, laid out against a dark background to show the muzzle flash.
While there is much more complete then I've been teasing so far, much of it is still very much "in the works". As I feel certain pieces are more viewable, I'll be sure to release them to the public as well. That about wraps up this weeks devblog. As usual, continue to check back for more!