Hey everyone! How've you been? I'm back with the first update of changes for the new demo version. Most of these changes were requested by people who tried out the first demo, so if you have some small tweaks you would like to see made, please let me know in the comments. There's a chance I'll be able to make them for the upcoming v2 demo.
So for this update and the next several, I'll list the changes I made and show some screenshots for some of those changes.
Change log:
- The whole town starts off already explored (fences and everything within).
- When letting go of a directional key while still holding another one down, the character will move in the old direction instead of stopping.
- You can no longer click anywhere on the map to use a tool. The range has been limited to the target in front of the character.
- You can now hold the mouse button down to continue to use a tool, instead of clicking each time.
- The red flash when losing health due to no energy has been altered. Instead of the whole screen flashing, a red box flashes only over the HP and Energy UI in the top left corner.
Hopefully this will be less annoying and bothersome for players, while still serving its purpose of alerting them that their HP is decreasing. (see SS below)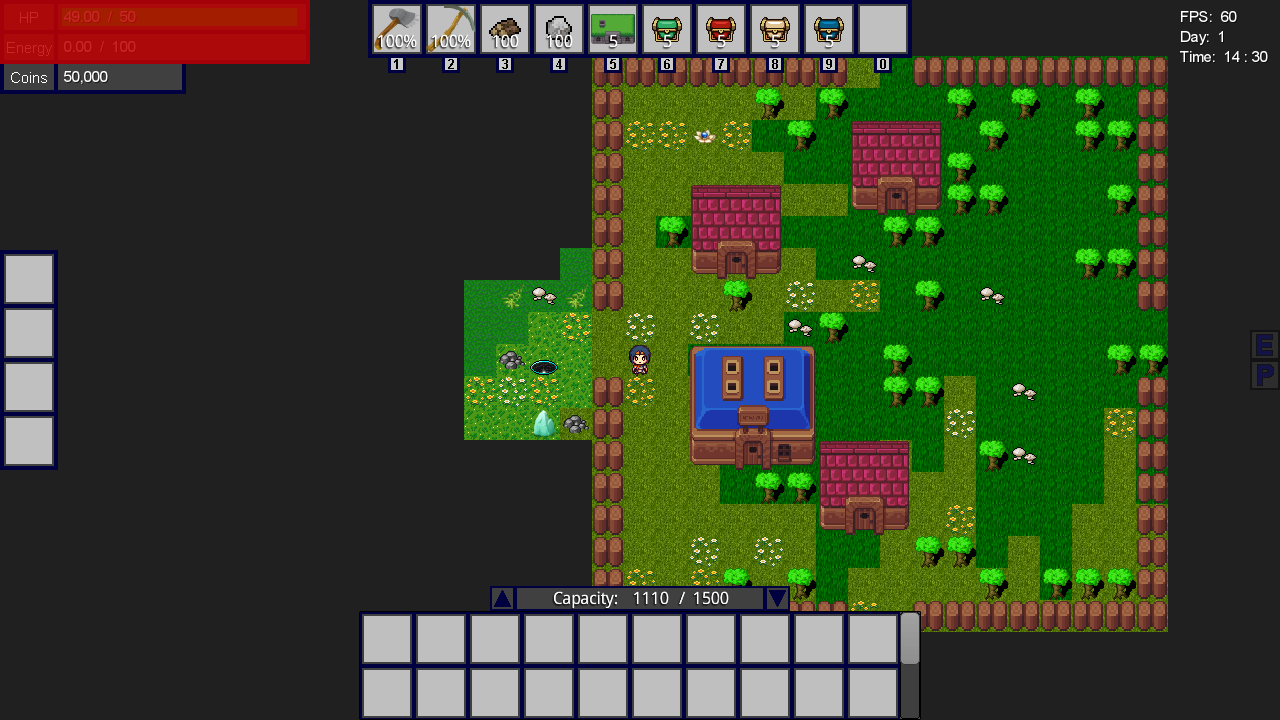 - Added an "Exit" option to list menus, and a button to close other UI windows.
This was one of the more highly requested changes that I make to the game, so I'm glad to get it in. Pressing the X key will still work as a way to close windows, but now all of them can be closed with a click. (see SS below)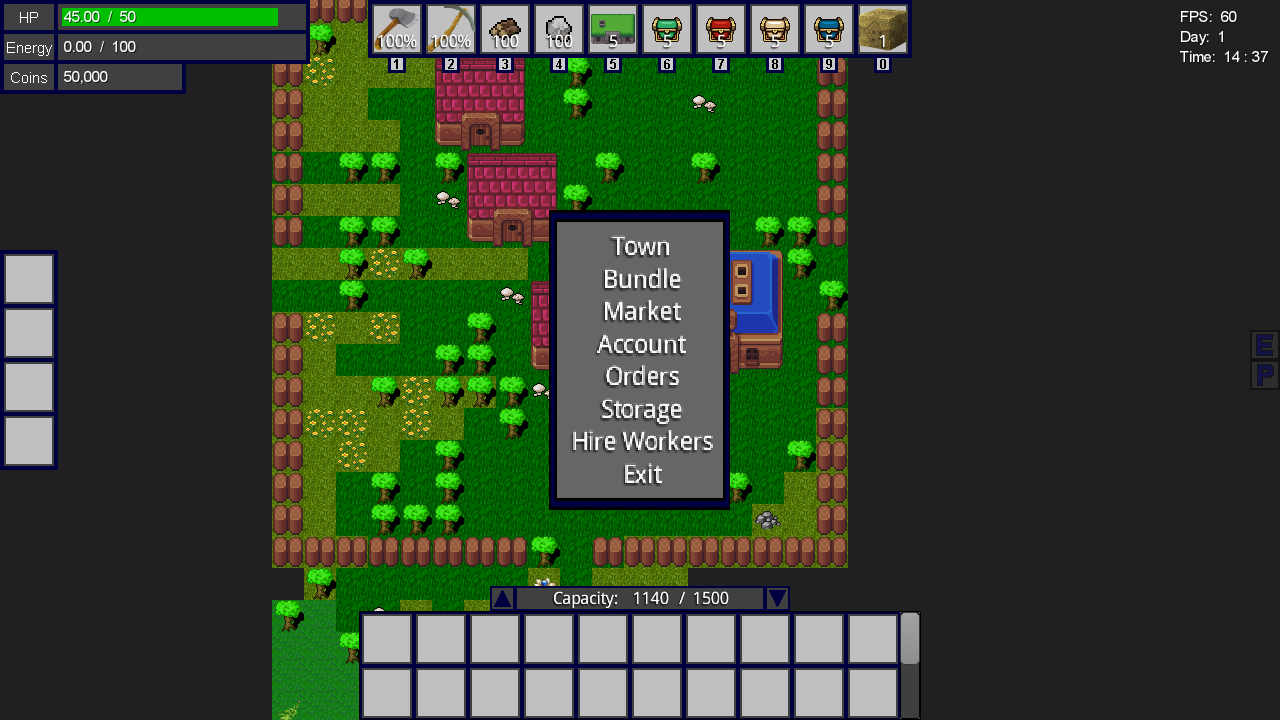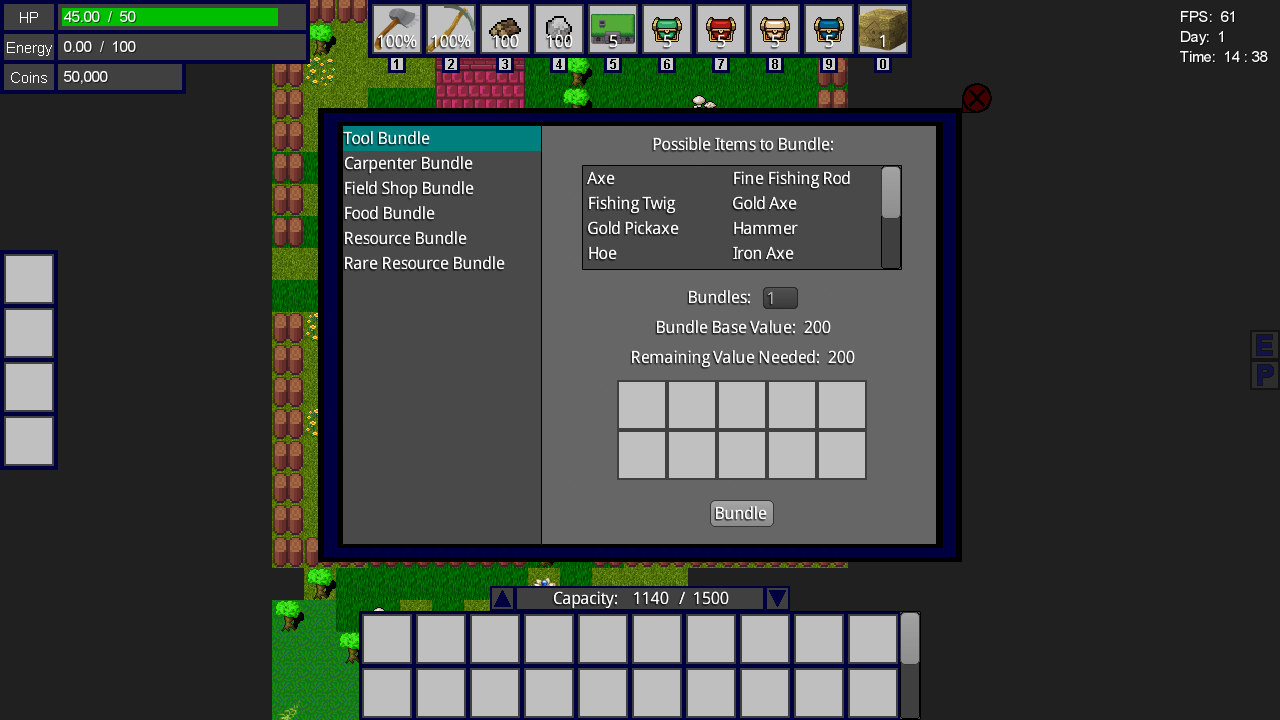 And lastly:
- Implemented options to control the volume of music and sound, as well as the format of save files. The settings are saved and loaded.
The settings are saved to a json file separate from the save file. They are saved when you apply changes to the options, and loaded when you start playing. When formatted saves are turned on, the save file will be formatted in a way that makes it easy to read and edit. When it's turned off, all the save data will be written in a single line of text. This will decrease save/load times and the size of the file significantly. So if you don't plan on looking at or editing your saves, it's best to leave this option off. (see SS below)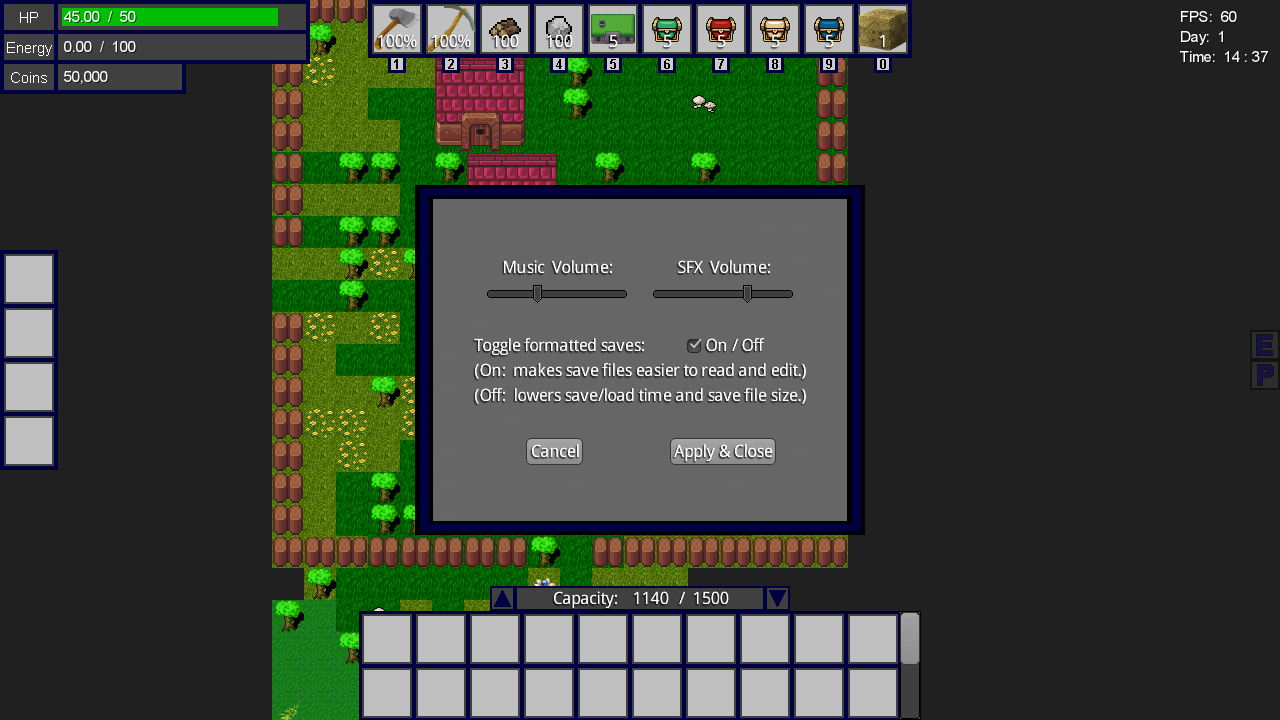 Well, that's it for this update. There's still a lot of work I want to get done for the new demo, but hopefully this was a good start. As I mentioned at the beginning, if you have any small changes you'd like to see make it into the next demo version, please post them below.
Also if you're interested in The Frontier, please check out the Greenlight page and vote to see it become available on Steam: The Frontier - Greenlight. Many thanks to those who vote!
And as always, thanks for reading!