We've been hard at work finishing up the requirements for our first big milestone. I'd say our Night Streets map is about 95% complete, just needs some final touches/polish that will make it feel more lively and some lighting/skybox tweaks. Below is a teaser shot of how it looks now.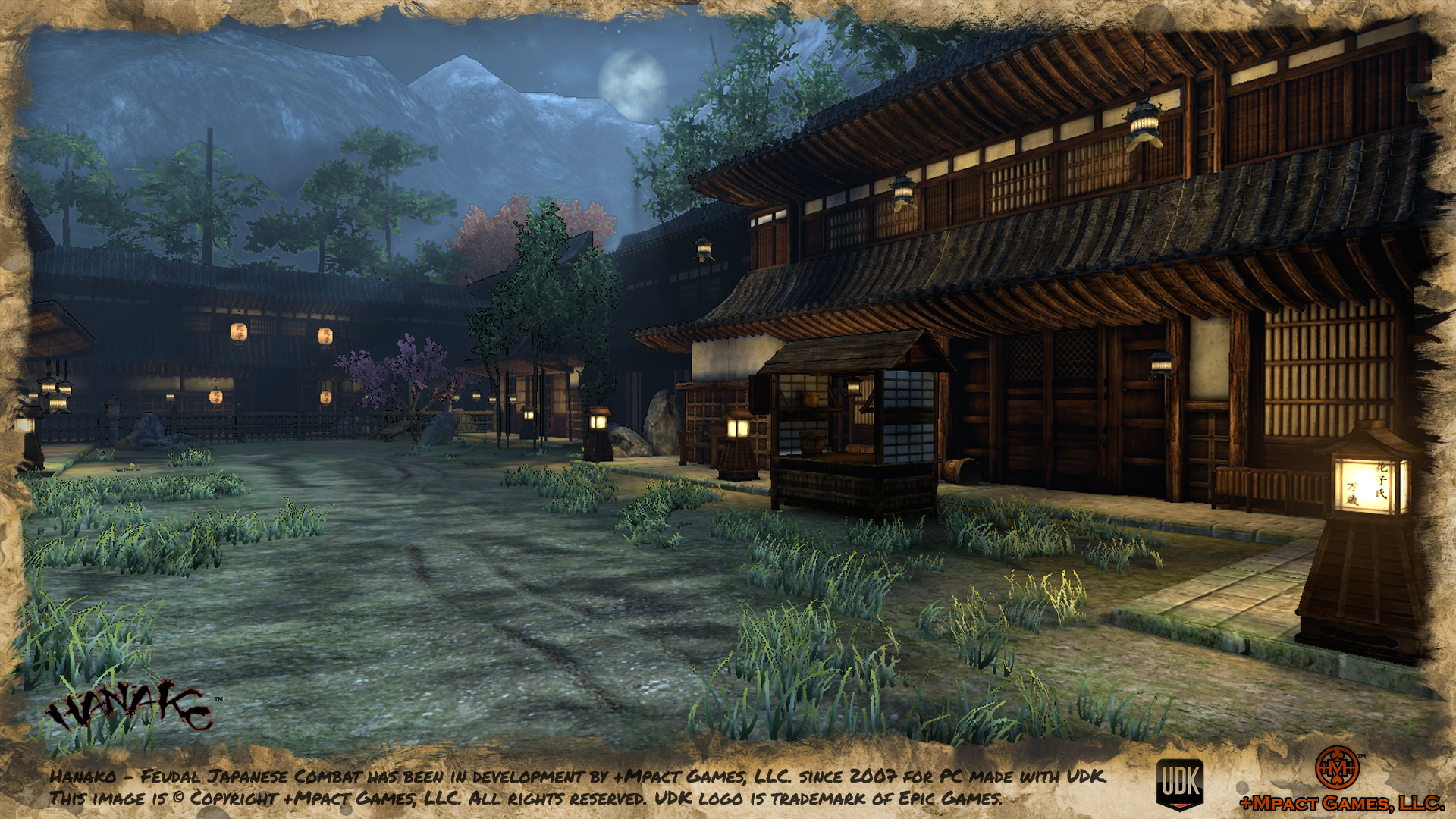 The map is a 1v1 map that we'll use as a testbed for establishing the overall feel for Hanako territories in the game and for early gameplay tests.
Programming/Gameplay Update: The programming team is hard at work putting the final touches on our first build. The basic swordplay is implemented playing attack animations at random and the appropriate specs for the Kengou are working fine. There have been some networking snags that come with the territory but we are looking at cooking our first internal playtest build within the next 5-6 days.
Art Update: I have been personally responsible for Night Streets and will be bringing on a new artist to help me out with Environment Art related things. We will be starting on our first large, outdoor battlefield map in the coming weeks and that will be part of our Push 2 milestone. We will announce more details and content regarding that map at a later date.
Characters: We are concepting the Archer class and nailing that down before he enters production. We anticipate the Archer being done in February/March and gameplay focus will shift to him once we feel really good with how the Kengou plays.
Design/Hud/Interface: We are currently working on revealing a new logo to represent the game in the coming weeks as well. With the new direction and approach to the game, we felt the old logo doesn't fit the quality or style we are looking for. The logo is being hand-calligraphed by our graphic designer before being digitized for the game so it holds true the essence of the theme. The same sort of approach will be taken with the HUD which will begin polish implementation some time after that. We really want you guys to have an interesting, original kind of interface that fits the game, works well and is easy to read without being crazy boxes everywhere.
Anyway, I wish you all a happy holiday season and please let us know your feedback, we value it and want you all to be part of the process. I leave you with this: