Fire rooms come right after you beat the undead level. They require high accuracy because any miss might burn you to death!
What kind of monsters do you encounter in such a room? Imps and Ogres. But honestly you will mostly fight those pesky imps.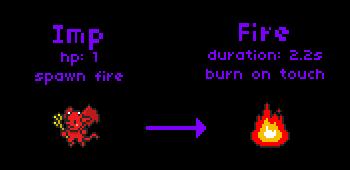 Upon dying Imps spawn Fire which again burn the player if he clicks it. This mechanic combined with the floor layout makes fire rooms the most annoying technical level you will find in Whack-A-Dungeon.
But wait! There are also plenty of gold chests to loot!