Hey guys. The team's working hard on the new areas and quests which are all related to the next step in the main story line - the Institute of Tchort. Here are some teaser screenshots: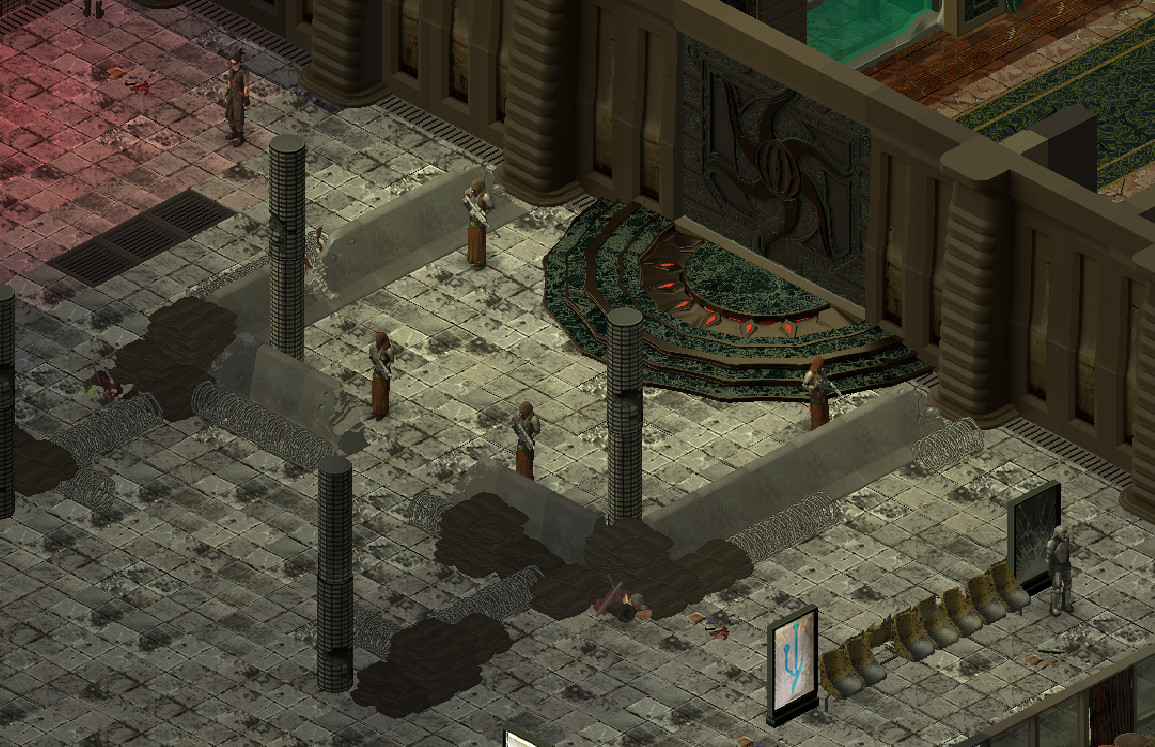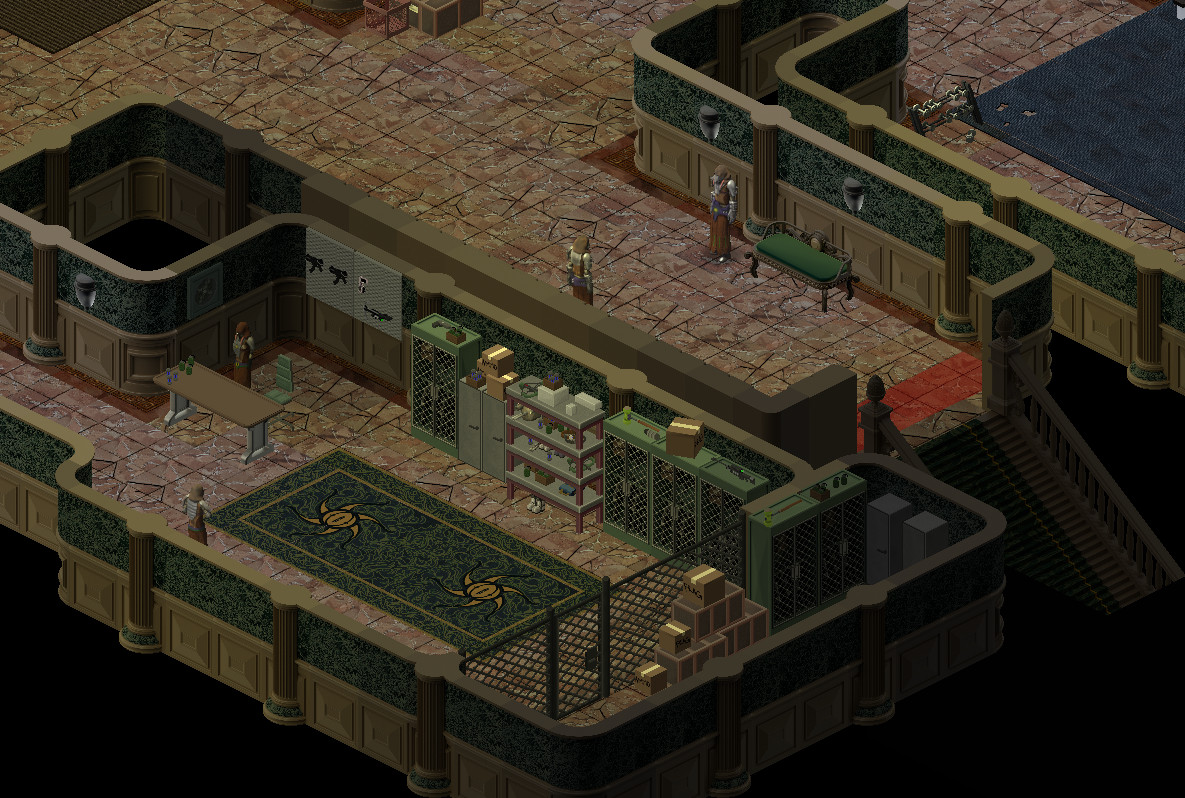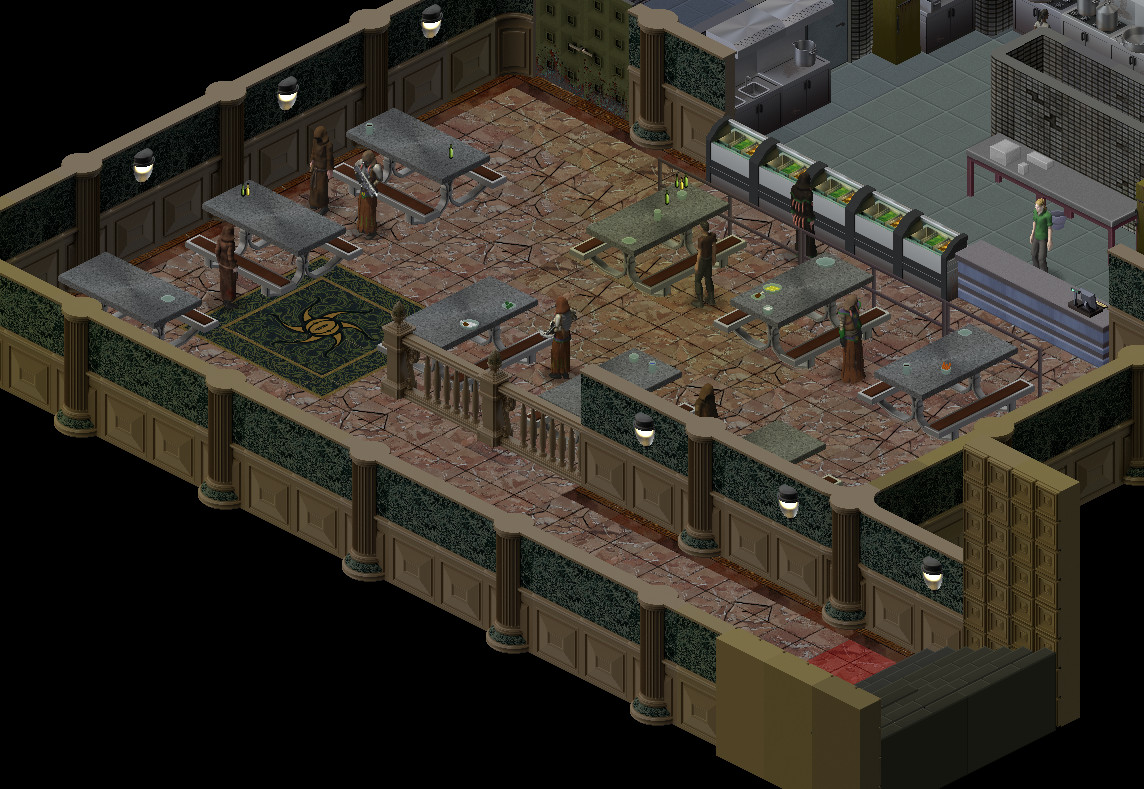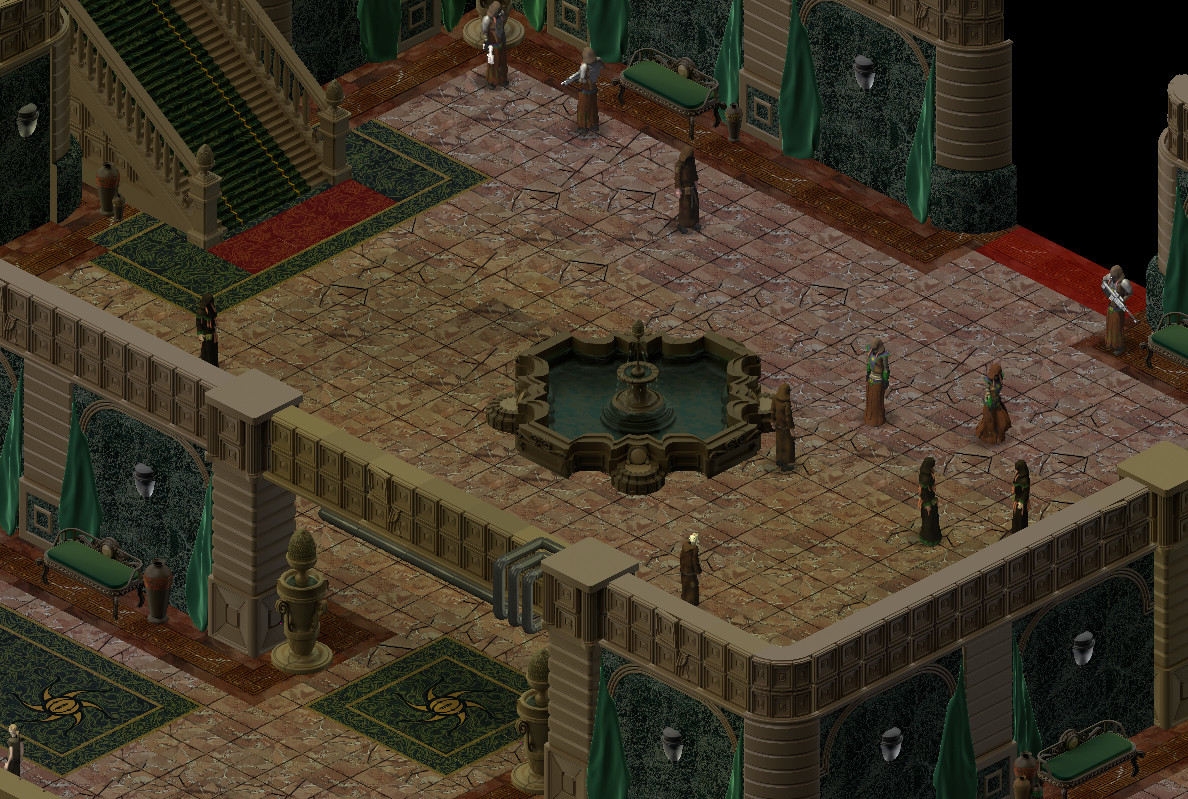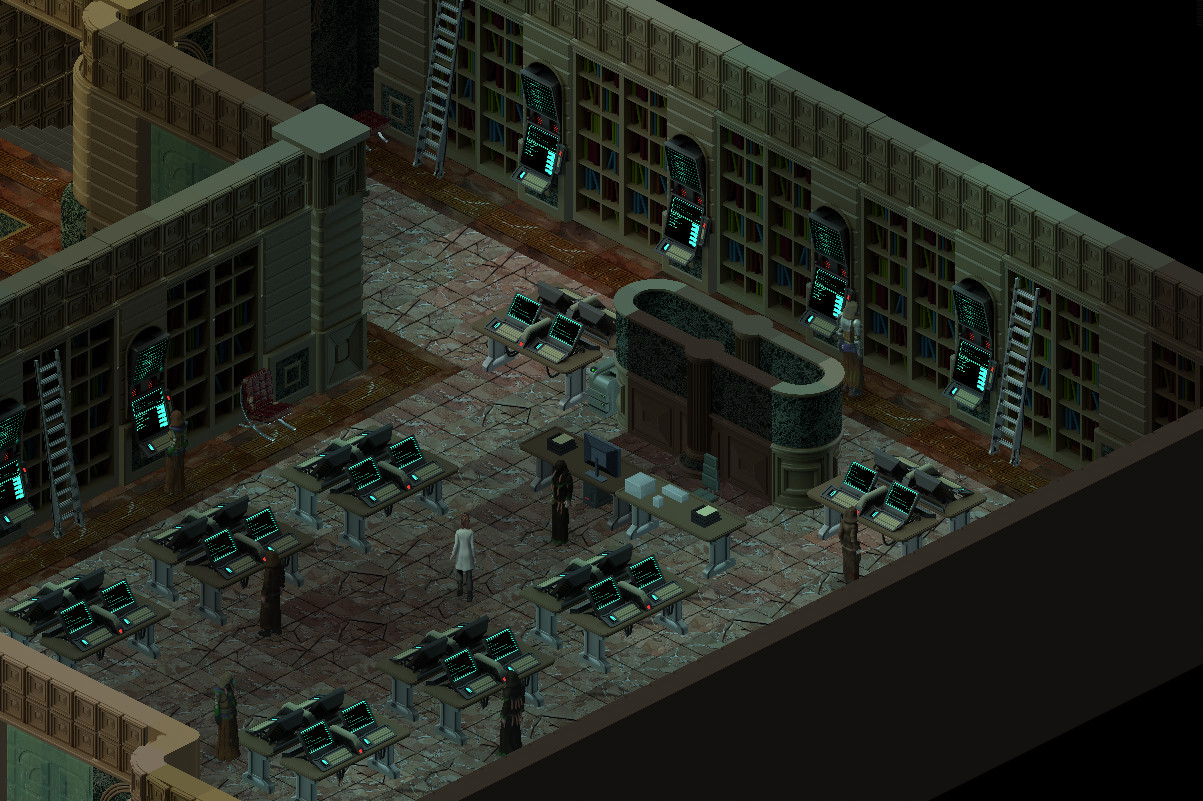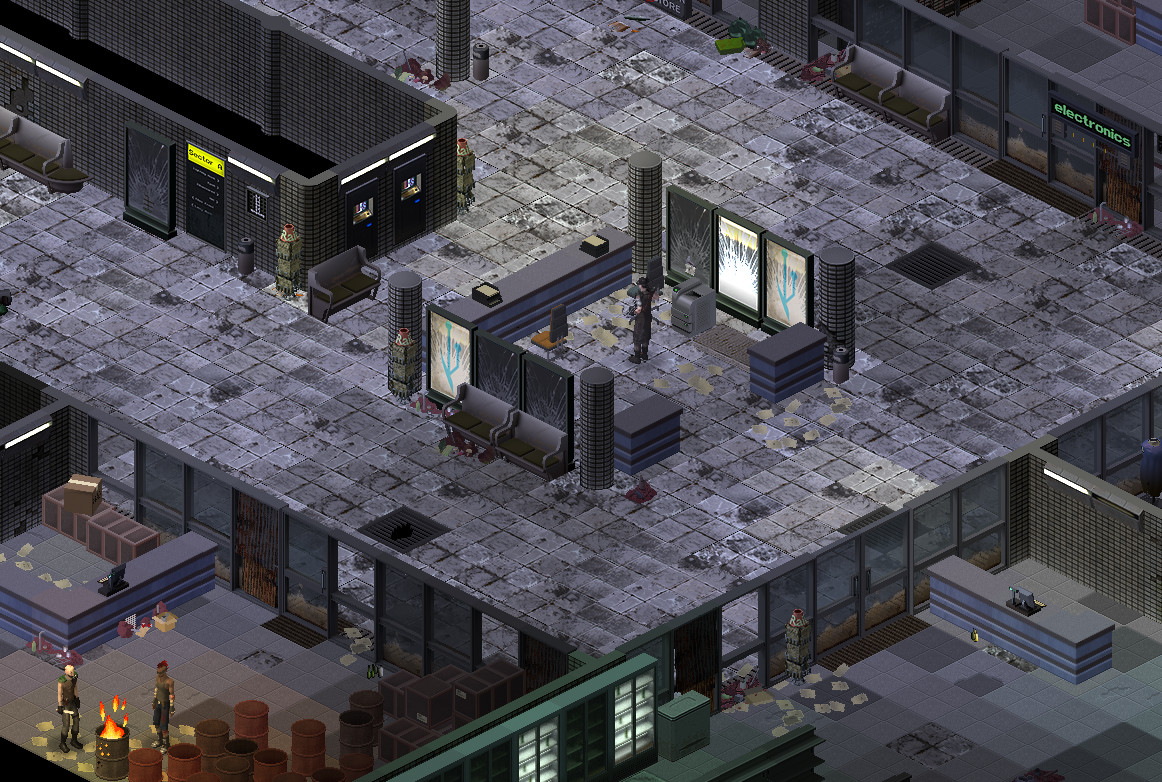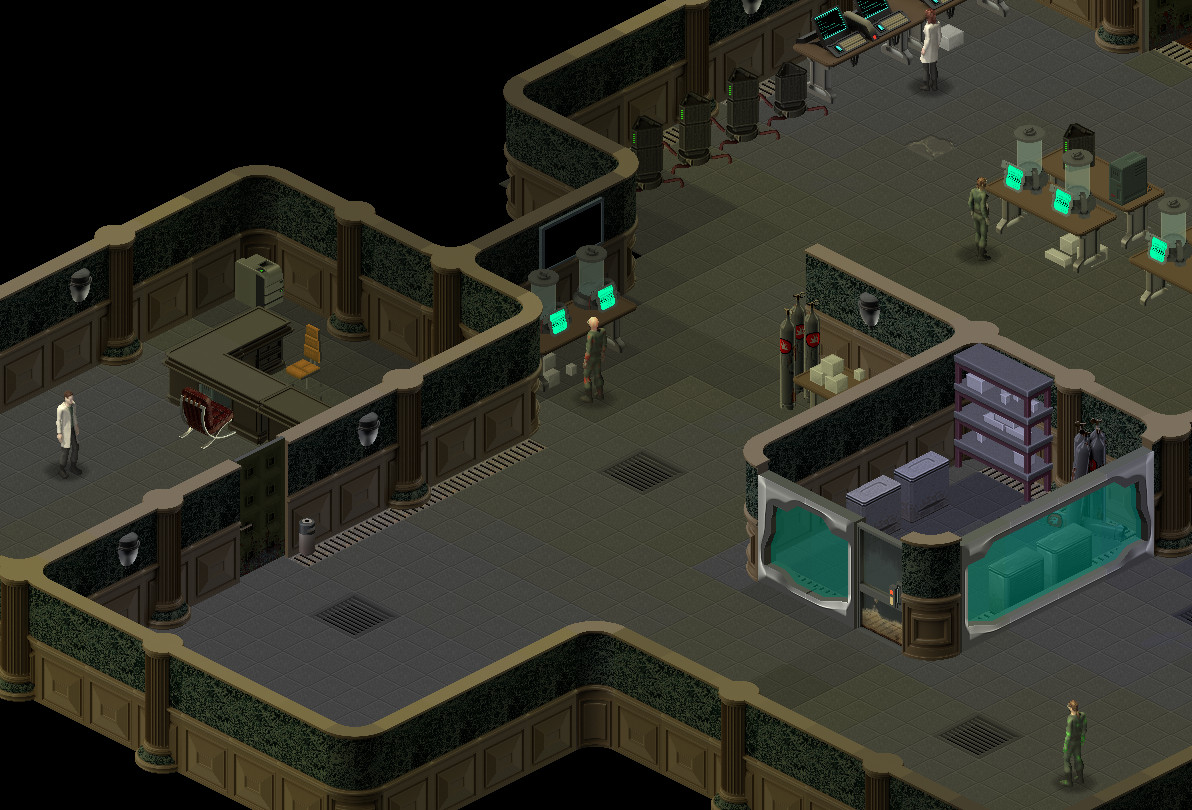 One major mechanical change I made since the last update is concerning the psi pool. Instead of functioning like a "mana" resource, the psi was changed to more of pre-alpha state when it functioned like an "energy" resource. Every character with Psi Empathy feat now has 100 psi points and regenerates 20 points per turn (or per 5 seconds in real time). Psi boosters now instantly restore 75 psi.

These changes were done for two reasons which tie into the same problem. One - they were meant to make the psi cost more relevant when choosing what to invoke. The cost of the psi abilities have been re-balanced accordingly - those abilities that were meant to be used as primary attacks, such as neural overload, cryokinesis and electrokinesis, have a low cost and can be spammed without running out of psi. However, those high impact abilities, such as bilocation and cryostasis can run you out of psi quickly.

The second reason, which is related to the first one, is to curb the multi-disciplined psi build. As it stands in the release version, builds that go for full psi can generally invest into all three schools of psi without much trouble because they all rely on the same base stat and also share a number of beneficial feats. This grants the player access to a large amount of crowd-control and AoE abilities that they can invoke in short 1-2 turn burst which makes most encounters a breeze. Now, however, the limited psi pool will keep that in check. You will still be able to spec in all the schools if you wish, but you won't be able to bring down the full power of all of them at the same time.

Another happy consequence of this change is that the psi builds will have easier time in early game because they won't have to worry about psi boosters as much. Now keep in mind that the numbers stated above are not set in stone. We haven't still done any extensive testing of this change so tweaks are likely to happen. Also, I'll probably introduce a couple of feats in the future that will allow the player to slightly expand the psi pool or increase the psi regeneration.
Music for the place called The Foundry by Josh Culler.
Core City update.
In other news, I've been working on various things related to crafting. Most of the planned components have been added to the standard blueprints. While I'll be adding more components before the game is released as well as some utility and consumable blueprints, there are no plans to add more general blueprints, such as those for a new type of weapon or armor. Keep in in mind that all the crafting stuff added here is crafting-only; that is - it does not appear in randomly generated loot. Also, most of these changes are not retroactive, so already obtained items in running games will be mostly unchanged. Anyway, here's the list:
Items


Added components for creating a cryoliquid blob pistol
Added components for creating an incendiary blob pistol
Added components for creating a cryoliquid blob trap
Added components for creating an incendiary blob trap
Added new firearm enhancements
Added blueprints for special bullet type for each caliber
Added shaded visor component that can craft metal helmet that make you immune to blinding effects (flashbang)
Added two new types of padding foam
Added infused variants of all leathers which can be obtained in acertain way and can get to very high quality; these leathers all grant various bonuses when used in crafting; the bonuses also vary from blueprint to blueprint
Added two new fabric types
Added two new carrier vests
Added one new ballistic armor plate
Added one new ballistic panel
Added one new special metal type

Tweaks


You now always fire 2 extra shots with Full Auto feat
Bipod precision bonus changed to 10% (up from 5%)
You now have 30% chance to receive the bullet case after firing a bullet (you can use these for crafting)
Tweaked some on-hit effects so they can now be appropriately mitigated when the damage of the attack that causes them is fully resisted/shielded
Aluminized cloth now grants immunity to burning when used in armor suit crafting
Increased the amount of stealth penalty applied by aluminized cloth
Regenerative vest no longer appears as a component of generated items
Metal helmets now provide slightly more damage resistance and also provide damage threshold proportionally
Metal boots now also provide damage threshold proportionally and grant immunity to caltrops
Stuff made from ancient rathound leather now also grants 5% mechanical damage taken reduction
High-density padding foam melee protection bonus now scales with component quality
Tabi boots now increase the chance to get critically hit on the toes
Super string will no longer appear on generated crossbows
Leather armors will no longer be generated from leathers better than those naturally occurring
Mechanical resistance and threshold lowered for certain leather armors

Feats


Disassemble - Grants you a blueprint that allows you retrieve some or all components from a disassemble-able items (such as weapons, armors, etc). This works both on the items you made and those you've just found. Existing items in running games will not be dis-assemblable.

Bugs


Visual effects will no longer appear on the invisible imported character during the opening cutscene
Fixed the problem with the final Arena fight not starting properly
Fixed the bug that caused some traps to not properly trigger faction hostilities in controlled areas
You should no longer be able to invoke psi abilities if you're... not human
You can no longer use Locus of Control while driving, it's just not safe
Quick Tinkering will now properly mitigate the AP cost of setting traps in combat
Armor modifiers (such as bonus vs bullets/melee) will now only apply to resistance values of the item with those modifiers instead of globally
0% negative armor penalty fixed for realz now (maybe)
Armor penalty is now correctly called that (instead of 'encumbrance') in combat stats window
Corrected the bug that caused passive things like cameras to de-stealth you when you perform transgressions in their vicinity
Fixed the bug that caused the hostilities in Foundry prison to escalate to the entire city even if you killed all the witnesses and erased the footage
Fixed various minor quest and map bugs
That's all for now. Let us know how you like the changes and if you like the looks of the new areas.

Cheers.