Hello There,
My name is Matt and I am the lead developer of this project. For those of you who don't know, Game Of Engines is a game development toolkit that allows the user to create their own video games for multiple platforms including: PC, Mac, Linux, DS, Vita and Dreamcast. This article will be regarding the 1.3 update and our funding news.
1. Welcome
Hello to all our regular readers and hello the all our new comers. Game Of Engines is all about building games not only on our own but as a community so I really do appreciate all the new followers and watchers ect.
2. Big Update
First of all, I would like to make a confession. I released a patch behind your backs (not that you have the Toolkit at the moment anyway) and that patch was version 1.2.2. I would have told you about it and made a post but it really didn't add anything new...
Moving on, I have been working like mad the past 2 days and am currently working on Game Of Engines V1.3 - This version is going to be huge and will tie up a lot of loose ends. I have spent the whole of today working on a new Sprite Management system (as you may have read about via Twitter) and it has been a pain the butt. I am proud to announce, however, that we will be seeing Game Of Engines V1.3 soon and you WILL have the chance to use it.
One of the reasons I didn't release it before was because we had no publishing service but now we have 'Open Project' publishing where you can make a .exe of your games and actually send them to people. The downside of this kind of publishing is that you have to post the source code for your game along with it but that should not be a huge problem as we are currently working on closed source and regular installation (Allows you to offer an install wizard to setup your game).
Due to the lack of GUI changes there is nothing I can show you that is more recent so I had to decide between an old screenshot or boring code -- Screenshot it is: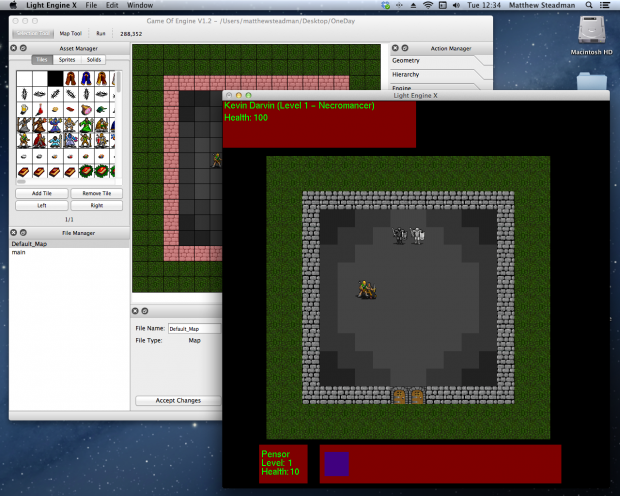 Sorry if you have seen this before. I promise that I will post something new soon but this is actually one of my favorite pictures of the Toolkit.
3. Issues
I wouldn't say 'Issues' but we are certainly having a bit of trouble over here at the Dev Station. As you know, Game Of Engines has never been about the money and I would never ask you guys for money but due to some funding issues we are having I have no choice but to start an indiegogo campaign.
Before we can say 'Here take the toolkit and enjoy the Alpha' we need to acquire licenses with various companies that legally allow us to give you the Toolkit. Without these licenses from people like Apple, PlayStation and Qt - We will be unable to give you 90% of the software and ultimately until we get the money, the project will be on hold. In addition, I have now reached the point where implementing some of the new 'cooler' features like multi-player is actually costing me and thus I needed to create a campaign.
We have calculated that we need around £4000 for all of these things and have created an indiegogo page to help us raise this. We all know what that means... YOU CAN GET THE TOOLKIT AT LAST. BY PAYING A SMALL SUM OF MONEY YOU CAN PHYSICALLY TOUCH THE TOOLKIT (Well, you can touch your monitor). I am sad to have to ask you to actually pay for this but if you do think you could use this software then please do us a favor and help out (Even the smallest amount you pay can get you a pretty cool perk)
That's the end of the issues. Oh wait, In a couple of weeks I will be hitting a small bump in development and will be unable to work on the toolkit for a while (Unless of course we reach the funding goal) but when I return, I will be getting a few friends to help me out with the project so you will see development go 3-4x faster.
4. Thanks
Thanks again for reading this, I am sorry it has been full of text and the last thing I wanted to have to do was post that Issues chapter but sometimes things happen. Development as normal for the next 2 weeks but nothing else for a short time after that (1-2 Months). Sorry.
Please feel free to share this indiedb page as I really appreciate the support and please if you have any questions then please do not hesitate to ask as I always check for comments and emails.
Thanks For Reading,
Matt
5. PS Reward
For the chance to win a copy of the Toolkit (in Alpha) send us the following tweet:
" @evilwateruk Gimme the toolkit. "
*Chance to win expires at the end of July.