Hello There,
My name is Matt and I am the lead developer for Game Of Engines. For those of you who do not know, Game Of Engines is a game development toolkit that gives you the tools you need to make your own game. Without further ado, here is an article regarding the toolkit's release...
1. Release Cancel (Sort Of)
For those of you who do not know, the release date for the engine (March) has been canceled. This is because we have changed to a more effective release system based on rewards. Allow me to explain: The more followers we get, the more cool s**** we give you in return. For a list of Rewards read the next section of this Dev Log.
2. Release System
Here is a look at the reward system:
IF WE GET 40 WATCHERS ON MODDB THEN WE WILL GIVE YOU: GAME OF ENGINES FOR WINDOWS
IF WE GET 45 WATCHERS ON MODDB THEN WE WILL GIVE YOU: GAME OF ENGINES FOR OSX
IF WE GET 50 WATCHERS ON MODDB THEN WE WILL GIVE YOU: GAME OF ENGINE FOR UNIX
IF WE GET 55 WATCHERS ON MODDB THEN WE WILL GIVE YOU: FREE ACCESS TO BETA
3. Release Info
Remember to tell your friends about the engine because if we get 40 followers or more then you will get access to the FREE ALPHA for Game Of Engines and will be able to make awesome games with me. Even better, if the engine get's 55 followers or more then you will also receive FREE ACCESS TO BETA after the ALPHA has ended.
4. Newsletter
Moving on from the Release, I am thinking of starting a newsletter via email for the latest engine updates. If you think this is something you would be interested in then please leave a comment or PM me.
5. TreeFarm Update
Unfortunately, I have been busy with real life lately and have had little time to update the engine but I have been working on TreeFarm in my spare time. One of the biggest updates is the ageing system; your plants will now grow over time and become bigger. Our new day counter at the top right will keep track of the days, Meanwhile, our new money counter will keep track of the money you have earned (or lost) during the day. Here is a quick screeshot of a few trees I planted (One has began to grow)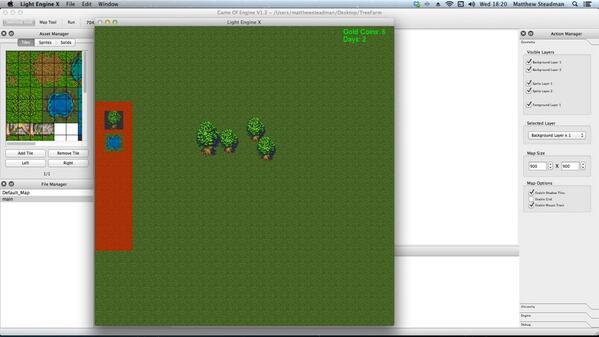 6. Font Error
I had a message via Twitter yesterday asking about the font size of the toolkit in OSX. Lately, you may have noticed the font size is mega small; this is because I last updated the toolkit for Windows and as a result... The text is smaller. This is because both Windows and OSX use different font systems much like Unix uses it's own form of terminal; so does Win and OSX. Have no fear though because the font will be fixed once we reach the release reward.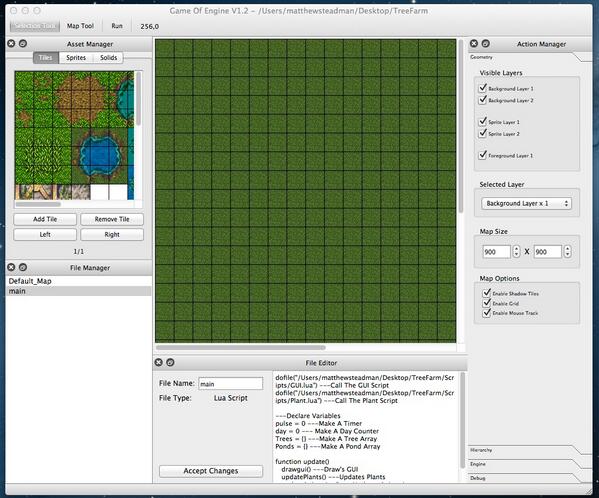 7. Thanks
Once again, I would like to thank you all for reading. I am glad that the engine is building up a fan base and I hope that with your help we can reach 40 watchers/followers and release the engine.
Thanks For Reading,
Matt