Exciting update for you today. News, development progress and... well just those two things really.
First we've locked Jordan in the coding dungeon. He's not allowed out so I (Fabrice) have taken over blog writing responsibilities. For that, I can only apologise. So without further ado, our news.
GREENLIGHT
Early on Thursday morning, we had what has been our most exciting email to date.
"Your title, "Starship Mechanic," has been Greenlit!"
Being 3am, only Jordan was awake to see it, but sure enough when everyone else woke up in the morning this greeted us on our Greenlight page.

The happiest a green box has ever made us.
As you can imagine, we are all ecstatic, and are happy to announce that Starship Mechanic will be coming to Steam.
Early Access Delay
As exciting as this announcement is however, this does cause knock on effects to the rest of the project. Last update we had said we wanted to release the first early access build of Starship Mechanic at the end of April. With Starship Mechanic being Greenlit however, this date is going to have to be delayed.
The process of going from Greenlight to release is not as quick and simple as uploading a build and sending it to everyone. Now that we are a Steamworks Partner we have access to the Steamworks SDK. This allows us to integrate Steam into Starship Mechanic. We also have a shiny new store page to create, as well as lots of other little things that need to be done and approved before we can be on Steam.
We don't have a definite day for early access release; a lot of unknowns still lay ahead, but we are continuing to develop Starship Mechanic alongside our Steam preparations. When we have early access ready, we will no doubt shout it from everywhere we can, so stay tuned.
Tutorial Progress
The tutorial, probably the greatest challenge there is for us currently. As great as it is to walk people through and teach them the game, we are as yet unable to clone ourselves, and include a version of us with each copy of Starship Mechanic. The compromise is our tutorial.
As mentioned previously, we had completed the first 3 parts of our 6 part tutorial. I'm pleased to say we have now completed all 6 parts which are all to be included in the new version of the demo.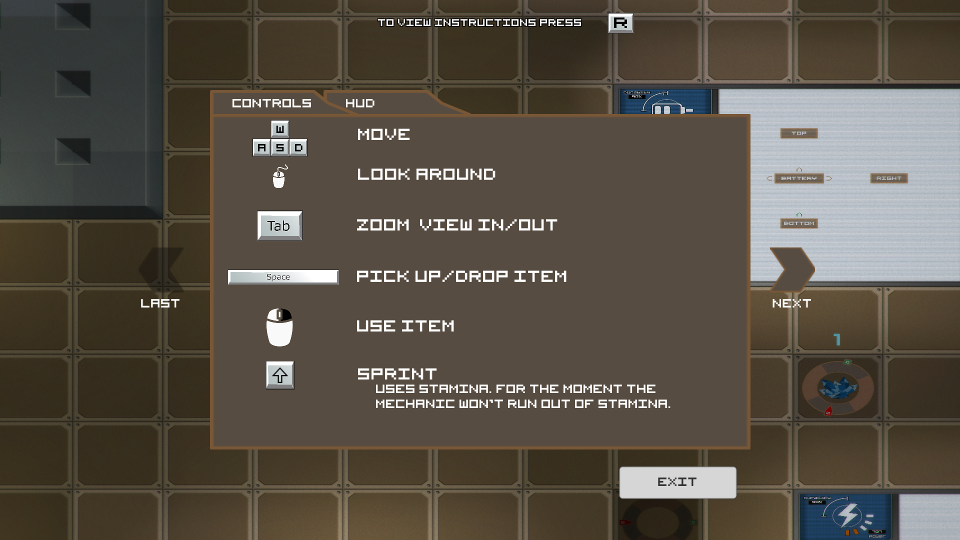 Instructions - now not from the devs mouths.


This is our first pass of the demo. As with many things in Starship Mechanic, and game development in general, this will take several passes to get right. It is still too heavily front loaded, and changes will need to be made to the tutorial when the new engines are in the bay, but it should provide all the info budding engineers need to get started with Starship Mechanic.
The new version of the demo, with the full tutorial is available on IndieDB (Awaiting authorisation) and Itch.io so try it out and tell us what we need to explain better, or change.
UI Renovation
Throughout development we have struggled with certain elements of the UI. We've had a number of style changes from our prototype.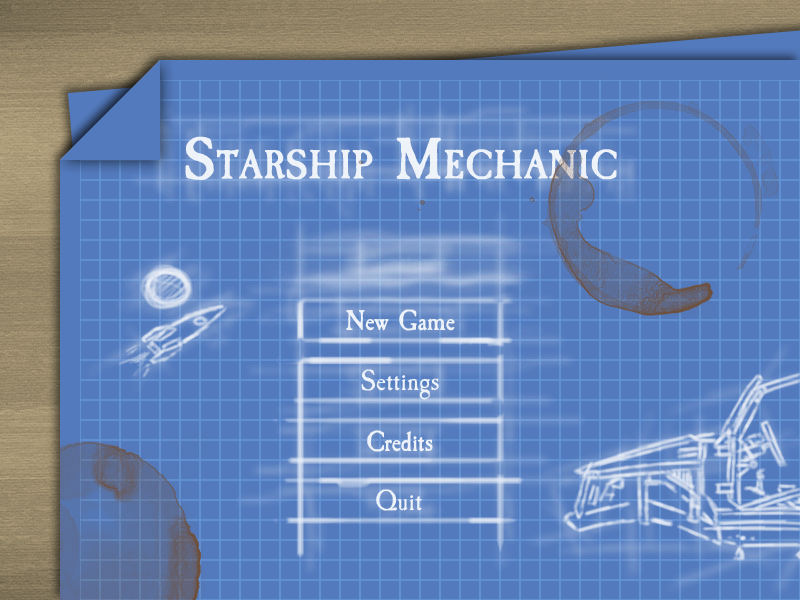 The less said about the prototype interface, the better.


Our most recurrent problem though has been designing interfaces that work with both a controller and a mouse & keyboard. Initially our play testing was done with a controller, as it was easier to quickly build and test the game systems this way.
Menu navigation was easier to program without having to consider mouse position and clickable objects, and while we tried to be concious of how the menus would be navigated with a mouse and keyboard, a few things slipped through the design net. The major one being buttons.

The current arm torpedo button, not looking like a button.


When showing the game, close to 100% of people did not recognise that the arm torpedo button, or any of the buttons in the systems, were clickable. That is too many people. While most people recognised that it was usable when given controller prompts, this doesn't transfer to the prompt-less mouse and keyboard controls. This obviously had to change, and so work has begun on our shiny new buttons.

Yes I know they look clickable but clicking on the image will do nothing.


These are yet to be added to the current demo build, so the old less obvious buttons remain, but we hope to purge these very soon.
So that's it, exciting news, and lots of hard work to look forward to. We'll be back in a fortnight with another blog post. Thanks for reading!
(Mirrored from Blog.resonancestudios.co.uk)