With the launch of our Private Alpha Demo, we plan to release mroe and more content to that demo as we update the game! SO for your private Alpha players, here is a list of whats new, also! A download link will be available on our Facebook page, AND our site, (it will also be emailed to you) Remember, this is a patcher not the full game install!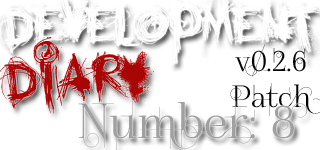 Changelog:
Implemented Health System

Monsters now decrease health instead of 1 hit 1 kill
Implemented Random Damage Variable

Updated Tutorial

Changed settings
Added ability to skip tutorial

Fixed Monster in "Dream"

Monster now moves for cut scene

Added several new items

"First Aid Kit" added - 100% health recovery
"Essence" Added - Increases EACH Parameter by 1
Anti-Depressant Added - Moves Depression by 1

Increased Monster speed to normal

With Health system working, monster will move at normal speeds

Fixed a Hide bug in Home

Player would sometimes get stuck

Sound Error would occur, causing sound to repeat rapidl

y <-- Still happens
No Animation(Yet)
This Bug still exists...

A Bunch of newly Scripted map interactions

Attacked Room 100% Scripted
Castle Town "Dream Town" - More interactions added
Updated Home Interactions adn added more
Added more Interactions to home 1st floor
Updated The Lighting for Home 1st floor (Horror)
Updated Church interactions

Several new Map updates: WARNING! If you saved in any of the below maps your save MAY be corrupted!

Church

Reworked the 1st church floor scenery
Church 2nd Floor Scenery update

Started scripting several new interactions

Castle Town

Updated several Buildings

The buildings will unlock through story progression

Home 1st Floor

Scripted MANY more interactions
Several new scenic items added

Home 1st Floor (Horror)
Dream (Horror)

Scripted several new interactions

Added the 1st new Interactive Cut Scene

Life or Death style Cut scene
Only uses one button but it's a start

Updated A lot of Sound

A lot of sound added
New BGM added
Sound tweaked on several maps
New Ambiance added

Bug Fix: Users can now access their inventory
Bug Fix: Tutorial Script now exits when No is selected
New Bug: Flashlight Disappeared on main map
New Bug: Tutorial Light system Selection Only works for Flash Light, Or might be broken!
Media:
Thanks for reading!
Do you want to be apart of Alpha? ITS NOT TO LATE! Sign ups are still open on our site! Head over there and check it out!
Our Facebook: Facebook.com
Our Site: Skylineinteractive.org
Edit: I have made the download instantaneous (I hope) if you don't receive an access code and a download in a confirmation message, please PM me on here or comment on our site!
Remember: Post all bugs and other things on our site! We take ideas, suggestions, comments Everywhere but BUGS please report them on our site! Thanks again! And Enjoy!
~Skyline Interactive Team