Hi everyone,
After 3.5 years of hard work we feel super excited and happy - May 10th was the day when Blazing Beaks v1.0 has been released on Steam and Nintendo eShop!!!
For this occasion you can check our new release trailer:
We want to say a big THANK YOU to everyone who played the game, gave us cool ideas, suggestions, spread a word about the game and helped to make Blazing Beaks a better game.
Blazing Beaks full version came out with an awesome update. One and the most anticipated part in the Story mode was missing, but now we added it - the game has an ending.
Also after our last dev blog some new features were added as well, so let's get into more details.
Daily Runs
We introduced Daily Runs feature into the game. Players can compete with each other in newly generated run everyday. Each daily run can be played only once and most of unlockables cannot be unlocked in this mode. Daily run can be played in co-op mode too.
Players get ranked by the total score they accumulate in the end of the run. And here's more detailed information on how the score is calculated:
10 POINTS for every opened chest;
30 POINTS for every deal in the shop (artefacts/items exchange, weapon purchase, reviving co-op player);

For every picked up artefact, it's RISK VALUE IS MULTIPLIED BY 100 and that's the amount of points the player gets (for example: artefact risk value 0.3 means that player gets 30 points);

Player gets the amount of points equal to killed ENEMY OR BOSS STARTING HP;

And the most important thing is MULTIPLIER. The more artefacts player has in possession, the higher multiplier is.
Blazing Beaks Character Editor
One additional cool feature in the game is character mods. Players can create their own characters with different starting weapon, ability and statistics.
We also updated Blazing Beaks Characters Editor and added all the weapons that are currently in the game to it. Editor is included in Blazing Beaks package and you can find in under Tools section in your Steam Library. As usually, you can also download it from our website: Blazingbeaks.com
Blazing Beaks Soundtrack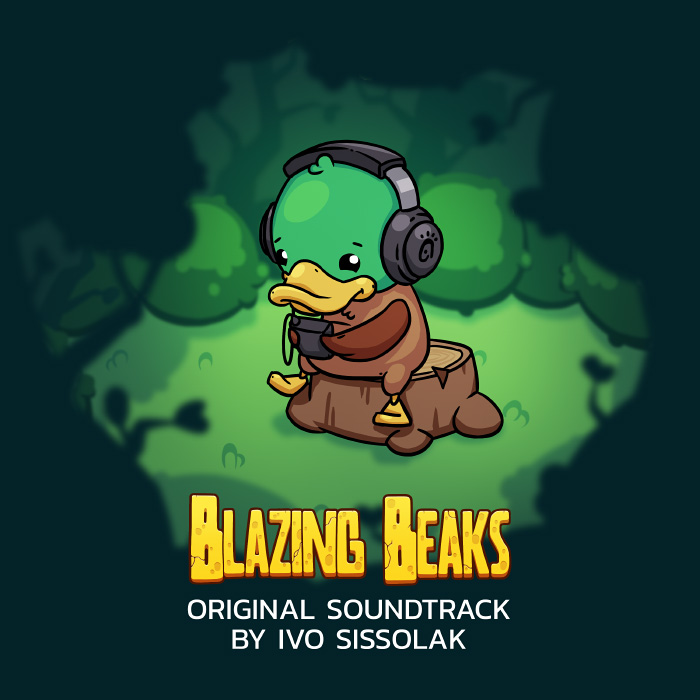 We got a lot of great feedback about the music in the game. So we created a DLC of Blazing Beaks Soundtrack. It includes all area tracks as well as boss fight tracks and theme, shop songs. Soundtrack was composed by incredibly talented Ivo Sissolak (Twitter: @Mexicanopiumdog).
Here's the full tracklist:
01 - Birds with Guns
02 - Gooey Nest
03 - Gravy Yard
04 - Feather Sale
05 - Beaks Unite!
06 - Maroon Leaves
07 - No Bird's Land
08 - Dungeon Crawler
09 - Grey Skies
10 - Dark Matters
11 - Flightless
Early Access period
Full version release marks the end of Blazing Beaks Early Access stage. It's no doubt that we will support the game after full release.
We made 28 updates and here's what we've done during Early Access:
Added Daily Runs feature - all players can compete with each other in newly generated run everyday;

Added Seeded Runs feature - players can play the same generated run over and over again;

Added game difficulty setting - Easy, Normal, Hard;
- Added aim assist feature;

Added 70 new items and artefacts;

Added 32 new weapons;

Added 3 new characters.

Added 3 new areas;

Added 15 new enemies;

Added 3 new bosses;

Added 139 hand-crafted levels;

Added 8 active abilities;

Added achievements;

Added trading cards;

Balanced and optimized game a lot, improved gameplay and user experience;

Added tutorial;

Reworked all 5 initial characters;

Added machines for trading resources;

Added secret levels;

Reworked how game handles frame rate. Now it supports dynamic frame rate.
-
Added ability to steal a weapon from the shop;

Added inventory window on pause screen;

Added collectables, statistics and progress system to the game;

Additionally added support for other X-Input controllers, PS4 and other regular ones.

With the help of our community we added Russian, German, Turkish, Brazilian-Portuguese and Polish languages in the game.

Added character mods support, Steam Workshop and made Blazing Beaks Character Editor to help with modding.

Added an option to bind keyboard keys;
Other
Now we will focus on bigger content updates, but that means that they will come out not as quickly. We already have some plans for upcoming content. Feel free to suggest your ideas. We will try to prioritize the things that players want the most.
You can get Blazing Beaks on Steam: Store.steampowered.com
You can get Blazing Beaks on Switch: Nintendo.com
Detailed information about each and every update can be found here:
 Steamcommunity.com
If you want to chat with us or with our community, feel free to join Blazing Beaks Official Discord server:
Discord.gg
For those who would love to get more information you can check these resources:
Twitter.com
Blazingbeaks.com
If you have any questions or suggestions, feel free to email us at: support@blazingbeaks.com