In Part 1, we covered what the different building types in Voxel Turf are and what effects they have on the economy. In this article, you will discover how the environment and the player's actions in the world effect the profitability of buildings.
Desirability
Desirability is a modifier that represents the improved value of a building due to its location. This allows you to maximise profits by being the first to develop an area, or to improve the value of a neighbourhood later.

Houses, Industry, Commerce and Offices all have different desirability modifiers. It directly effects the profitability of these buildings, so a House with 30 Desirability will make +30% income.

A building MUST have a net desirability of at least zero, or the building will be abandoned.
Factors that can increase desirability include:
Being near Hills or the Sea
Being near Parks
For houses, being near businesses (with different stacking modifiers for each business kind).
Being near a large number of similar buildings (Houses near houses, offices near offices, commerce near commerce). This is to encourage the development of residential areas, central business districts, etc.
Factors that can decrease desirability include:
Being near industry (for houses).
Factors that set desirability to zero and make the lot uninhabitable include:
Not being near a Player Base (if owned by a player)
Not having road access
Safety Rating
Actions in your city have consequences – a violent rampage or history of crime will have a lasting effect on the economy in a neighbourhood.
Safety Rating is a measure of how safe the lot is. Committing crimes such as stealing cars or blowing people up will reduce the Safety Rating of not only the lot where the crime was committed, but surrounding lots too. Completing some missions can give a temporary increase the Safety Rating in a area.

So what does this do? It directly effects the profitability of buildings – you need to have 100% safety to get 100% income from lot. Also, if safety drops below 25 the lot will be abandoned!

Safety Rating gradually normalises to a steady value of 100 over time, so any effects will gradually recover over time.
Insurance and Repair
What is the point of building something if it can be easily damaged? Won't greifing with rocket launchers and explosives ruin building things?

Insurance is the answer to this problem. When you build on a lot, you can "insure" it at anytime. This saves the state of the lot incase it is damaged.

If it is damaged, you can repair it for half the price of any damage inflicted.

Finally, all the placeable lots that come bundled with the game are automatically insured.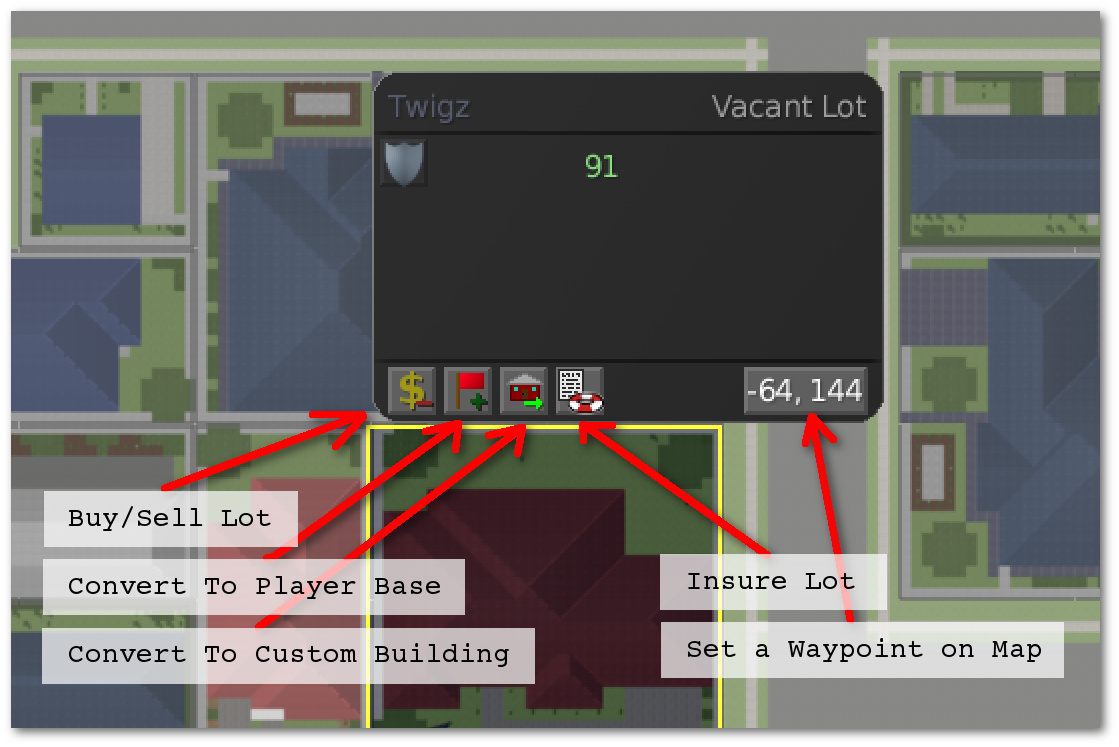 Custom Buildings
What is the point of this being a block based city builder if you can't create your own buildings? In Voxel Turf you can - however there are some requirements that must be met, so that you can't just place 3 blocks down and call it a house!

The requirements are as follows:
The building must have a minimum build cost (the build cost is the combined cost of all the blocks in the lot). This increases with the size of the lot.
The building must have an enclosed space for the inhabitants to spawn. The space must be at least 3 blocks from the edge of the lot and have walls on all 4 sides along with a ceiling and a floor.
The building must have a sufficient volume for its inhabitants. You need roughly 220 cubic metres to be enough room for each person, which is about 8x9x3 metres.
The short of this is that if you build a realistic looking building you'll be able to convert it to an economic building. Simply build the building on a vacant lot, bring up the lot in map mode and then click "Convert to Building". You can choose the building type (House/Basic Industry/Commerce or Office), the number of people who live or work there and for custom Commercial lots you can choose the business type.
That's it for now! As usual, for updates you can follow us on: