So for many of you who have been following us since the beginning, you would know that we were working on a unique economics engine for Voxel Turf. In this article, we will explain the in's and out's of this engine and how to utilise its features to its fullest! With a booming economy, you are able to grow your city and buy more weapons and explosives to unleash on your adversaries!
There are four kinds of economic buildings in Voxel Turf: Industry, Housing, Commerce and Offices, each with different effects and purposes.
Industry
Industry is the foundation of the economy – if you are unsure of what to build, you can never go wrong with more industry. Industrial buildings provide income, industrial population and increase demand for housing.
There are two kinds of industrial buildings – basic and special. Basic industrial buildings have no demand requirements – just place the buildings if you have the money!
Examples of Basic Industrial Buildings:

Special industrial buildings are dependent on their surroundings for income, but can yield more profit. For example, the Sawmill gets more profit if its surrounded by hill lots (for trees), and the Grain Silo yields more if it is surrounded by Wheat Fields. These buildings do compete with each other, so if you are the first to claim valuable areas of the map, you can get a significant advantage over other players.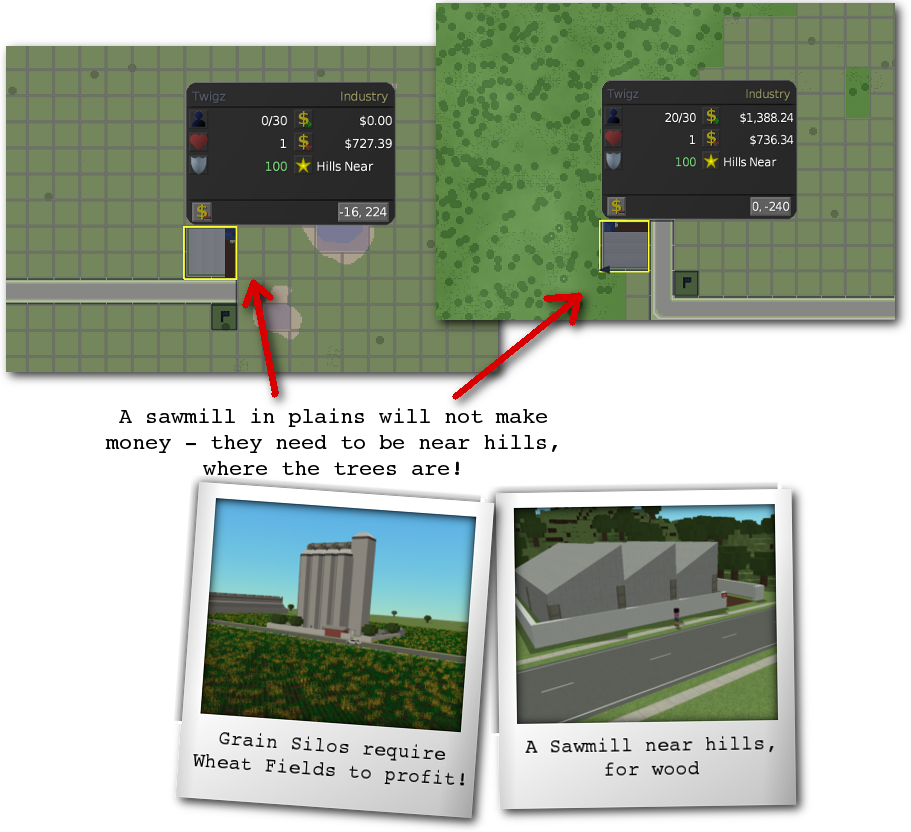 Houses
Houses are the next step to building a successful city. What's a city with no houses for people to live in? These houses are populated by civilians, the people are seen roaming around your town, walking around the streets, strolling around the shopping centres, etc.
In terms of profitability, houses have the lowest base yield, but if you get the Desirability high enough you can make it up (see Part 2 when it comes out on Desirability and Safety!).
Houses create demand for businesses (Commerce). Population varies from 3 for small houses, to 108 for giant apartment buildings.

Commerce
Commercial buildings are the businesses around your city that will help make your city more desirable to the population. These buildings are the most profitable of all if you can secure a customer base. The customer base for a business is the residential population in the economic range of the building (12 lots).

These buildings are broken up into 6 broad categories:
Goods, eg Gun Shop
Groceries, eg, Supermarket
Services, eg, Auto Garage
Entertainment, eg, The Cube Pub
Health, eg, Hospital
Education, eg, Education Facility
Transport, eg, Helifield
And just like in real life, you'll find that when these businesses are placed together they may compete with each other For example, two businesses of the same category (Shiny Jewellery which is under the Goods category, versus a Gun shop which is also under the Goods category) will partially compete. This means that some customers will go to the first store, others the second, and some to both.
Two businesses of the exact same type, (Gun shop Vs Gun shop) will also compete, but their customer bases will be split 50/50. This is why it's important to use different building types to maximise profits!
Finally, two businesses in different categories (Goods vs Groceries) will not compete at all – they will share a customer pool.
This has a simple gameplay consequence: if you want to make more money, build heaps of different kinds of businesses. If you want to undercut another player, build similar buildings near their buildings to steal some of their their profits!
Offices
Next on the list, we have office buildings. These are best placed in the heart of your city, as a great foundation to any CBD. But, they need a lot of employees to fill them. Once your industrial and commerce buildings are placed, a demand for office buildings will arise. Demand for offices will scale with the size of your city – when your city is small, office demand will be very small, but as your city grows demand for offices will skyrocket!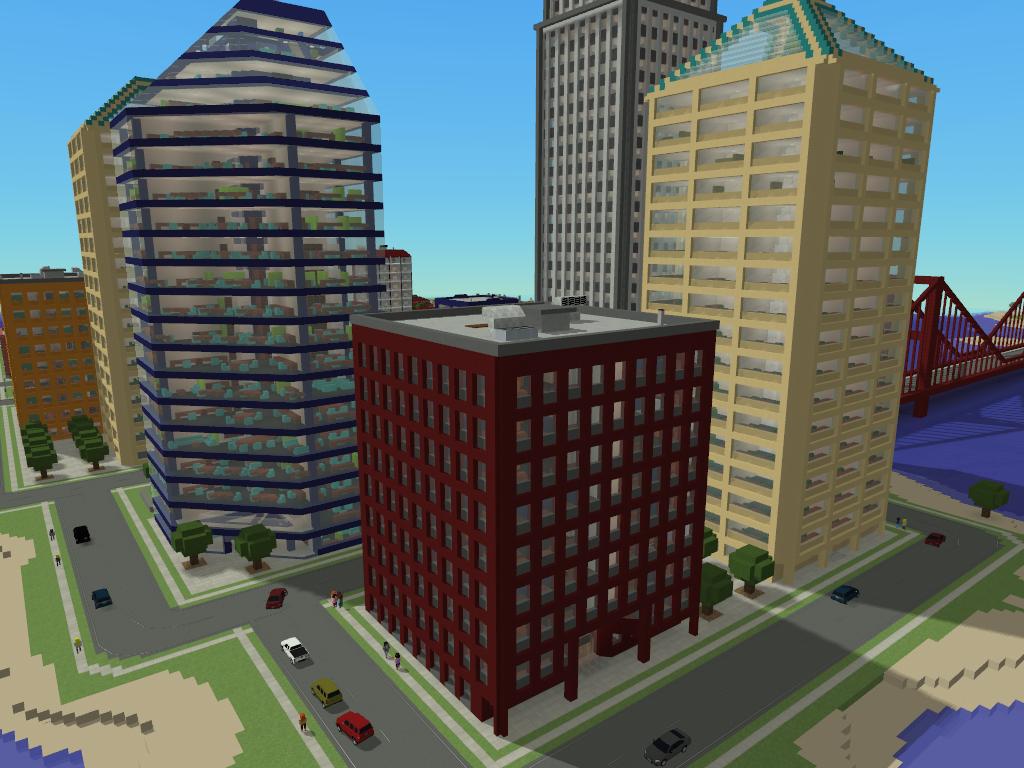 Once offices have been placed, you will see a demand in housing to house the employees that occupy those offices, thus completing the circle of life in the Voxel Turf world!

That's it for Part 1. In Part 2, we'll discuss Safety and Desirability, so you can maximise profits more!
For Updates, Please Follow Us On:

And don't forget to Watch Us on IndieDb!