Hi guys,
This is just to let you know that we're not dead..we've just been slacking off that's all.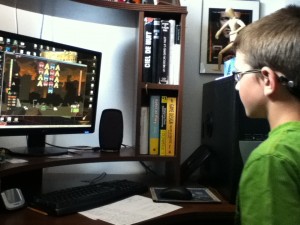 Hey kid it's nice outside go out and play!
Oh! You're playing Shape Invaders, it's OK then you can stay in.
The thing is that here in beautiful Québec we get to have nice weather only 1-2 months each year, so when it happens we usually try to go outside and enjoy it (read play with the kids or cut the lawn) instead of being in front of the computer. Rich and I also got to find some freelance work to be able to pay the bills. But while we're working on our contracts we don't have much time to work on Shape Invaders and even less time to write about what's going on. That explains why we were on the quiet side for the last month and we're sorry about that.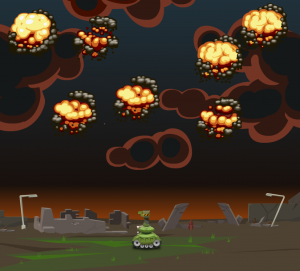 Summer and BBQ goes together.
That does not mean some stuff didn't get done. Rich created some awesome tank animations, explosion sprites and shapes' helmets. Vince and Mike fixed a bunch of bugs to make the game more fun and more stable, allowing me to start balancing the levels. With summer now in full swing we'll probably continue to enjoy the warm weather a bit, but soon we'll be back on the saddle working to complete Shape Invaders.
Here are some of the big chunks left to do:
Completing all the art asset
Implementing the shop
Tweaking all the levels
Implementing the final boss
Our target is to complete the game for the holidays 2012. Hope we can make it.
Thanks a lot for all your support and keep checking us out, we'll be posting some new stuff soon.
-Dan