Greetings!
This is Rummy Games with the new Dev's Diary. This time we are sharing the interview with our sound designer — Ruslan.
He is going to tell us how he joined the team and his work with sounds and noises of one of the main characters — Harren the Defender.
Ruslan, tell us a little about yourself
I became a part of Rummy Games in September 2020 after passing the interview and an assessment test.
I haven't worked in gamedev before but I've been studying FMOD+Unity and Wwise+Unity for a long time. I have solid experience in sound design and creating music for videos. Recently I've started exploring Unreal Engine and luckily Saturated Outer Space is powered by this technology. That's wonderful!
What was the assessment test?
I was asked to create sounds for the game hub, they call it "Life on Ship". It is a spacecraft carrying the squad. To be more straight, it was to record background sounds for the bar, the main bridge and the captain's cabin.
However, real tasks in the project proved to be much more interesting. And difficult, by the way. I work on sounds related to the game's characters and this job requires knowledge of the lore of each one, their created 3D models, their description and nature.
What tools do you use in your job?
We're working with FMOD as middleware. Its interface is similar to DAW so it allows me to create the sounds from "the box" - it speeds up the whole process. I also use Reaper for additional processing or recording.
Some sounds I search in freesound.org then make a few tweaks. Others are taken from my royalty free library which is pretty big.
How does the development process flow?
As mentioned before, I need to keep in mind the characters' bios and lore. Visual indications must also be taken into account when generating sounds such as moving, taking damage or dying.
For example, Harren is a robot who was a human in the past. He faked his death by totally destroying his physical body and putting his digitized mind into a steel shell of a robot. (That's insane!) So, I knew that his sounds must convey his human nature in some way like his voice cannot be completely devoid of emotions.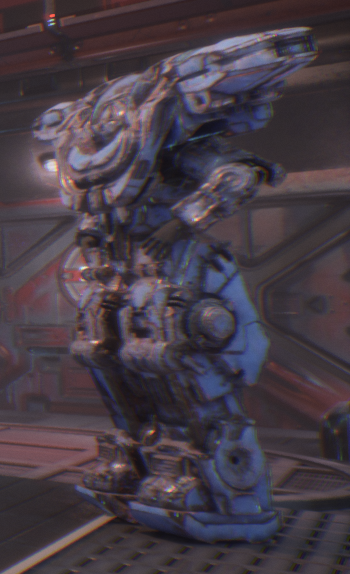 Harren's prototype
Harren comparing to other characters (second from the right)
So, Harren is no longer a human, he is a full metal cyborg. Which means that the sounds from him should indicate his big weight and might with the hints of his human origin.
Here is the animation of Harren: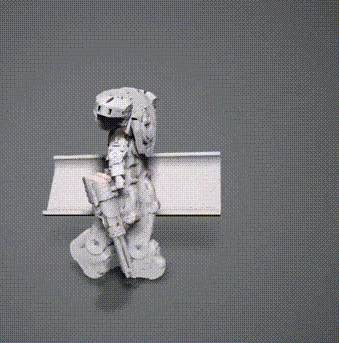 Further work consists of following steps:
prepare the most suitable sounds
(if needed) edit them with FMOD effects (pitch shift and equalize is used mostly)
place on timeline and synchronize them with movement according to the animation
put additional sound layers for every tact of movement to make it more complex and deep.
Robot is not just a toy, there are a lot of mechanisms involved so even one wave of a hand provokes more than one simple sound. We can hear several sound layers at the same time. Even if one of them is removed you would definitely feel the complete difference.
In addition, every track is slightly randomized in pitch and offset parameters to sound less repetitious.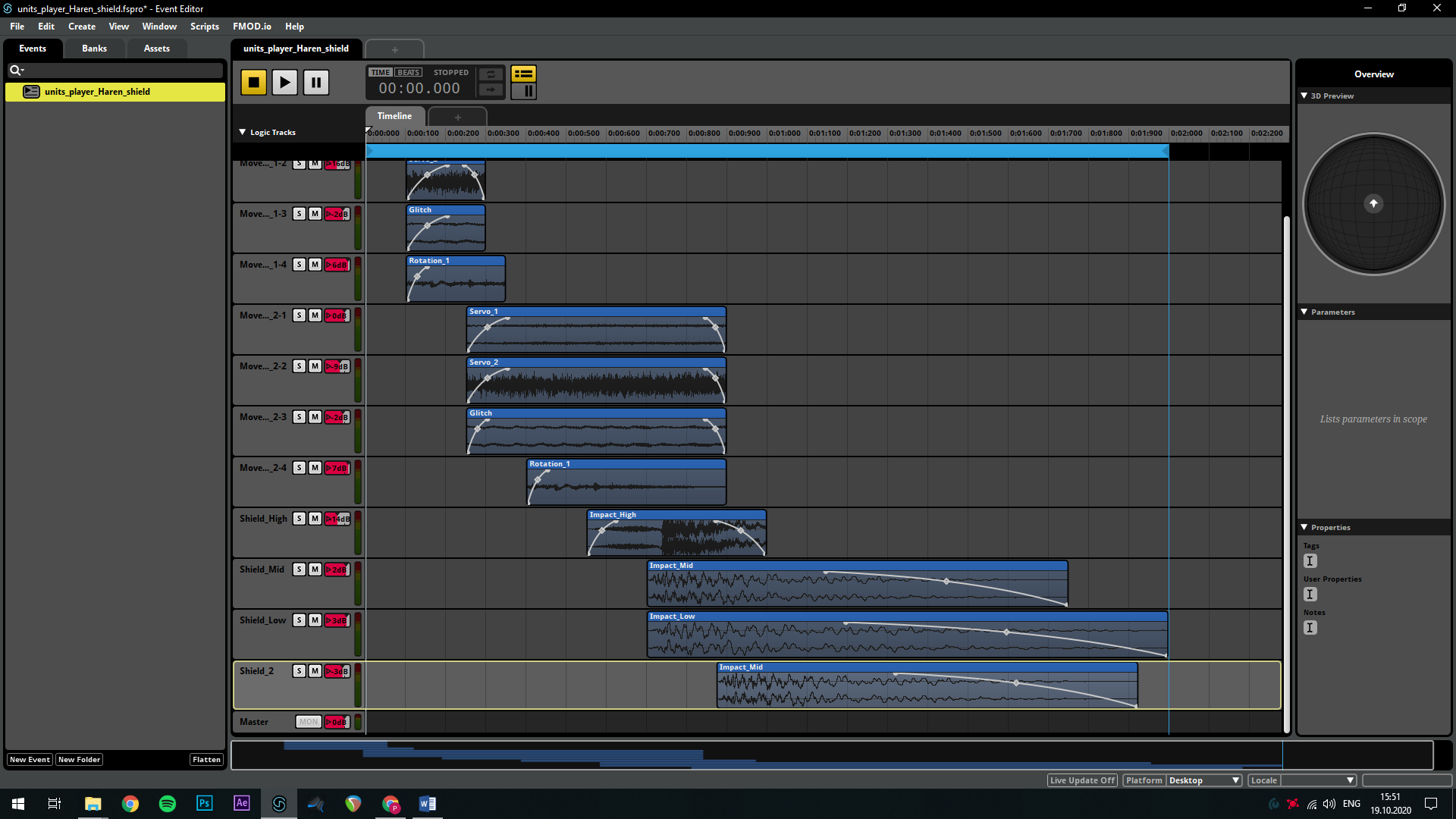 Adding layers (by preference)

Randomizer (on the right)
What are the current results?
It's only a small part of what needs to be done with this unit. But there are dozens of them in the game!
What are you doing next?
After importing the sounds into the game and conducting additional tests it might require some 'fine tuning'. Then I will put my hand to create primary sounds for other characters which need to be done for the vertical slice.
Thank you for reading to the end!
Follow us in social media and other platforms:
Steam, Twitter, FB, VK, YouTube, Medium, Reddit, itch.io, GameJolt and StopGame.ru.
Also, visit our website and subscribe for news and updates.
Don't forget to check out our Steam page and add the game to your wishlist!