The summary says it pretty well, but I guess I'll get the less exiting stuff out of the way first. Now, when you boot Miner Threat up for the first time (Or no save file is present) it will give you a default save file. Other than endless mode, Miner Threat no longer offloads chunks stored in images to files at startup. This drastically reduces startup times (and means less on the final texture page? Not important, really.).
Anyway, endless mode. I went for a "modern" look when doing the UI part. I find that there is no where good to put a "wave x" and "wave starts in x" label on the screen, since it's already fairly full; so what is the solution? Well, obnoxiously take up the whole screen instead!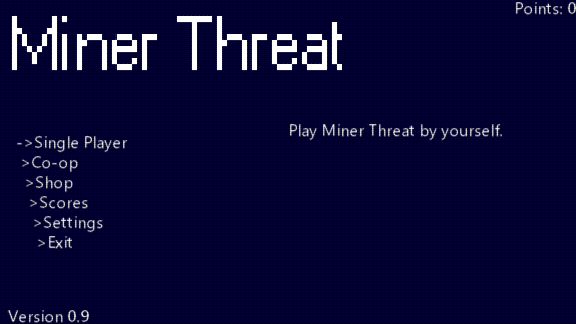 There is a couple problems as of right now, most obvious being the score, but I'm not sure what's even causing that. That's a "next week" kind of issue right there. The white bubble popping up is actually an enemy spawning, and it used to fill the entire screen with white, but I fixed that.
That gif shows that the enemies will actually chase you down in endless regardless of their traits. That gif also reminded me to attach those floating pieces to the ground because the AI are specially programmed not to drop to anything more than one block down.
That is the jist of this week, I'm hoping to get it 100% working by next week, then get the boss working, add traps, QA test like a mad man, then it'll be done. (Easier said than done, I guess.) Have a good weekend.