Hello IndieDB Community,
This has been a very long road! We are approaching our real challenge now, as we launch ABD this evening. For those of you who will be joining us, a sincere thank you and we look forward to your reactions!
In this Dev Blog, we will be covering:
-Game Update
-Strategy for Post-Launch
-YouTube Exposure
-#PewDiePie Challenge
----
Game Update
----
We have been a little quiet lately here on IndieDB because we are literally killing ourselves to get #ABD ready for launch. So first off I want to apologize for the quiet stretch, but it has been necessary so we could keep working. The game has come a very long way, its been an incredible experience. To read more about this experience, go to our Website and read the article I wrote on Game Development - From Start to Finish.
Allen has been fixing issues and debugging gameplay, Boris has been working on the Humans and getting the map ready, and I (Robert) have been playing Supreme Commander: Forged Alliance while they work! Just kidding... Kind of. I have been doing concept art for Tier Four(4) Structures, Clothing, Equipment, and handling the PR / Press side of things. So far everything is going incredibly well, we are absolutely beside ourselves at how this is coming along and we can't wait to show you all!
Have a look at what the humans will look like! (3D Models + Photoshop 'Concept')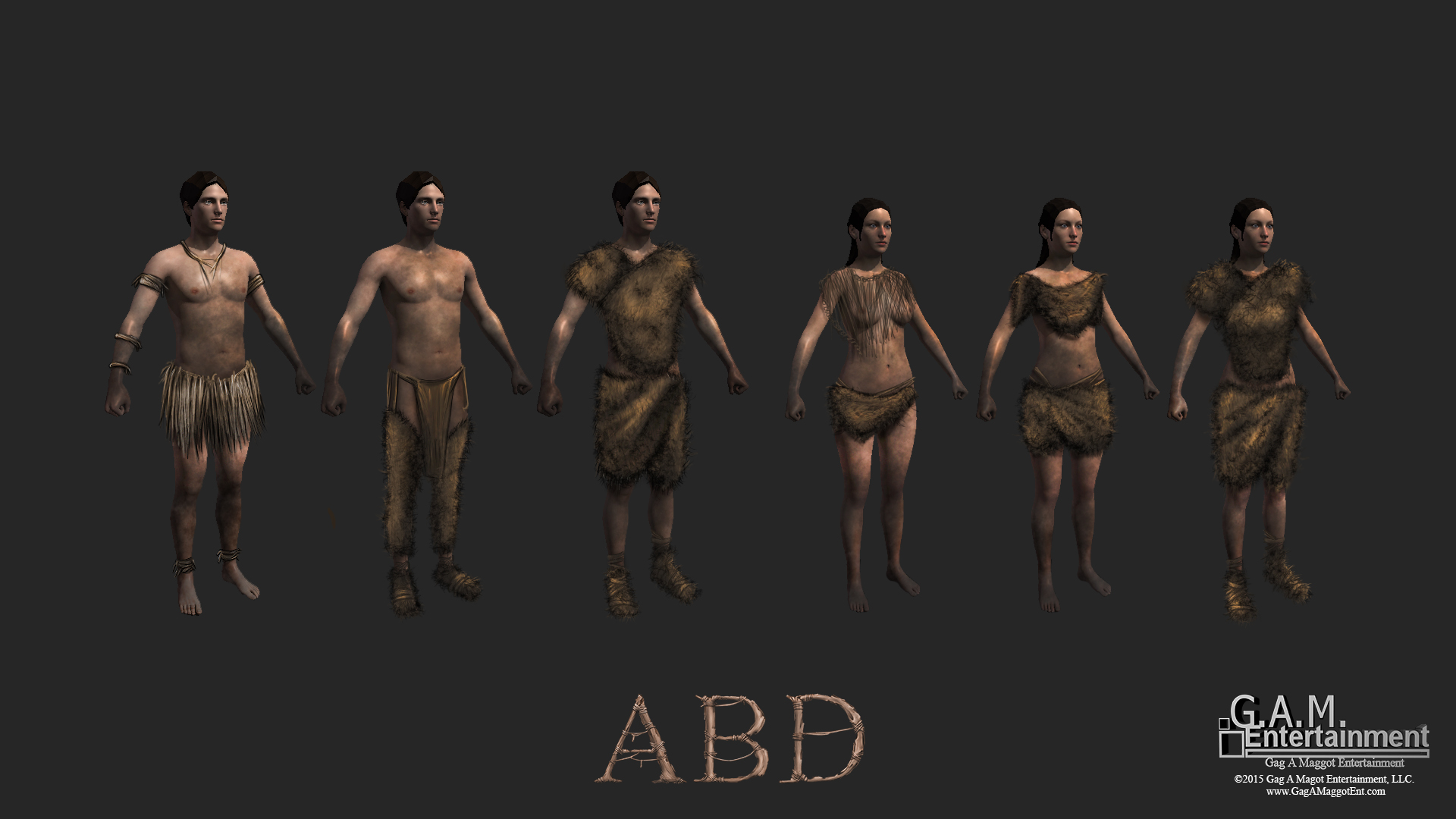 ----
Strategy for Post-Launch
----
Allen wrote a very nice Article about our plans for the upcoming launch, and how we will be tackling obstacle's that come our way. You can find it HERE.
----
YouTube Exposure
----
Ok, so I have been getting an increasing number of emails from YouTube (Tubers') Gamers about ABD. Some of them have... Turned out to be liars! I've learned from my mistake, but I've gone ahead and let them keep the keys without contacting Valve. Why? Shame me once, shame on you, shame me twice, shame on me. Besides, if they create a problem and troll the game I'll just Ban them. Either way, I'm not really that sore about it.
Second, we have gotten a HUGE response from a lot of big-name YouTube gamers and possibly a couple celebrities. We have roughly 25 gamers who will be doing YouTube and Twitch videos starting late Friday to next Friday, so keep an eye out on YouTube and search for "ABD". We will be posting their videos on our Store Page, so it should be very easily accessible.
Also, these gamers are doing videos in the following languages: English, French, German, Russian, Japanese, Korean, Chinese, Portuguese, Dutch, Polish, Arabic and I think Swedish. So yes, it should be very accessible.
----
#PewDiePie Challenge
----
So last week I posted a video on YouTube that was getting some pretty nasty flack, most of the time I don't care about comments but when I have mostly Thumbs Down I'm going to do something about it. I was challenging #PewDiePie to play ABD and if he did during the first week after we launch, I was going to extend our Veteran Program to Swedish Military Veterans as well. You can read more about our Veteran program on our Website.
----
Well, I think that's it. We're going to be working as diligently as possible to get #ABD ready for launch over the next several hours, and we look forward to hearing and seeing your feedback. Be sure to share us with your friends so you can have people to play with! ABD is ENTIRELY player driven, except for the animals because everybody's gotta' eat... So have fun guys and gals!
-Robert Bonner
Creative Producer - ABD
G.A.M. Entertainment, LLC.
www.GagAMaggotEnt.com
YouTube: Youtube.com
IndieDB: Indiedb.com
Facebook: www.facebook.com/gagamaggotentertainment
Twitter: www.twitter.com/gam_ent
Steam Store: Store.steampowered.com
Steam Greenlight: Steamcommunity.com