Hello IndieDB,
Prologue:
It's been a really long time since we've made news on IndieDB, but I'm quite glad to be back and posting another update here. Although I have been quiet on IndieDB, our involvement on Steam hasn't slowed down one bit. With the disaster of our programmer sabotaging and ransoming the game code at launch, the last two months have been an incredibly productive rebuilding process. For those of you who don't know, Jack Hanley is our new programmer, who has been saving ABD: A Beautiful Day one step at a time.
Table of Contents:
- Prologue.
- Progression with Characters.
- Update.
- Upcoming Updates.
- Synopsis
----
Progression with Characters
----
Boris has been doing some really exceptional work, not only with characters but structures as well, including new animations and all sorts of stuff.
Here is an overview of all the new units in ABD: A Beautiful Day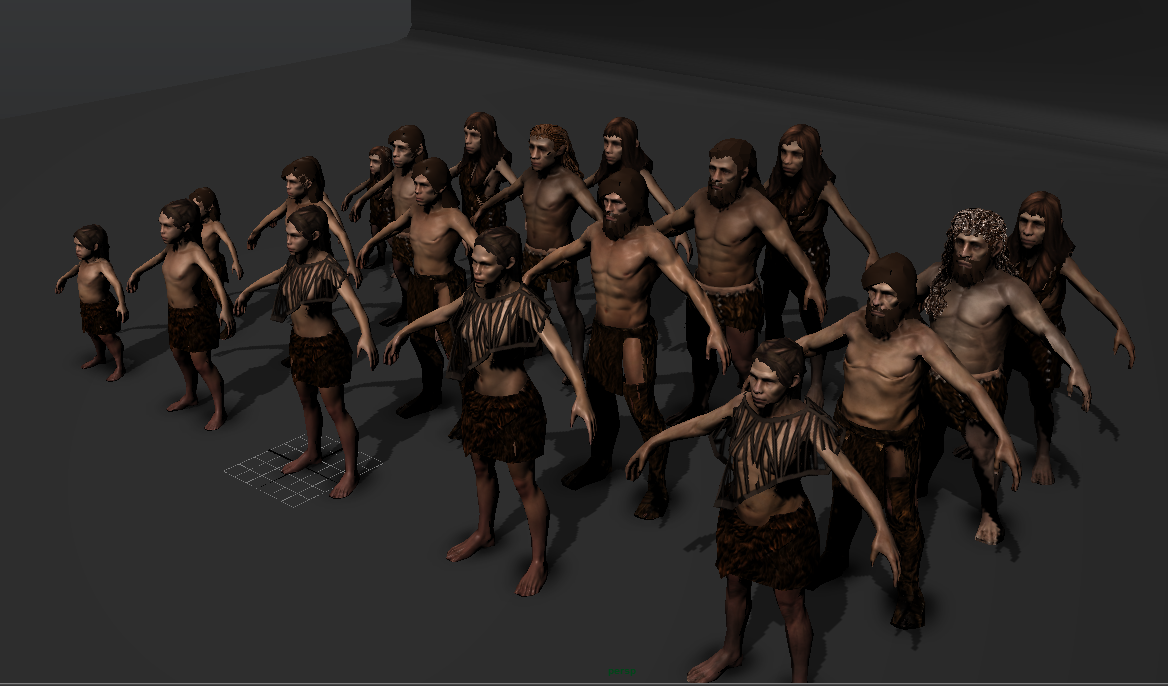 These characters span a young toddler, to an elderly man and woman. The first two rows are Homo-Sapiens, the back two rows are the Neanderthals. When a man and a woman "Sleep" in the same shelter, and if they're not related, there is a possibility that the woman will become "Pregnant". Now I know what you're thinking, and no, we don't portray the acts required to conceive, we are simply hinting at the natural process. This system will work the same for wildlife as well. A child appears after a predetermined duration, and you as the player must protect the child until it grows to adulthood.

Standard Public Servers:
Pregnancy: 270 Days In-Game = 45 Real-Life Hours.
Child to Adulthood Duration: 144 Days In-Game = 24 Real-Life Hours.

Realism Public Servers:
Pregnancy Duration: 270 Days In-Game = 45 Real-Life Hours.
Child to Adulthood Duration: 4032 Days In-Game = 672 Real-Life Hours. (28 Days)
As these units age, they will survive as long as they are kept alive by the player via sustenance requirements and security. Although not many will survive to die of natural causes, it will technically be possible. The introduction of actual women and children into a strategy MMO is a first, so we plant the realism flag in the gaming industry on this one. So woo-hoo, world record baby! Here are some more screens: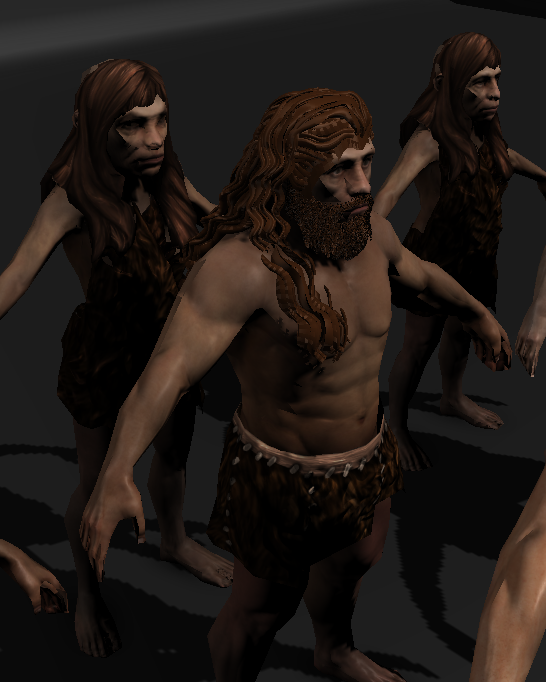 I'm nicknaming this guy, "Dreamy Jesus" - dudes a stud huh??!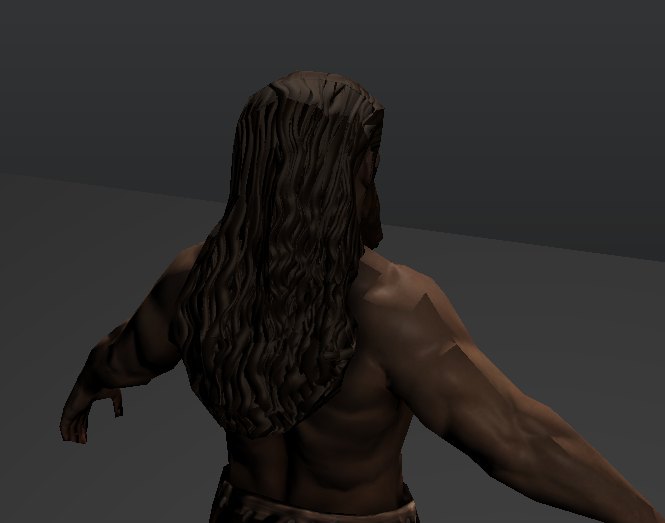 Here's how well the normal maps are translating onto our low poly meshes, it really shows off super well in tests.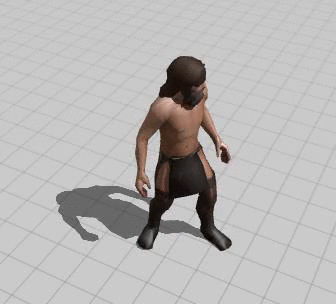 Our animation catalog of 800+ custom animations will work smoothly with each iteration. In addition to these animations, as the children grow to adulthood and the adults grow to an elderly state, both the animations change as well as the blend shapes between versions. In laymen's terms, you can time-lapse a gradual, natural progressive aging cycle without any jumps or changes in the character between versions. Sick, huh?
Our last update was for Halloween, which in light of the rebuilding process it was pretty mild in comparison to other games. We noticed a huge problem with the core of the game in relativity to its future development of other features, so we had to take a full month setting it up correctly. It was a pretty hard thing to do, to wait four weeks without pushing updates. It looks like this won't happen again, but it was a really awkward thing to try to tell everyone. I was going to list what was all involved with the update, but it is well over a thousand characters, so blah... Just envision a big wall of technical speak and we'll call it a day. Right now we are tackling some minor bugs before we do our next update, which mind you does not include (as I said above) these new characters; that's a future update item which I will list below. Actually, I will list a couple things:

- Building is fixed.
- Harvesting is fixed.
- Movement Speed increased.
-Water has been re-enabled (was off due to a super weird Unity issue).
- FPS Lag is actively being addressed, but as an EA title we will obviously fluctuate.
The upcoming articles, which may or may not be developed in this order, are as follows:
-Combat.
-Crafting.
-Breeding, Aging, & Refugees.
-Wildlife & Sustenance Requirements.
-Classes & Levels.
-Diplomacy.
-Friends & Alliances (Guilds).
-Technology.
-Seasonal Changes.
This list covers roughly the next two months, so if you're the impatient type check back in January. We will certainly need some sales to keep developing soon, so if you like what you see and want us to succeed, grab yourself a copy of the game! Oh, speaking of copies, we are also going to be releasing ABD: Legacy Edition on November 20th. Legacy is an edition for ABD which includes all future DLC & Expansions, priced at $60 it will really help us develop at a faster rate and be a quarter of the cost of the expansions we have planned for 2016.
Overall it has been a great couple of weeks, the game is really coming together and we're so very excited to bring this to you. Definitely drop on by and give us some love, just keep in mind we are Early Access and not a huge company with thousands of employees and a million dollar budget. We will, however, be here to talk with you about the game until our lungs get sore. So yeah, love you all, see you ingame!
-Robert Bonner
Creative Producer - ABD: A Beautiful Day
G.A.M. Entertainment, LLC.
www.GagAMaggotEnt.com
Twitter: www.twitter.com/gam_ent
Facebook: www.facebook.com/gagamaggotentertainment
Steam Store: Store.steampowered.com