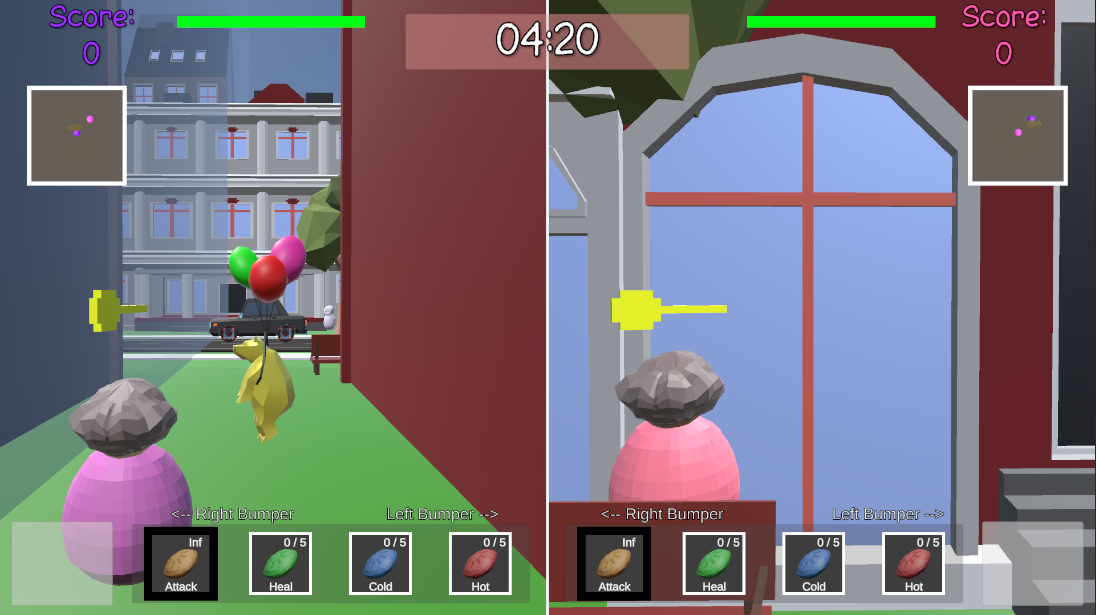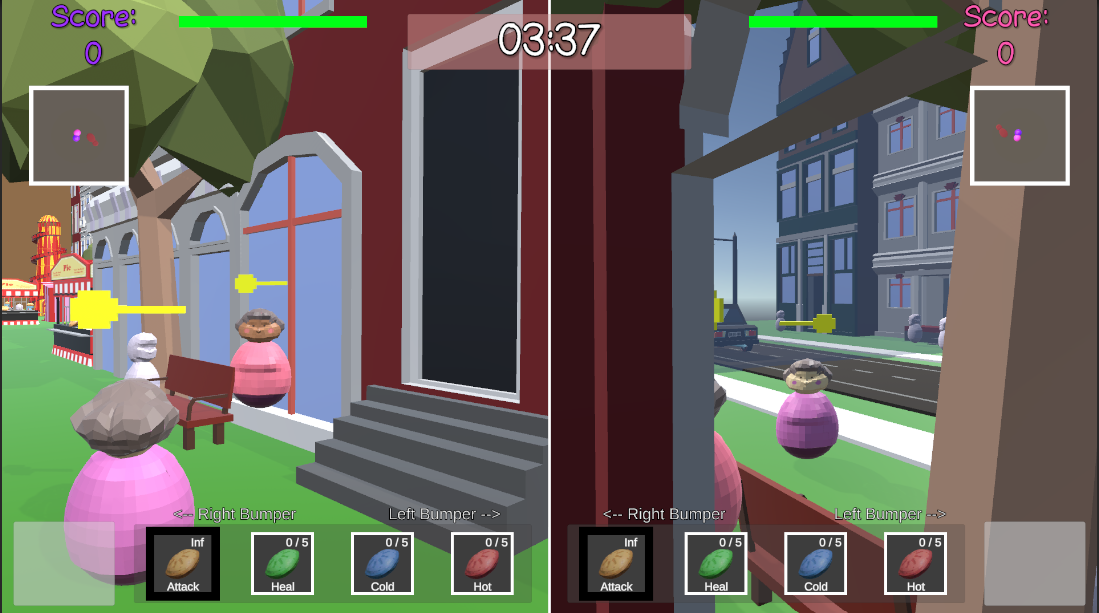 Hi there! We're LiminalScape, a small team of students currently in a game development and design course. This is the devblog for our big course project, Granny's Day Off. In the next few weeks, we'll be posting weekly devblogs on our progress of the game. Granny's Day Off is a 2-player split screen fighting game where players play as grandmas throwing pies to fight and scramble for points to win (it's a silly theme, and that's the point of it!). Currently we're halfway through our project.
This iteration we made quite a few changes to our game. One of the biggest was changing the central goal of the game from a capture the flag style cookbook collection to more of a focus on dueling each other in pie fights. Instead, we changed the cookbook out for a golden NPC that the players are meant to hunt down and kill and whoever kills it gains a large amount of points. We also took out the scoring from killing NPCs and added in score pop ups on screen when someone scores. We changed the map around with player spawners and minimap changes as well. We made some changes to the police that spawn as well as added in some juice elements in camera shakes and audio as well. We added in some pie variants as well and added in functional inventory ui because of the pies.
The reason we changed the main focus of the game was that we discovered that the capture the flag style of the game was being ignored more often than not, and we noticed the players were having much more fun with just fighting each other. So we took out the feature that was being ignored and simply put more of a focus on what players found fun. Because we focused more on fighting, we took out allowing the player to get points from killing NPCs around the map. We messed around with the map making the middle part of it more open and conducive for fights between the players. Along with the map, we discovered the minimap was very distracting so we took out the unnecessary elements to allow the player to just focus on what's more important. We also made the police that spawn stronger as we discovered that players could easily beat them. We also added in a lot of juice through the score pop ups because we found that players didn't notice when they scored very easily. We also added in more juice through screen shakes and audio to make the game feel more alive.
Here's our current game build: Granny's Day Off by b00pster (itch.io). Any feedback is appreciated!