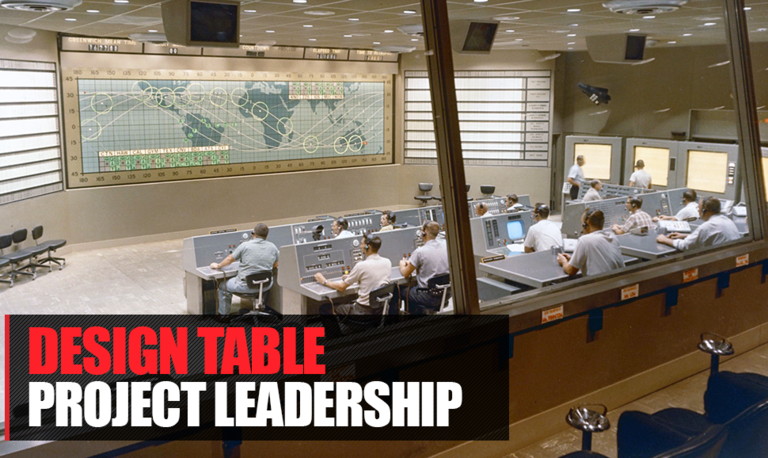 Hey there! I got a lengthy email last week asking me for input on a development project and I decided to take you on a ride into the project lead work in today's Design Table. It's a role that is usually not very well discussed and many live with the belief that it's some sort of natural born skill. Forget that, there are things that work and things that usually don't work. Teams can be so different, so it's all about getting to know the people you work with and building up whatever works for you. Be meticulous and don't give up and soon you and your team will lift off to do great things!
To give you a little background, the questions was about how to manage people with such different skill-sets and diverse backgrounds. When you work with games, be comfortable with the thought that you will at some point work with: designers, artists, programmers, quality assurance managers, community managers, people in the legal department, producers, composers, sound engineers, marketers, publishers, business people, public testers, fans and gamers. To get all these individuals rocking to the same tune, regardless of your skill-set, make sure communication is your sharpest one!
All teams face similar challenges
Even thought at times it might seem lonely and you might think that you are the only one struggling, be assured that all teams face the same sort of obstacles and challenges. If you trust the talents of the crew, mainly it is an issue of teamwork, overview and time management. Game development is an artwork and like any good art, you need to let tasks mature with good ideas. Let them mature too long and the thing you aimed to design becomes obsolete and you run too far behind schedule. Too short and you will not get the rich flavor you wished for.
Learn to do a time estimation for everything as a project leader! Milestones are your way to set a broad vision. If you estimate something will take a month, break it down to two-week goals. Split those goals down ever further into detailed tasks. Only then are you ready to present them to the rest of the gang. Over time as you do this you will get a genuinely respectable understanding of what your team and you are able to achieve and create an atmosphere where everyone understands clearly what is expected of them. Be meticulous as if you were running the space program and it will reward itself in the end.
What is a task?
Any activity taking between 30 minutes and three days to complete in game development is a viable task. Started issues should never sit around long periods in waiting. If they do, than you have not broken down the task into small enough components for your team. Breaking those issues down into smaller segments will allow you to see possible bottlenecks, issues or schedules blocking one another or other types of errors but do not overdo it. Anything shorter than 30 minutes is not a task, it is an errand and ultimately a micromanaging approach will create a ceiling for the creativity and the patience of your coworkers.
What about project management tools?
Absolutely! I work with a multitude of project tools and there are many good ones that can be tailored to suit any project need. Do a search and find one that works for you as there are many excellent free ones and even very advanced ones for just a small fee usually depending on team size!
Fika Breaks
Lastly a VERY important thing to manage is to schedule breaks or pauses. In Sweden we call them "fika" breaks. Allowing your developers and crew to get some fresh air, perhaps a bite to eat and get to stretch their legs for a few minutes in each hour will positively affect not only morale but also all creative work. Think about it! How many times has someone uttered the phrase "we discovered this brilliantly innovative invention by doing a marathon sitting without toilet breaks"?
This concludes this week's Design Table. If you would like to send in a question or write us feedback on today's session, you can either do it via Twitter, Facebook or email and we will possibly make them part of the next series!