If you followed me closely during the making of Dawn of Kingdoms (a Warcraft 3 mod with similar ideas to Lords of Arkanova), you know that i always insisted on the philosophy that essential resources used to make units (like gold, iron etc) must be finite in order to keep these resources precious to the player (and also so that games cannot last infinitely long)
However, while I was playing Age of Empires II (and games similar to it), I realized that resources do not have to be always finite to feel precious (in AOE2 for example, gold is very valuable but still theoritcally infinite through holy relics or trading in team games).
Also, on a less important note, i've had criticism about my mod that it did not feel right to have some realistic mechanics, but then to not have things like taxing your people or trading with other nations to gain more gold in the game.
So I decided to introduce concepts like taxation and trading. The idea of how trading will work is still completely up in the air (however I really like the idea that was in AOE2 - two market buildings and a caravan unit going from one to the other to get gold - and the farther it is - the more gold you get.)
Previously gold could be obtained only through mining gold ore and then smelting it.
The way taxation works like now is: every serf and builder has a home building, of which there are 3 "tiers" and 3 corresponding tiers of luxury wares. Tier 1 homes - a simple hovel and serfs in it require only clothing (the first tier of luxury), tier 2 homes - more advanced and require boots on top of clothing, and finally tier 3 homes - the most advanced and require all 3 luxuries. The more luxury wares the serf has available, the happier they are, the happier they are, the more taxes they provide.


the first tier and second tier of housings (graphics for the final one is not finished yet)
Another way to adjust taxes is a simple slider in the UI. This is the amount that you (the lord of the town) demands. The higher the taxes you demand, the lower the happiness of your subjects, but the more they pay (and possibly more likely to rebel - which might or might not be a feature)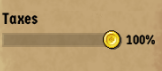 I would love hear your feedback and discussion on this topic!