When its come to the designs for the main character several artists have had attempts at concepting her appearance, her character might be written and design, but how she will look is still very much in flux.

It was hard to know what direction to go with at first, more knight based or simplistic, or somewhere in between..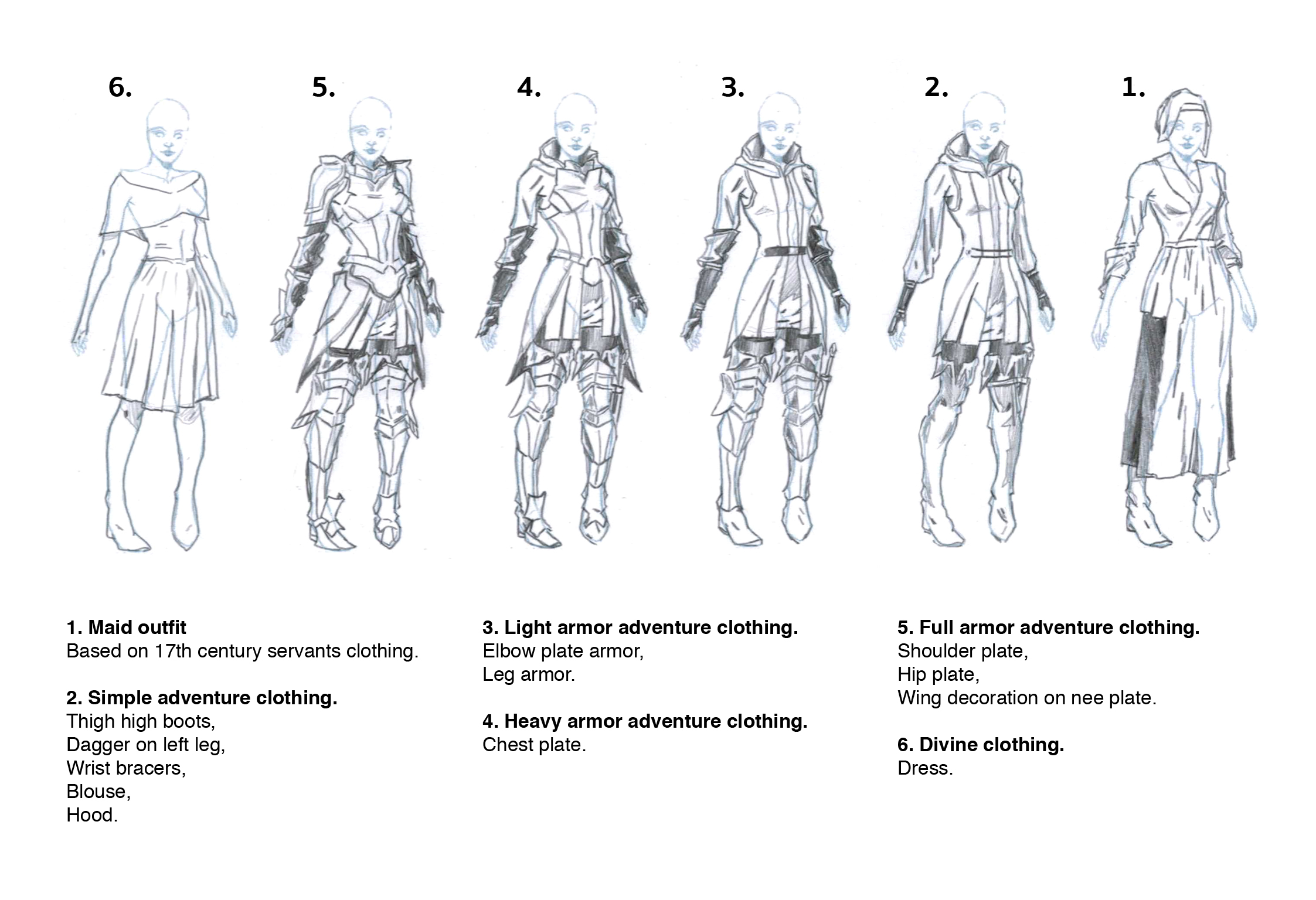 I didn't like the idea of her having any sort of traditional Armour, she's no warrior in any way to start the game.. while having something practical would be necessary and allow for freedom of movement a more ranger like approach was decided upon (going forth we used design to work from)
Handing off to new artist new approaches were formed, all shots in the dark to find a style of light armor that would fit the character and style

The majority of the designs originally had been based off what could be made hard fabrics as opposed to metal.. you can see the earliest concepts of this below, some of these designs are also great bases for secondary or sub characters.
This was the form created as a composite of various designs shown above. The main elements are there however the overall feel of the character design was that it's too modern for the aesthetic of the game world... almost pushing on the Final Fantasy trait of too many belts. While the combination of the clothing hits the part the actual clothing needed to be aged down by an age.
Of course we also had to think about color, not just for the clothing but the main characters features like hair. In order to make a character that flowed nicely on screen having elements that could move nicely with the animation would was a pre-requisite. As was finding a color combination that would start apart from the central colors of Valhalla.
Color variations were made using woodland rangers and fantasy elf designs as well as color schemes like those of Link from The Legend of Zelda to start with. However I wanted a more pastel approach to color, something that the washed out world of Valhalla would share. The world would be without vibrant color so having bright colors on the main character might jump out a bit much.
So this leaves us with the above images, not final but close.. in fact design D will because Raine's sister in the prologue of the game. The clothing has been ages down, taking on a more woolen and soften feel.. it looks a little too warn and this is being toned down but the final design of the character is coming from whats on this page, as is the initial dress for the character pre combat attire.

As for the final look.. well before that's shared I wanted to have some proper full art to show of it, this is just a look at the process and a way to show off some awesome art work and get feedback and questions.

Also we characters and other parts being concepted now we are on the look out for modelers and environment artists... if you'd like to be a part of the project then let me know!
The game also now has forums.. they are empty but as we go on more will be added.. but if you want to start a conversation then head there!
Ryatta