Hey Everyone,
Today is a monumental day for our team: the final chapter of Depths of Sanity officially enters Early Access!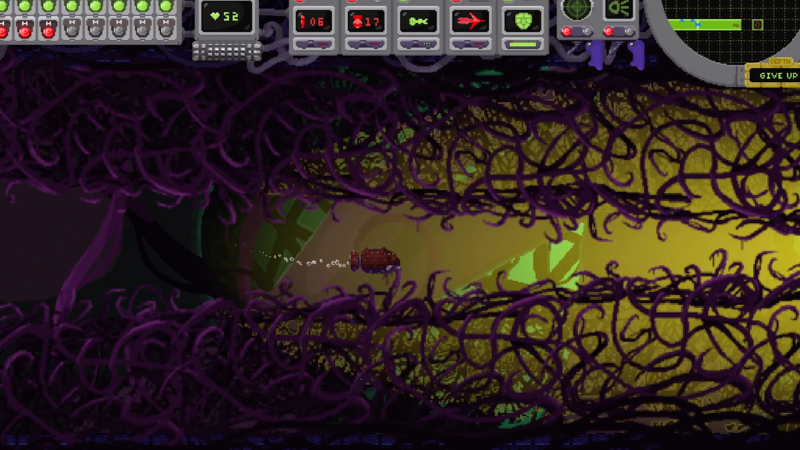 For those of you who have been playing along, this chapter – The Stem – will conclude Abe's journey. For those of you who are new, you can officially play through the entire adventure from beginning to end and experience every biome, uncover every secret, discover each ending, and more!
Check out the launch trailer here:
If you've already been playing along with us, we can't wait to hear what you think of the final chapter (and what ending you wind up getting!) But if you're new (or just wishlisted us from our latest PAX appearance) here's what you're in for:
Depths of Sanity is an underwater metroidvania nightmare. You play as Abe Douglas, a Commander in the G.O.A.A. tracking down the Baroness, a submarine staffed by his old crew that went dark while investigating a mysterious signal at the bottom of the ocean.
The entire game takes place under the sea, flipping a lot of the usual metroidvania mechanics on their head. There are no double jumps to save you here. Instead, you'll use unique tools like diver suits to squeeze through tight areas, sonar to guide you through pure blackness, and tow lines to yank you through heavy currents, and, if you're feeling frisky, send yourself flying into your enemies.
And right now, you can get Depths of Sanity for $13.50 as part of Steam's "Going Rogue" sale from now until next Monday! That's cheaper than our standard Early Access price, and significantly cheaper than our final launch price (which will be $20).
Take the plunge and grab your copy here!
Thank you too everyone who has been playing along with our releases – we literally would not have gotten to this huge milestone without your feedback.
We have a few more months to go in early access in order to add polish, and during that time we definitely still want your feedback, so while you're playing, make sure you send us your thoughts either on our Discord, Steam Discussion Board, or DM us on Twitter.
And for real, thank you for all of your support! It's a very cool feeling for us to finally say that Depths is now a complete game.
- The Bomb Shelter Games Team