New enemy types
One thing players of earlier versions of the game have said is that they wanted more variety in the first few levels, and that's just what there is plenty of in this update. Most importantly, there are 5 all-new enemy types in this Demo version taking the total to 11 (the full game will feature at least 70).
An important feature of Xenomarine's game design is that the different enemy types do not just differ in terms of stats like hit points. Instead each enemy type exhibits different behaviour and abilities. I'll just give two examples.
One at a time, the 'wurm swarm' is by itself the easiest to kill of the enemy types, but it has a dangerous ability: it has a chance of reproducing itself each turn.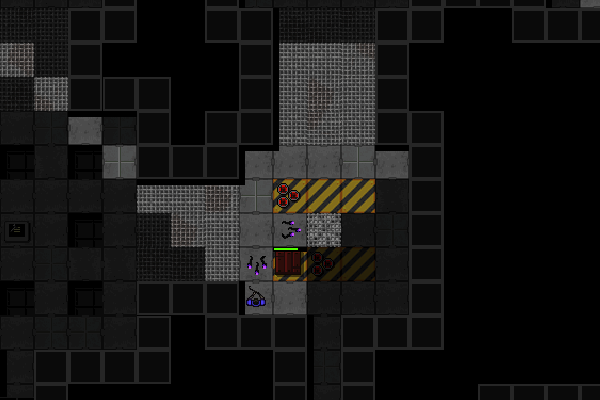 By contrast the 'Jumper' is by far the most dangerous of the enemy types in the new update. Not only does it have good hit points and attack power, it's also fast: it lives up to its name by being able to both move and attack on the same turn: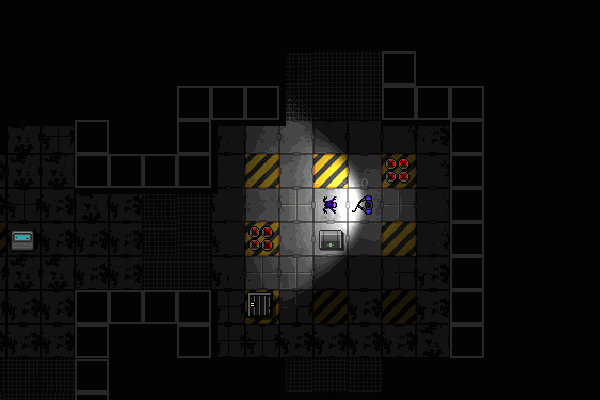 New maps
The other area with loads of new variety has is the level design. The random map-generation algorithms now include recipes for thousands of large rooms, including new room features like desks, chairs and beds as well as the new floor types from v1.6.
Another new map feature is secret doors: initially indistinguishable from walls, these can be detected if your character passes a successful 'spot' test (using the new traps skill).
The following collage gives a flavour of the new map and room layouts: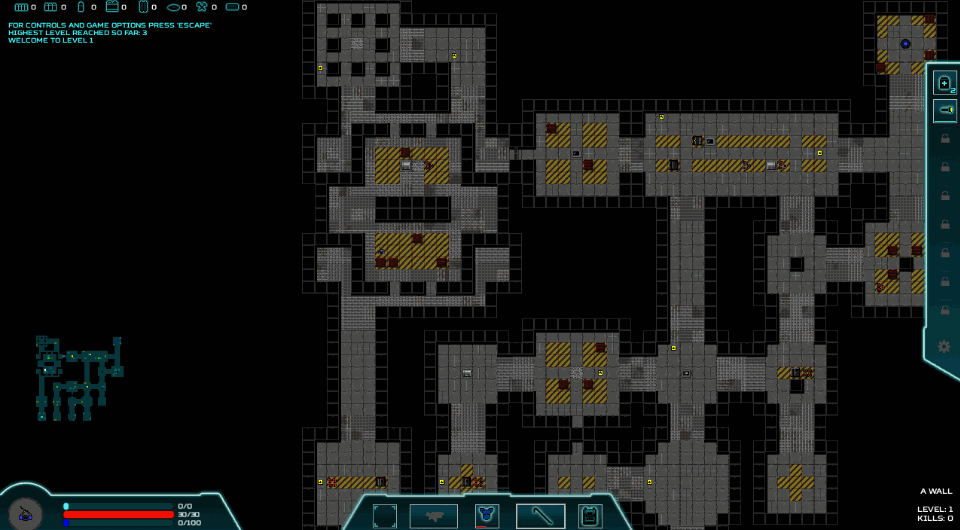 Improved Controls
Another improvement requested by players was improved controls. This update includes greatly improved support for those with keyboard-only or mouse-only play styles. The auto-move feature in particular has been improved, so that clicking on any explored area on the map now automoves to that location, while turning the player in a natural way during the movement, as shown in the example below: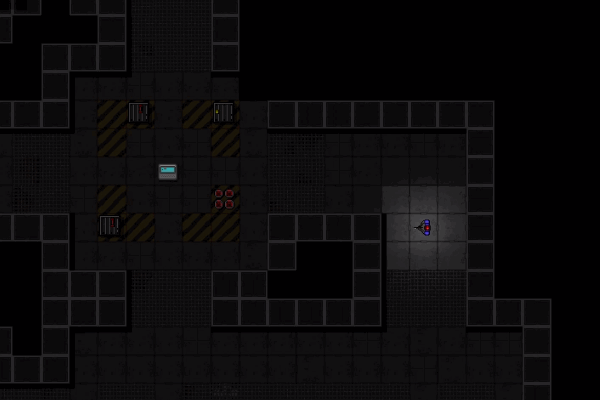 In fact since the mouse can now be used to open doors, reload weapons, skip turns and zoom in and out of the map among other things, the whole game can be played mouse-only. Fans of keyboard controls on the other hand can now hold down the 'up' key for faster movement in a given direction, can cycle between targets and engage in ranged combat, and have a number of new shortcuts available including the use of quickslots.
Other UI improvements
The inventory screen also sees major improvements, with the introduction of fully functional drag and drop, including adding items to quickslots, as well as contextual menus. This improvement also comes with a significant gameplay change: quickslots can now be used for ALL items, not just consumables. This means that you can add a weapon to a quicklost (i.e. 'to your belt') and thereby gain an advantage in being able to switch to that weapon more quickly during combat.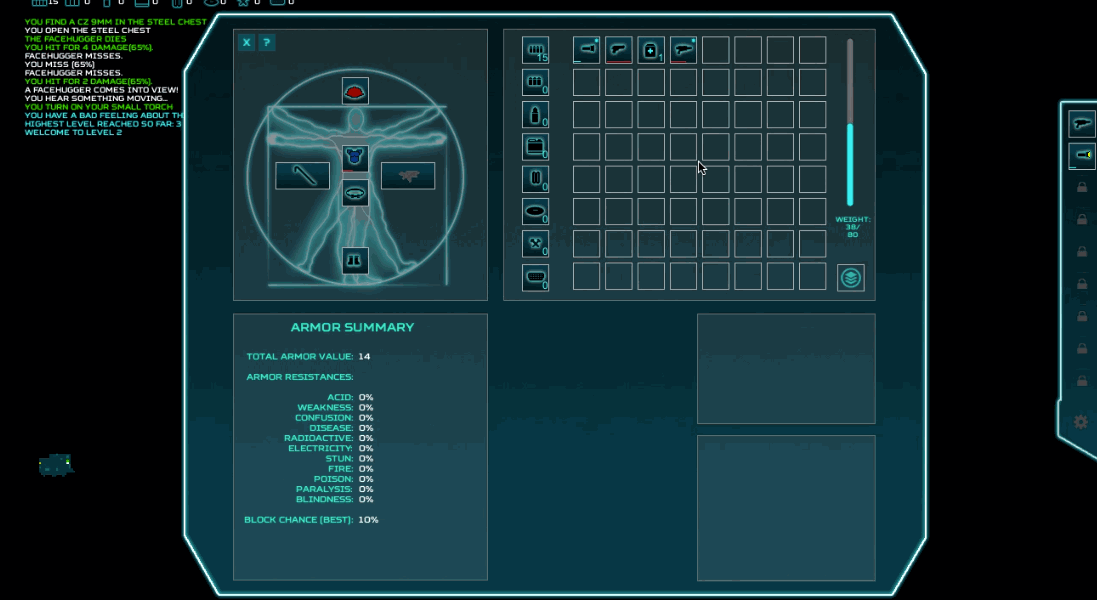 Another much need new UI feature is the minimap which can be toggled between large and small versions.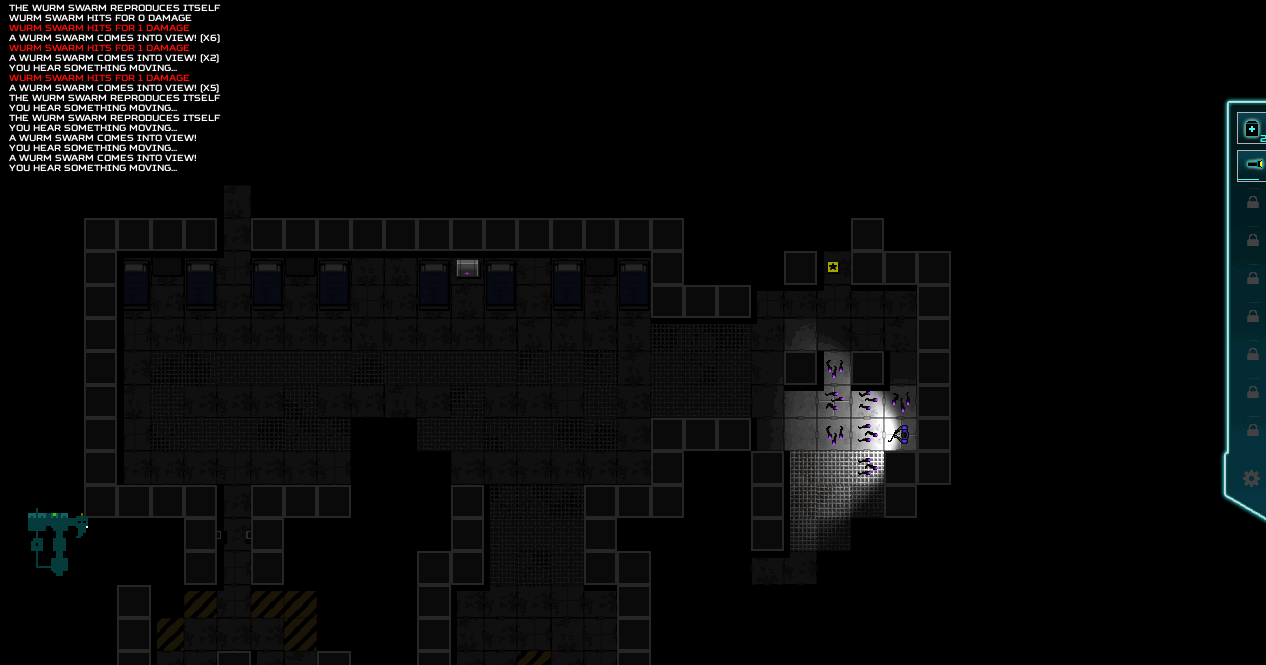 There are also lots of other improvements, like some new sound effects, status effect indicators, indicators for low-health and levelling up, better support for high-resolution screens and more. All in all, a major milestone for Xenomarine!
Available to try now

Again, if this sounds like your thing, do try the game now or read more on the website. You can also connect on twitter to make sure you don't miss any updates!