The combat system of A Legionary's Life offers a wide range of actions to choose from. Two main categories, Feints and Shield attacks, rely on two checks to determine the chance of success: a primary "hit roll" based on their main skill–-weapon for Feints, shield for Shield attacks–-and a secondary check, based on attributes–-usually Awareness for most Feints and Strength for Shield attacks.

Before version 0.6, the attacker had to pass both checks for the action to succeed, or suffer the full effect of a failure. Now things work differently: if the primary check succeeds but the secondary check fails, the victim will suffer a small percentage of the full damage. In case of Shield attacks, attackers will suffer part of their failure penalty, too.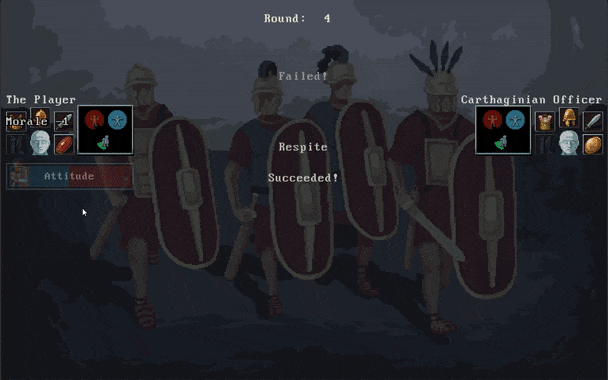 Also, the influence of Stance has been significantly increased. Before this update, combat capabilities were influenced linearly by the loss of Stance. Now, they are influenced quadratically; in other words, losing Stance makes a fighter more vulnerable than before.
These changes should encourage players to rely on astute decision-making over sheer luck.
Fights involving opponents holding the high ground have been tweaked a little to compensate for the bigger Stance factor.
By the way, I have removed the small pause between each combat round. It was very short, but I find combat flows better without it. I have also added a simple effect to highlight kills.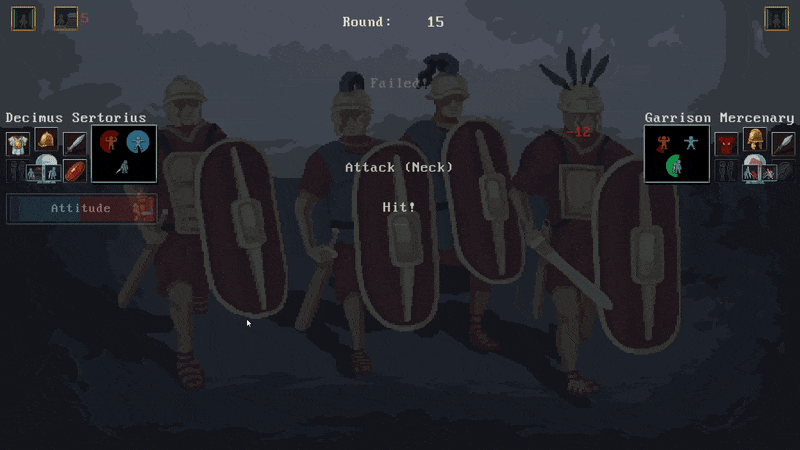 ---
The concept of weapon Reach has been simplified. Now there are just 6 categories of Reach: 1 = daggers, 2 = short swords, 3 = long swords, axes, maces, clubs, 4 = spears, 5 = long pikes, like the Macedonian sarissa (actually, the sarissa won't appear in normal fights such as those you see in the Demo. Combat against a Macedonian phalanx will work differently, but we'll come to that in the third and last campaing set during the Second Macedonian War).
This is to enforce realism: a superior weapon Reach gives a significant advantage in combat, but this is reasonable only when the difference is meaningful. Before this change, the most prominent feature of a gladius hispaniensis of type V was a slightly longer reach than any other short sword, entailing all the advantage of a superior Reach, which didn't really make sense.
In the light of this development, the gladius of type V has been modified. These are the stats of an average quality gladius of type V compared to a common gladius of the same quality: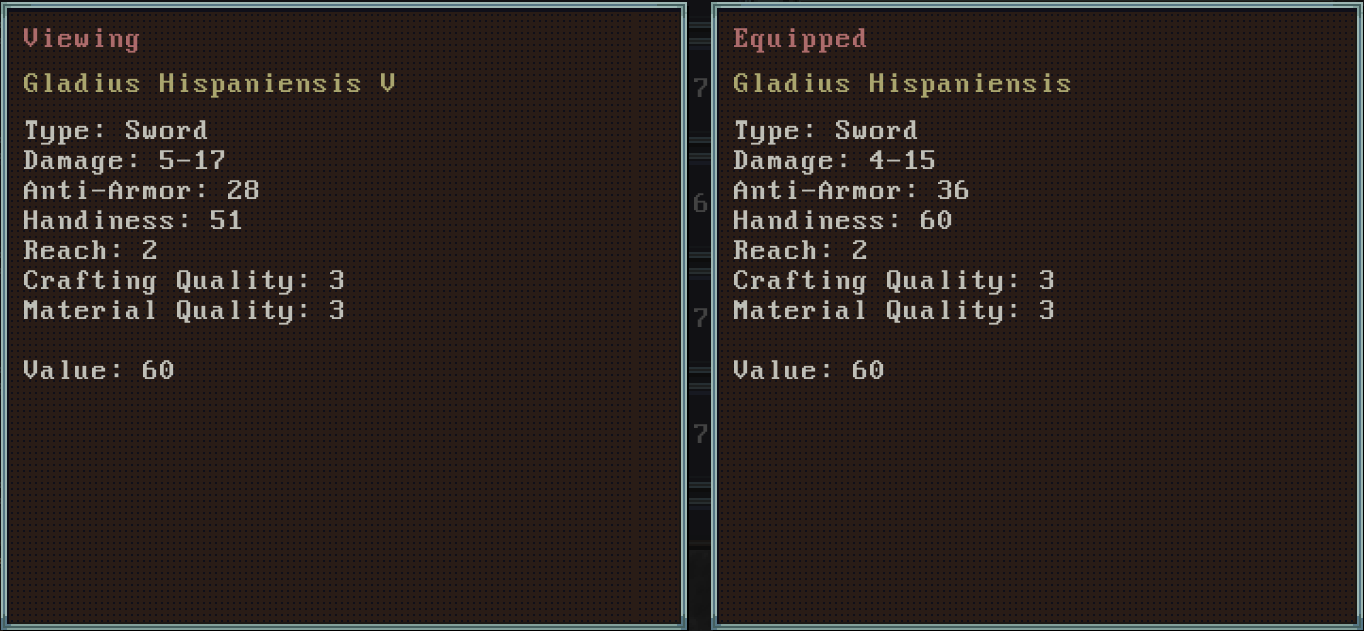 Now it's a good weapon to use against scarcely armored opponents, although the low Handiness could become a serious disadvantage, especially when facing a skilled shield user.
Finally, I have corrected a couple of glitches on the combat UI. One of them involved a reduced usability of the Attitude slider. Your Attitude needs to be adjusted several times during the course of a fight for the best efficiency, so it must be comfortable to use. Now it works as intended.

That's all as far as changes to the combat system are concerned.
---
There's another important novelty pertaining to special rank-based "events" triggered for characters who have conspicuously high or low attributes crucial to their responsibilities. There were just a couple of these before version 0.6. I have added at least one for each rank, but they work a bit differently: they happen once after each major battle, usually in the first few turns of a Lull phase. Before, they could happen at any time, even more than once in-between battles, and quickly become annoying.
For example, the main role of an optio is to preside over the rear of a maniple, so he needs Charisma in order to command respect. If his Charisma is very low, he'll slowly lose reputation with the troops and the centurion. Earning a promotion is still possible, just harder. One might say that an optio with low Charisma has reached his level of incompetence.
There are several more small changes. As usual, you can find the changelog here on the official website.