New update on the Ceres Demo has been added to the dropbox.
Or grab them via indieDB.

Updates Include:
- Added sound to slug impact.
-Ceres button in fleet view renamed Dii Consentes and now displayes data on Dii Consentes and the total bonuses provided.(Limited) Work in Progress.
- A Destroyable vital turret that can make the Lost souls mission hard to complete is now indestructable.
- Changed the Startup menu. Added a tutorial button there. Removed the tutorial part from the main game.
- Reduced the tracking speed of medium and large turrets...
- Updated Drone Meshes.

- Plasma bullets now work correctly.
- Issue about attacking turrets fixed.-Ships now accelerate to reach max speed.
- Speed of ships has been doubled.
- Hydra modules updated.
-Issue about right clicking to attack Hydra ships has been fixed.
- Enemy now move about more. Simple code to keep things interesting. A work in progress.
- Grop attacks. Now you can issue a attack order and drag select a group of enemies. The ships will attack the closest targets first.
- Added a plane circle to stations to show range of trade and modding.
- Mining drones and loot drones are now combined into utility drone. A Multitask drone.
- Player ships now require more input from player. Player ships will not automatically seek new targets.
More updates in the Demo Updates.txt in the dropbox folder.Other noteable changes: The character selection has been changed.
The Player now has a selection from 3 types of ships. Defender, Bounty hunter and Merchanman.Each ship is equipped differently and should offer somewhat different type of play.
Combat changes:
We have removed the automatic targeting from the player ships. This is to increase input from player. Make the player a player not a observer.The missiles have been changed a bit. They can't turn as easily now and they don't fix on a new target if their original target is destroyed. There will be later in the game upgraded missiles that seek new targets.
Combat drones have been added to the game.

Combat Drones currently come in three types: Missiles, Cannon and laser.
You can order the drones to attack the target your ship is attacking. To do this you go into the energy management and select the drones. Next simply select the drone type you wish to use.
They will all be deployed and attack your target. After the target is destroyed they will return. You can also select them and order them to dock.
Currently the drones have unlimited ammo. We intent to make the ammo limited, except for laser drones. They have their own power plant. When a drone runs out of ammo it will go back to its mothership to rearm.
Camera movement has been smoothed, the GUI can now be hidden by pressing the G button.
Also a small fun addition is pilot view. If you double click on a ship or a drone and press P, the camera will switch to pilot view. Not all ships have this enabled.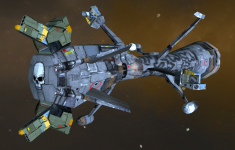 We are planning on updating the GUI in the near future. The plan is to make it a bit simpler and easier to understand. Hopefully there are no new errors in the game after all the added stuff...