What's the gist?
Outbid and out-manoeuvre other kars in Gamble, a new gamemode in the latest demo available for Windows, Mac & Linux. Get the demo on Desura to keep things simple - update the demo more easily as I add features more features in preparation for the full October 29 release.
What's Gamble?
One lone kar against everyone else over several rounds. If the lone kar can survive against everyone else for the given time limit, they get a whole bunch of points. If they can't survive that long, they lose those points. First to reach the score target wins.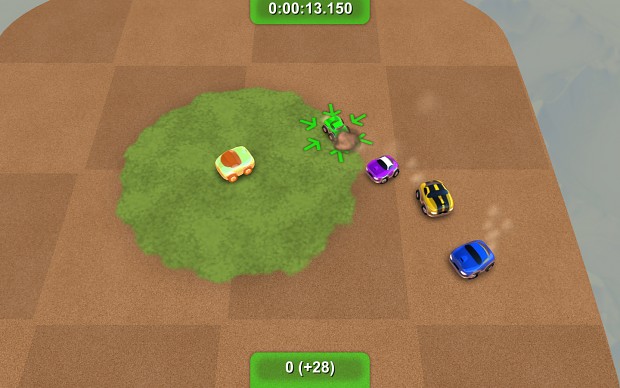 Here's the "gamble" part - you have to bid against other players to be the lone kar. Think you can survive 10 seconds on your own with everyone else trying to knock you out? Bid 10 seconds and, if no one outbids you, you'll get the opportunity to win or lose 10 points. Is someone else a few points away from winning the game? Keep outbidding them until they've committed to a time you don't think they'll survive - though they might just "pass" that round and leave you with a gamble you can't win.
The demo version requires at least two human players to play gamble. The bots just aren't smart enough at this stage to bid or play defensively.
What about the browser demo?
The browser-demo is now on KarBOOM.net to keep things simple. Just go to KarBOOM.net and, if you have the Unity web-player plugin, click "click to play" to give the demo a go right in your browser.
Tell me about the development of KarBOOM
Funny you should say that! Jose Cardoso and I discussed the challenges of KarBOOM's development, its target audience, and its future (along with that of PC gaming in general) in an in-depth article on BeefJack.com.
Stay on top of the latest news about KarBOOM's development and give me feedback as you test the demos here on IndieDB, or on Twitter.